The Number of Women in Jail Is Up 1,260%—What Are They Doing Wrong?
MarieClaire.com reports on the shocking epidemic.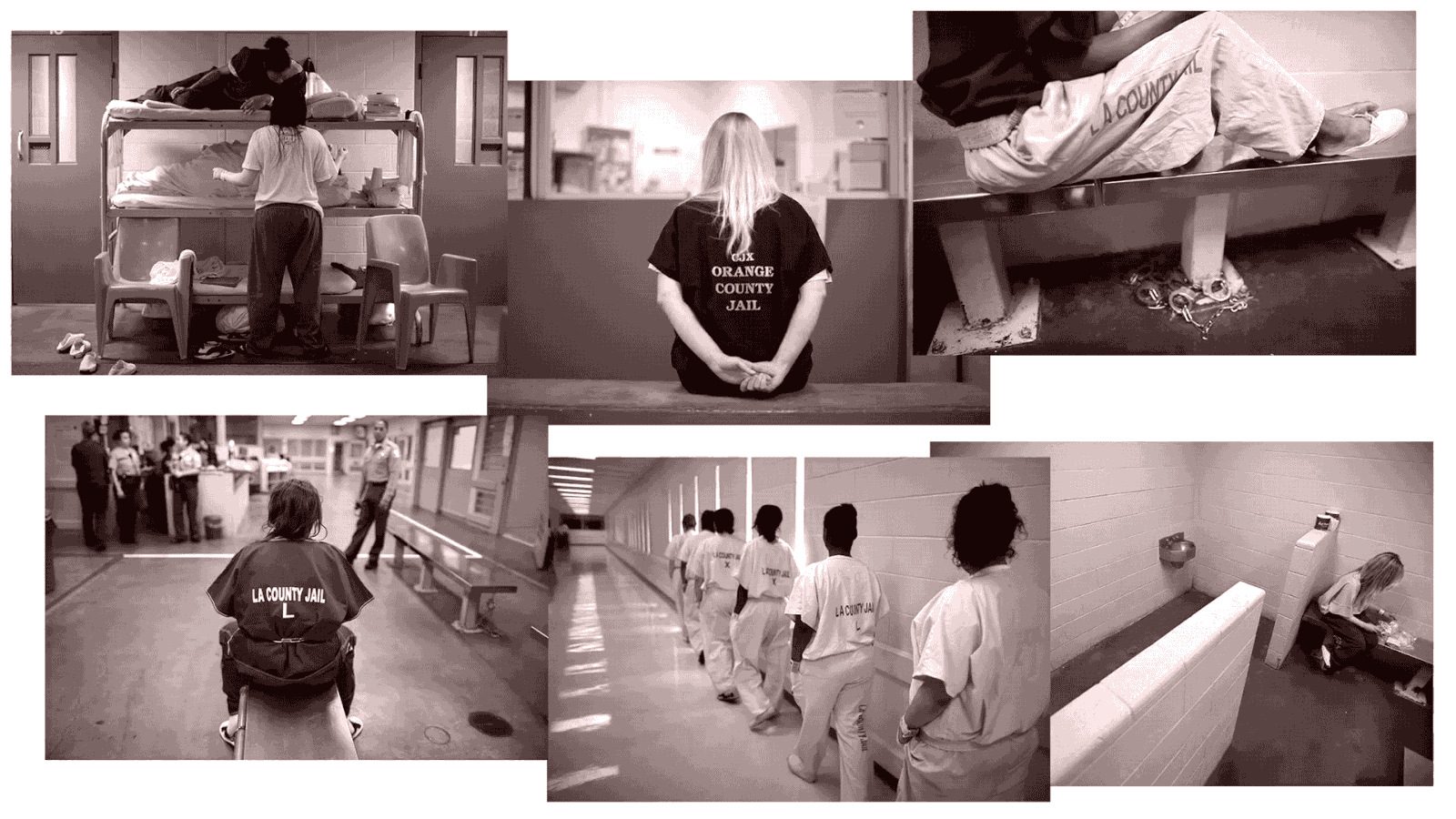 (Image credit: Archives)
Marie Claire Newsletter
Celebrity news, beauty, fashion advice, and fascinating features, delivered straight to your inbox!
Thank you for signing up to Marie Claire. You will receive a verification email shortly.
There was a problem. Please refresh the page and try again.
Her name is redacted, but her body is exposed for everyone to see. She stands in the courtroom after three days in jail, seemingly naked from the waist down, menstruating without a tampon or pad, waiting for the judge to deliver a sentence. She's not a career criminal—she's only 23 years old. She shoplifted once, though that's not what she's in jail for—she was picked up for violating the terms of her probation and failing to enroll in a diversion program. She now faces up to 75 days.
Her lack of appropriate attire (her T-shirt is longer than the tiny athletic shorts she'd been arrested in, and still wears three days later in court) doesn't register with any of the corrections officers or other staffers present. In fact, the judge doesn't even notice until a lawyer alerts her in a whisper.
"Can we get her something to cover up with? Anything? Any. Thing. Anything," Judge Amber Wolf says to the room, hoping someone will spring to attention. "I don't care what it is. A first-time shoplifting charge, 75 days? No. We're not doing that. Am I in the Twilight Zone? What is happening?" Wolf calls up a colleague from the local jail, demanding answers. "I have a defendant who has been in y'all's jail for three days who is standing in front of me completely pantsless. Has no pants on. She has requested pants for three days, and has been denied pants for three days. She has no pants. What. The hell. Is going on?"
Judge Wolf became a viral sensation when the infuriating, inspiring video was released. It's now been viewed more than 2 million times, a jaw-dropping example of how horribly women can be treated by the criminal justice system. And lately this treatment is happening a lot more often—because there are more women in the system than ever before.
Today the Vera Institute of Justice and the MacArthur Foundation's Safety and Justice Challenge released an unprecedented report exposing that the number of American women in jail has increased an astonishing 1,260 percent in the last four decades. In other words, there are 14 times more women in jail now than there were in 1970.
"No one is looking at this population," says Elizabeth Swavola, senior program associate at the Vera Institute of Justice and co-author of the new report. Despite the small decline in the number of prisoners in the United States, when it comes to jail—where men and women await trial or serve what are supposed to be brief sentences—the massive rise in the population of female inmates "just hasn't been part of the conversation."
More than two million Americans are behind bars on any given day, and, yes, the majority are still men. But in 1970, women simply weren't going to jail at all—73 percent of county jails at the time reported zero female inmates. Now, that number has essentially flipped, with women in jail in virtually every county in America. And they're there for primarily petty offenses.
So are modern women committing that many more crimes—or have we redefined crime, and what it means to be female in its wake?
The Girlfriend Effect
"I started getting arrested when I was 16," says Ashley, now 31. Growing up in suburban Illinois, her parents were both heavy drinkers, and she picked up the habit herself in high school. "I drank a lot. I was definitely into drugs. I was a very angry child and I didn't know how to deal with those feelings." After too many run-ins with the law, her family kicked her out of the house. "My stepfather said this was what he expected of me. 'This is the life you're going to have. You're always going to go to jail.'"
His prophecy was fulfilled. Ashley's high school wouldn't let her attend if she wasn't legally emancipated—something she didn't have the money to pull off. "I was really at a loss when I couldn't go to school," she remembers. "I had been a straight-A student, I was on the volleyball team. College was going to be my way to get out of town." With nowhere to live, she moved in with her drug dealer and got pregnant. Then came cocaine.
And this is when Ashley's story collides with a much larger, much more political one: the war on drugs. "Those laws took effect in 1986, and were designed to pick up drug kingpins," says Stephanie Covington, PhD, LCSW, co-director of the Center for Gender and Justice. Instead, she says, the national crusade just ended up targeting drug users. And despite being widely considered a failure, the war on drugs' policies and punishments are still on the books in most states.
It's created what some call "the girlfriend effect."
"What happens is, a woman might be dating somebody who's dealing drugs. There's a raid and she's arrested along with the group," Covington explains. "He can get a plea bargain by giving law enforcement information they want about his operation. But often she has no information to give. So she gets arrested because she's associated with him, and then she's punished because she's not as established a criminal." It's a frustrating paradox: The girlfriends and wives of drug dealers are penalized for knowing both too little and too much.
Instead of acting as deterrents, drug arrests often perpetuate a cycle of more and more crime. "I kept getting arrested, kept getting DUIs. If I couldn't pay the fines, I did time," Ashley says. "I engaged in more criminal activities to pay off the fines: sell drugs, criminal impersonation, theft."
Circumstances like Ashley's are painfully common. Just talk to Trego County, Kansas Sheriff Richard Hanks, who presides over one of the largest female incarceration populations in the country. What all these women are doing in jail? "It's mostly drug crimes, possession," he says.
Sheriff Josh Siegler of Pierce County, North Dakota—another county with a disproportionately high rate of women in jails—elaborates: "A lot of women fall victim to drug crimes. They're being used. Women get victimized because they have to mule drugs."
Not-So-Subtle Sexism
Angela, 27, was at a networking event on a swanky rooftop in New York City when she ran into an old colleague. After a few drinks, they went to his parked car and started making out. "We heard knocking, and there were police in the windows on either side of the car," she remembers. "They told us to get out of the car, and asked no questions—just arrested us for having sex in public, which we definitely weren't doing." They fastened her handcuffs around a pole while they filled out paperwork, then took the couple to the precinct, where they were separated and left in cells with no water, food, or toilet paper.
Angela's arrest might seem like a waste of police officers' time—why even bother with a petty incident that's not even classifiable as a crime? But it falls under the "broken windows" theory of policing, another 1980s-era law-enforcement movement that's had a disproportionate effect on women. The thinking goes that if a neighborhood looks bad or dangerous—if the storefronts or houses have broken windows—then its citizens will stop caring about their surroundings and therefore invite more crime into the neighborhood. The policy resulted in an increase in arrests for smaller offenses like vandalism, prostitution, loitering, disorderly conduct, and public intoxication—and in the proliferation of stop and frisk. It also grants individual law-enforcement officers the freedom to police their communities how they see fit—even if they violate constitutional rights. Just for seeming like a bad seed, you could suddenly be stopped, arrested, and jailed by a police officer. Or for, in Angela's case, nothing more than making out in your car.
For women, policies like stop-and-frisk and "broken windows" are enacted along intensely gendered lines. If you deviate from what a "good girl" looks like, whether racially, sexually, or even temperamentally, you are suddenly suspect.
Late one summer night in 2013, Idaho native Jenna, 40, woke up to the sound of someone pounding on her door. An officer was there to question her about an accusation of stalking, which, according to Jenna, was unfair to begin with: After being denied medical coverage for her multiple sclerosis, she'd written two complaints to her doctor's office, which retaliated by claiming she was stalking employees. Now here she stood, in the middle of the night, on her own doorstep, staring into the face of a police officer. "I said, 'I'd be happy to talk with you later. This isn't an appropriate hour, and you scared my kids,'" she recalls. "He said, 'If you're not going to talk to me now, you're under arrest.' I got arrested because I wouldn't talk to them." Essentially, because she wouldn't just fall in line.
"The way we're socialized, we're supposed to be nice and sweet," Center for Gender and Justice co-director Covington says, adding that women often get harsher sentences for the same crimes as men. "If you break that mold, that's seen as worse for a woman than for a man."
This type of sexism starts early. "Many more girls are picked up and put into juvenile systems for status offenses like running away, truancy, things they don't put boys away for at all," she explains, "because boys will be boys."
When Jenna was arrested, two factors were immediately disregarded by the officers: her children and her health. "They told me I had to find a place for my kids, but it was 10 o'clock at night," she says. "I asked them if I could go talk to my neighbor—they said no. And then with my MS, when you're in certain situations, your body has spastic muscle movement. I kept asking if they could cuff me in the front, but they wouldn't. You can hear me on the audio recording screaming because it hurts so bad." The charges against her were eventually dropped, but the trauma of her short jail stint is very real. Her children still suffer from anxiety and separation issues, and Jenna is afraid of any noises at night.
Leah, 35, lives in the same town as Jenna, and was also arrested for stalking despite no prior warning. Her ex filed the complaint so he could use her time behind bars to take their son from daycare against their custody agreement. "He got what he wanted, then he dropped the charges," Leah says. But the damage was done—she went to therapy for months. "If someone knocked on my door, I'd freak out," she says. "I got pulled over for speeding—it was my fault—and I broke down crying. I have this fear that I'll do nothing wrong and I'll be put in jail for it."
The Justice System As Daddy
After the arrest itself comes a whole new wave of sexism. "Say a pregnant woman is arrested because she's using alcohol or drugs," Covington explains. "I've heard judges say, 'Oh, I'm going to send her to jail or prison so that her baby can be safe,' without understanding that if you send a pregnant woman to jail or prison, that's not a safe place. There's no maternity care, they don't have pre-natal diets. And he assumes it's a drug-free environment. So the judges are either harsh, or they're patronizing. 'This is going to help her. I'm going to take care of that little lady.'"
But jail systems weren't built with women in mind—particularly women who have experienced physical or mental trauma before being arrested.
The Vera report finds that a startling 86 percent of women in jail have been previously sexually assaulted, and 77 percent have been domestically abused. On a basic level, correctional officers are ill-equipped to guard female inmates who have had experiences like these.
"The standard operating procedure is for the women to re-experience the feeling they had when they were abused previously: the restraints, the cuffing, the pat searches, the cavity searches, the yelling, the name-calling," Covington says. "There are so many triggers for a woman who's survived abuse."
Take, for instance, the fact that male correctional officers watch and control their every move, from shower to shackling.
"The most humiliating part was being strip-searched," Leah says of her time in jail. "I don't even know how to describe that. I was in the military, I've showered in front of other women—but this was different. This was such a violation."
Women innately come into jail with certain disadvantages, "but then being in jail disadvantages them even more," Swavola observes. "It traumatizes them further."
What does it look like to design a jail for women? It takes a lot more than just tampons. "There are places where the uniforms that women have to wear are identical to the uniforms men have to wear, identical to the patterns that were cut up for men's bodies," Covington says. "So imagine how they fit. Or the food—the diets for men, with lots of carbs. I don't know that it's healthy for anybody, but it's certainly not healthy for women."
On Jenna's night in jail, her multiple sclerosis continued to be inflamed by the conditions, and police wouldn't respond to her requests for help. "At some point I had to use a wheelchair because my legs were completely done," she says. "I had a bottom bunk, but another lady had taken the mattress, so I laid on the floor and tried to sleep. But I couldn't sleep. I just cried."
She starts crying again at the memory.
A (Possibly) More Woman-Friendly Future
How do you fix a problem that combines issues on every level of society, from poverty to unemployment to drug addiction to federal policy to sexism to an ever-changing national attention span?
For now, 20 jurisdictions are re-evaluating how to reduce their jail population, from arrest through re-entry, thanks to private funding from the MacArthur Foundation.
But step one for women is making them a bigger talking point, period. "When we were researching this issue, we struggled to find recent national data," Swavola explains of Vera's report. "The last time the federal government tracked both the race and gender of people in jails was 1998. Local governments and the federal government need to create a bigger picture of what's happening for women now."
Smaller towns and counties could also strive to take some of the funding from their jails and put it toward rehabilitation centers, women's shelters, employment training, and other social supports—services women need to stay out of the jail system for good. "There isn't a whole lot," admits Sheriff Siegler. "We rely on nearby communities to shelter victims of domestic violence. The state as a whole is lacking those things. We haven't caught up in that way."
Leah was lucky—she had the means to get out of jail and stay out of the cycle. But she realizes that she's the exception, not the rule. "I have a new appreciation for what these women go through," she says. "We need to be rehabilitating them. They're not dumb, they just don't have any other options. What do you think is going to happen?"
All names of incarcerated subjects have been changed.
Celebrity news, beauty, fashion advice, and fascinating features, delivered straight to your inbox!