I Witnessed the Horrors Immigrant Children Experience at the Border
UNICEF USA CEO Caryl Stern spent two days with children at the U.S.-Mexico border. Here's what she saw.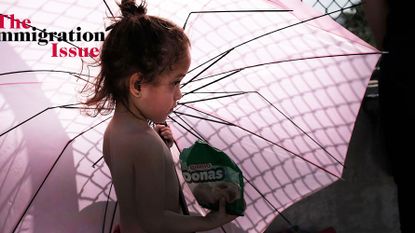 (Image credit: Spencer Platt)
In late June, as immigration officials struggled to reunite the nearly 3,000 children taken from their parents as part of the Trump Administration's "zero tolerance" immigration policy, activists streamed to the U.S.-Mexico border area to help ensure the young migrants were properly cared for. One such visitor was Caryl Stern, president and CEO of UNICEF USA, the global nonprofit dedicated to children. Between Harlington, McAllen, and Brownsville, Texas, Stern visited a border crossing, a respite center for weary immigrants just freed from detention, and a juvenile court to discover how UNICEF can work to keep kids there safe and protected. Here, in an exclusive diary for MarieClaire.com, Stern recounts what she saw.
The Night Before
As I unpack my bag at the hotel in Harlingen, Texas, I think about all the borders I have crossed during my tenure at UNICEF USA. Throughout these travels, I have witnessed the range of emotions that accompany one's journey to a new place. From the celebratory dances of those whose hands touch soil they believe will finally ensure safety for them and their children, to the tears and cries of distress that can be heard from those turned away.
I know migration stories all too well. I am the daughter of a child refugee. In 1939, my mother, then six-years-old and her four-year-old brother were forced from their home in Austria, fearing the Nazis. Their parents—my grandparents—had to make the agonizing choice to send their children away, alone, to the U.S. to save their lives. As a mother myself, it is impossible to comprehend the danger and fear that would drive a parent to send their child away on a journey to the unknown.
When I first heard my mom's story, I asked her, "How could anyone let this happen to children?" She said many people at the time claimed they didn't know what was happening. Today, we do. At this pivotal moment, we are facing one of the worst humanitarian crises since UNICEF was founded in the aftermath of World War II. No matter what we label them, or where they came from, we must remember that refugee and migrant children are children first.
Day One
My group starts the day with a background briefing by one of the lead attorneys at CARA Family Detention Pro Bono Project, a group of lawyers who provide pro-bono legal services to detained mothers and children. The attorneys explain there are a variety of legal paths for new arrivals depending on whether they are adults or children, if they have a sponsor in the U.S., and how they arrive—by seeking legal entry at an official bridge crossing or by attempting to cross the river illegally and then present themselves as asylum seekers. Regardless, the legal process is filled with technicalities, hard to follow terms, and shifting rules and guidelines.
I wonder what it must be like to be a child navigating all of this complex information alone in a language they may not understand. Most don't have a right to legal counsel and even when they do, the backlog is huge. I find myself thinking about my own children. Would they know what do in this situation?
We hear of mothers and children who endured harrowing journeys to reach the U.S., only to be retraumatized by having to share their stories with immigration officers upon their arrival. One story that sticks with me is that of a mother who was fleeing gang violence in El Salvador. After a hard journey to the U.S., she was separated from her four-year-old daughter and has no idea where she is. My heart breaks for her. It seems like the system is forgetting that these are children who need to be safe, protected, healthy, and educated.
Our next stop was the McAllen–Hidalgo–Reynosa International Bridge between Mexico and the U.S. As we walk into Mexico, we see a large cross to memorialize those who have not made it across the border safely. It's a jolting reminder of how real the perils of this journey can be.
After seeing the route that so many asylum-seekers take, we return the same way we came. Just before we reach the U.S. border, we see a young woman with a five-year-old child in her arms, tears streaming down her face. She said she had been told to wait outside, in the 100-degree sun, and had been standing there for a long time. The guards, a bit agitated, told us to stop talking with her and move along. We ignored their directions and tried to console the woman who was exhausted and overheated. After a bit of back and forth with the guards, we made it clear that we were not going inside until she was let in. They then led her inside (where we saw an empty waiting room with air conditioning, chairs, and access to a bathroom), but when I asked to accompany her, I was met with a firm no, and she was taken to another room out of sight.
I was left deeply unsettled. I will never know why she was detained before we arrived or why she was not allowed to wait inside. Just when I thought I could no longer hold back my tears, I felt a tap on my shoulder. It was one of the guards giving me the number for public affairs. He even told me who to ask for when I called. For the first time I contemplated the difficulty of his job; it must be hard to navigate between your professional responsibilities and personal feelings.
Our sadness was replaced with sheer joy when we visited the Rio Grande Valley Humanitarian Respite Center, a Catholic-run office that's the first stop for migrants after they've been released from detention. Entering the center feels like stumbling upon an oasis after hours in the desert. A bus full of immigrants arrives and is met by volunteers with eager hugs. They receive clean clothes, showers, and hot soup. Children get medical checks and toys to play with—giving them the chance to be kids is so important after a traumatic journey.
Day Two
I wake up tired. The conflicting emotions I felt yesterday made it hard to sleep.
We head to a juvenile immigration court in Harlingen, Texas, where children—many of them considered "unaccompanied minors" and most without legal representation—have their day in court. After a brief appearance before a judge, they learn if they'll be granted future hearings. I thought I was prepared for what we would find there, but listening to news report from afar and sitting inside a courtroom watching children appear alone before a judge are two very different experiences.
Eleven young people entered the courtroom. The oldest was 16, the youngest—the only girl among them—was 9. Only one child had an attorney. The judge tried to ensure each child could understand the translator. She then ran through the process and outlined the various possible outcomes. I was confused; the children were confused. To her credit, the judge took time to simplify her words. She also tried to banter with the kids a bit—it seemed like she was trying to cut the obvious tension in the room. Despite her best efforts, the kids looked terrified. The boy sitting in front of me could not keep his leg from shaking. I tried whispering some reassurances to him, but his leg kept moving.
The first eight cases were identical. The children state their names, countries of origin, reasons for coming to the U.S., and a few other facts, and are given future hearing dates, where it will be decided if they are granted asylum or deported.
Next, it was the shaky little boy's turn. He requested voluntary return, a swift deportation to his home country Guatemala. The judge asked, "Do you want to go home?" He said, "No" quietly, his eyes turning downward as though he were afraid to make eye contact. The judge pressed, "Why not?" He very softly answered, "I am afraid for my life if I go home."
We all thought perhaps we misunderstood: If he was too scared to go home, why was he requesting expedited extradition? The judge posed that question to him. For the first time, he looked up and answered clearly, "I spoke with my mom on the phone and she told me to come home." That was everything. This is a child, albeit a terrified one, and if mommy says come home, he would do as told, regardless of the consequences. Tears running down my face, I imagined one of my grown-up sons at that age, sitting in that courtroom. I wanted so badly to hug that young boy. The judge denied his request—she said she was not going to send him back if he was scared for his life. Finally, his leg stopped shaking.
This boy's story made me think of all the UNICEF staff in Guatemala, Honduras, El Salvador, and elsewhere, who work to support children and address the root causes that force them to flee, including gang and domestic violence, lack of access to education and jobs, and crippling poverty. If we can support kids and keep them in school and safe at home, perhaps other boys like the one in the courtroom will not have to undergo this same experience.
The final case of the day was a young girl who had entered the U.S. a year ago. When she sat in the defendant's chair, only the big pink bow on her head was visible. Unlike the other children, she had her father with her. He was a big strong-looking man, but he teared up while pleading with the judge for more time so he could raise the money needed for his daughter's attorney, which can cost around $8,000. The judge granted the girl another hearing in November with a warning that she needs to have legal representation next time.
Leaving Texas
Enroute to my next destination, I feel so many emotions after just two days on the ground. I am taking with me the agony of the helplessness I felt, while holding tightly to the hope that the activists working on behalf of these kids represent. I also hold tight to the conviction that I will not stop until America sees these kids as children, acts in the best interests of these children, and ensures they get the childhood they deserve.
Learn more about UNICEF and #AChildIsAChild here.
Celebrity news, beauty, fashion advice, and fascinating features, delivered straight to your inbox!