How These Small Red-State Towns Are Teaming Up to Support Immigrant Families
"I've been on the sidelines for too long."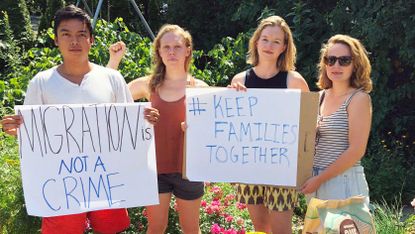 (Image credit: Ai-jen Poo)
Marie Claire Newsletter
Celebrity news, beauty, fashion advice, and fascinating features, delivered straight to your inbox!
Thank you for signing up to Marie Claire. You will receive a verification email shortly.
There was a problem. Please refresh the page and try again.
This past Sunday afternoon, after a church service at the Unitarian Universalist church in Garden City, Idaho, about 76 members of the community gathered for a cookout. The table in Garden City, a city with a population of 12,000, was complete with each family's favorite dish—potato salad, deviled eggs, baked goods, fruit salads. But this cookout was about more than celebrating the summer: It was to raise money for the families who couldn't enjoy this simple, sacred rite of gathering family for a meal.
This summer, the Trump administration's policy of separating families at the border sparked broad outrage and opposition. After all, family is a fundamental American value to conservatives and liberals alike—there was perhaps nothing more un-American that Trump could do than separating families. And so, last weekend, there were 50 cookouts just like the one in Park City, supported by People's Action, a group that is organizing in small-town communities in red states around the country.
The cookout's official event page read:
You can host a private cookout with just people you know or a public cookout that allows neighbors to join in too. Or you can join an event that someone else is organizing. That is all up to you.
There is an important and untold story about the resistance to Trump's agenda in small towns and rural communities across the country. A lot of people who live in communities that Trump won in 2016 are people who are standing with migrant families today. We need to get this story out.
Community Cookouts will be a chance to connect with each other, reflect about why family is so important, learn about what we can do collectively to keep families together and free, and take concrete action.
In Eldora, Iowa, 67-year-old Julie Duhn reserved the lodge at her local state park and hosted her own Families Belong Together cookout. With a population of only 2,600, Eldora is home to the only prison in Iowa that maintains a contract with Immigration Customs Enforcement to hold immigrants in detention.
"I'm a mother and a grandmother," she says. "I cannot in a million years imagine what it was like for these families to come this far through all the danger of that journey, trying to find safety, then to have their children taken from them. On what planet is that right?"
People arrived at the cookout with food made with ingredients fresh from their gardens. They introduced themselves to one another. Then, they passed around a hat to collect more than $1,000 to help reunite separated families, many of whom are still held in prison-like detention centers.
Some of those who attended were families with young children who chased each other around the yard. Meanwhile, their parents, seated around round tables, shared what they had learned from the news about families who had been separated: How many had been reunited, how many may be permanently separated, and how they felt about it all. A common sentiment was: "I've been on the sidelines for too long. With this policy, I realized I can't stay on the sidelines any longer."
Trump won both Idaho and Iowa by significant margins. But that's not the whole story. The story is still being written.
Families belong together. Around dinner tables, in homes and lodges, breaking bread and sharing salads from home gardens, forming bonds that can't be broken and bringing communities together. It's the foundation of who we are, and it's as American as the summer cookout.
This administration has forgotten what it means to be American. We won't let them forget who we are.
Ai-jen Poo is the Director of the National Domestic Workers Alliance and Co-Director of Caring Across Generations.

To learn about how to help the families separated at the border, click here.
RELATED STORY
Celebrity news, beauty, fashion advice, and fascinating features, delivered straight to your inbox!