Constance Wu Is Taking It Upon Herself to Diversify Hollywood
The star of Crazy Rich Asians talks about being the daughter of Taiwanese immigrants and growing up in "the capital of the Confederacy."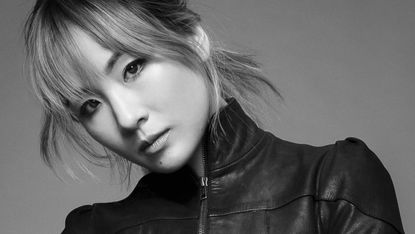 (Image credit: TIZIANO LUGLI)
Marie Claire Newsletter
Celebrity news, beauty, fashion advice, and fascinating features, delivered straight to your inbox!
Thank you for signing up to Marie Claire. You will receive a verification email shortly.
There was a problem. Please refresh the page and try again.
For Marie Claire's special immigration report, we're celebrating the talents and contributions of women with roots in foreign lands.
OCCUPATION: Actress and activist.
BEST KNOWN FOR: The web series EastSiders; Fresh Off the Boat (ABC); Crazy Rich Asians (2018).

FAMILY ORIGIN: Taiwan.
BIRTHPLACE: Richmond, Virginia.
CURRENT RESIDENCE: L.A.
HER ROOTS: The daughter of Taiwanese parents, Wu was born and raised in "the capital of the Confederacy," she says, "so I grew up around lots of politically conservative people. But I've found that even the most conservative Richmonders usually have the caring and patience to listen, even if our viewpoints differ. People were always kind and welcoming to me and my family." At age 12, Wu got into community theater and made her acting debut playing Mole in a stage adaptation of the children's book The Wind in the Willows.

HER BIG BREAK: In 2015, Wu burst into America's living rooms as strong-willed matriarch Jessica Huang in ABC's hit comedy Fresh Off the Boat, based on Eddie Huang's memoir about his Taiwanese-American family moving to Orlando.
HER STANDARDS: The 36-year-old actress has been an outspoken critic of whitewashing roles and an advocate for diversity and representation on-screen. Her priority is creating "complex human characters. I'm trying to read more books by Asian-Americans because I'm interested in creating our own standards. Worrying about Hollywood's readiness just reinforces its power. Create good work according to your own standards, not theirs. Maybe people will catch up, maybe they won't—who cares? No great art was ever created out of trying to get some institution's approval."
TO ME, AMERICA MEANS: "Struggle and possibility."
LISTEN: "The best thing we can do is listen to each other without defensiveness," says Wu, who last year worked with the nonprofit Miry's List to provide necessities to refugee families in southern California. "Even if you feel like you're being attacked or like someone else is Wrong...let that go. Let go of ego. It's not about being right; it's about understanding each other. What's happening now is robbing immigrants of their humanity and dignity. Remind them that you see it and value it."
LOOK: Wu recently protested family separations outside an immigrant detention center in Tornillo, Texas. "I went to bear witness. A lot of folks don't believe what is happening. Think about police brutality against black people. It's been going on forever, yet it's only recently appeared in our current conversation because of camera phones. Imagine all the people who were hurt before we had camera phones. Imagine how terrible it must have been to have people not believe your stories because you didn't have a camera."
LEARN: "Actions are illegal, not people. Language has meaning. You are completely allowed to call yourself whatever you choose to label yourself as. But if someone else tells you something hurts them or misrepresents them, you ought to believe them and respect that."
A version of this article originally appeared in the September 2018 issue of Marie Claire.
Celebrity news, beauty, fashion advice, and fascinating features, delivered straight to your inbox!