The Women Who Ran...and Lost
An unprecedented number of women are running in the midterms. But for many of them, the long, arduous months on the campaign trail won't result in a new job.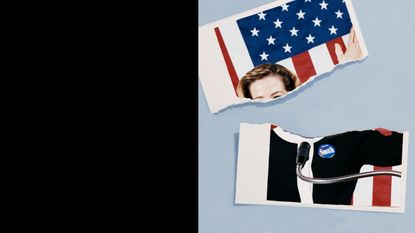 (Image credit: design by Morgan McMullen)
Running for Congress was never part of Sol Flores' plan. But when Luis Gutiérrez, the Congressman who had represented Flores' Illinois district since 1993, announced his retirement last November, a number of women in Flores' community sent her a message: "We think a strong woman should run." Specifically, they wanted the woman who spent years building an organization that advocates for homeless, hungry families in the community, and which will soon open a $18.5 million center with food pantry, health clinic, job training, and anti-violence programming for that community. They wanted Flores.
Sara Jacobs had never considered running for office either, despite working at the State Department under President Barack Obama and serving as a foreign policy advisor to Hillary Clinton's 2016 campaign. Not too long after starting a new job at an international education non-profit in early 2017, though, 29-year-old Jacobs found herself thinking about politics again. Deeply disturbed by Trump's travel ban and trans military ban, the San Diego native began working with EMILY's List to find a female candidate to enter the race for Congress in her district. Together they found one: Jacobs.
Flores and Jacobs are just two of the record-breaking 476 women who filed to run for a House seat in the 2018 election cycle, according to the Rutgers Center for American Women and Politics. But a record-breaking number of women running for office will also result in a record-breaking number of women losing; in fact, hundreds of women already have. Of those 476 women, just 239 are moving on to the general election in November. Flores and Jacobs are not.
It's the possibility of this outcome, failure—and a perhaps disproportionate belief in its inevitability—that has inspired great fear in many potential female candidates, and has undoubtedly deterred many from running altogether.
When her community started urging her to run, Flores immediately thought "I'm not smart enough." She worried that voters might wonder, "What does she know? She's not a mom, she doesn't have a family. I'm not a lawyer, I'm not a doctor, I'm not an MBA. I'm slightly overweight."
Flores ultimately decided to run, she says, because "if I think more people who look like me should run, then I'm the person who has to raise her hand." Still, she was scared.
"The fear of failure was everywhere," she says. "I didn't want to let anyone down."
Soon after the 2016 election, Katie Wilson joined a local political group in her upstate New York town, the Essex County Democratic Committee. Her fellow members encouraged her to run for office herself, but Wilson was initially filled with "all kinds of doubt" and could only focus on the reasons why she would lose. "I don't have the money, I don't have the support, I don't have the experience," Wilson recalls thinking. "I don't, I don't, I don't, I don't." Eventually, she came around, and ran for Congress in New York's 21st district.
The fear of "failure" is a well-documented deterrent for women attempting to pursue any goal or measure of success, in politics and beyond. Studies have shown that women will only apply for jobs when they feel 100-percent qualified, while men require a much lower percent of assuredness in their abilities to do so; that the second greatest reason why women don't apply for jobs is because they don't want to put themselves in a position to fail; and that women are more likely than men to give competition a try only when they feel they have a good shot at succeeding. Specifically when it comes to running for political office, research shows that women are significantly less likely than men to run for office, especially when they don't feel actively recruited or fully qualified. The fear is rooted in a real perception of backlash, since studies show that when they do fail, women are judged more harshly than their male counterparts, whereas men are far more likely to embrace their failure and plow ahead.
"I did not at all consider myself a leader," says Lindsay Brown, a Republican who ran in New Jersey's 7th congressional district. "I still totally suffer from imposter syndrome."
Unfortunately, many female candidates running this election cycle came to realize that there was validity to their fears that voters would perceive them negatively. While campaigning, Wilson was often told "that I was too angry, that I needed to smile more, that I needed to be more cheerleader-y and positive, and that the anger that was coming through was not becoming." Criticism rooted less in the candidates' political ideas than in voters' maintenance of sexist gender norms.
This distaste for anger might seem ironic to anyone who watched two candidates on both ends of the political spectrum—Donald Trump and Bernie Sanders—wildly succeed by leveraging that exact emotion. Of course, a female candidate was caught in an impossible bind between those pillars of anger.
"Sanders and Trump both excelled at channeling people's anger," Hillary Clinton's speechwriter, Dan Schwerin, told New York Magazine in May, 2017. "And there was a way in which this anger was read as authentic. But there's a reason why male candidates can shout and are called passionate, and if a woman candidate raises her voice to whip up a crowd, she's screeching and yelling."
Not only were female candidates' feelings criticized, but—surprise, surprise—so were their bodies and immutable parts of their identities. Jacobs "was very frequently told that I needed to change my voice or my hair or how I dressed," she recalls, concluding that these comments derived from people's unfamiliarity with "seeing women, and particularly young women, in positions of leadership."
Over the years, plenty of men—122 to be exact—have been elected to Congress in their 20s, including Speaker of the House Paul Ryan. Yet "when young men run," Jacobs observes, "they're cited as the future of the party. It's a much higher bar for young women to be taken seriously."
And of course, there was the internalized double bind of failure: that campaigning meant women were failing in the other areas of their lives—especially roles stereotypically tied to their gender.
"The whole time I was worried that by doing what I knew I was called to do, I was cheating my kids somehow," Wilson, a single mother, says. "I feel like as a mom, especially in our culture, there's a lot of martyrdom. I was constantly questioned about that in the campaign: 'Who is watching your kids? What about your kids? This must be so hard for your kids.'"
Alexis Frank, a 27-year-old veteran and wife of an active marine who ran in South Carolina's fifth district, faced similar concerns from voters. "I got a lot of flak for being a mom," she says, recalling that "it angered me because every other dude who was running except one had kids. And was anyone asking them how they're going to be good dads?"
Despite these gendered criticisms and their implications for the candidates' chances of victory, many women who ran in 2018 focused less on those chances than they did on the potential change that could come from running at all. The dominant narrative about elections is that the primary goal of running is winning, but many women who ran this cycle had different goals. In fact, solely focusing on election day missed the point of why so many decided to run in the first place.
These candidates, who had largely never before considered running, aimed to disrupt the narrow approach to political issues historically perpetuated by white, male candidates, and to change the homogenous face of politics. They did so by focusing on a more intersectional consideration of issues that women, people of color, and otherwise socioeconomically oppressed Americans face. Losing, they realized, wouldn't—and hasn't—undermined or negated their ability to achieve these goals.
Jacobs, the former Obama official from San Diego, realized that her campaign "was not just about convincing people that I should be elected, but also showing them that leadership can look and sound different," she explains. "My voice sounds too high because they're not used to female voices giving these speeches."
Wilson ran to address issues that affected not only her neighbors' lives, but her own. Her district is "an economically depressed area with high childhood poverty," and so Wilson talked to voters about "having to choose between snow tires and school supplies"—choices that the former candidate has had, and still has, to make in her own life.
During her campaign, Flores believes that she "was elevating a narrative that had not been elevated." A candidate who identifies as "Afro-Latina" and "looks black," young girls of all races and ethnicities would approach her and say "it's so great to see someone who looks like me," Flores recalls.
She also feels proud that she was able to talk about often under-addressed issues like "homelessness, pay equity, and reproductive justice." Flores even received national attention by sharing her own #MeToo story in a campaign video, talking about "being more than a victim...so that other women and girls could connect with" her.
Frank, the veteran from South Carolina, similarly realized that her "differences" from typical candidates were crucial. "I have a single parent for a mother, my brother is openly gay, my father wasn't around, my mother's white and we're mixed…I have kids, have been in the military—I think I understand a lot of people," she says.
None of this is to say that losing wasn't hard for these candidates. Losing felt worse "than any broken or unsuccessful love affair," for Wilson, who was defeated in her New York primary. Favored to win, hordes of reporters were camped out at the hotel in which Wilson and her team were stationed on election day. "We were bracing for a long, drawn out thing," Wilson recalls. Instead, it became quickly obvious that one of Wilson's opponents, Tedra Cobb, was going to come out on top. "You have to steel yourself because when you walk back into that room, people are going to be crying, the press is going to descend on you, you need to give a speech, you need to call Tedra," Wilson's communications manager told her.
Wilson followed these instructions successfully; the personal loss didn't hit her right away. Her immediate reaction, she says, was feeling upset that "despite the fact that we did everything we could to reach out and energize a group of people who had largely been ignored and left out of the process...we couldn't inspire those people to turn out."
In fact, only 16 percent of Democrats in her district voted in the primary. "I felt like I was grieving for people like me, not me," Wilson says. "I felt that hopelessness."
The loss hit Wilson more personally a few days after the election when her house—which had functioned as her campaign headquarters—emptied out. "It had been so busy and fun and alive," for months. "A few days later it was over. We went from 100 to zero overnight, essentially."
The stark change wasn't just personal, but professional—and particularly financial. Wilson "put everything on the line" to run. She didn't have a job to return to. "I've never been so broke," Wilson says. "I have two kids, I have a mortgage, I might lose my house, I might not have a way to put food on the table. All the things I was fighting for were real. I was fighting for people like me who are in such a pinch that essentially putting themselves out there in this way is leveraging everything they have."
Flores didn't feel an immediate personal loss either. She cried, she says, because, "I had people investing in me; I asked people to give me money, time, and strategy, and expend themselves in so many ways, and I let them down."
Four days after the loss, Flores flew to Miami for a much-needed vacation. It was there, she says, that "sitting on this beautiful beach, watching the sun rise, it hit me. I was like, Oh my God, Sol, this is what you did. I had a real moment and I acknowledged myself."
When she first decided to run, she had already spent two years unsuccessfully undergoing in vitro fertilization (IVF). Running not only meant sacrificing time spent trying to become a mother, but also time spent generating income to support herself and start her family. She had taken a partial leave of absence from work to run, which resulted in "heavily depending on my personal savings" she explains. "As a single woman, and also growing up with a single mom, I know how important it is to have some savings," Flores adds. "It absolutely made the difference in my being able to run. I recognized going in that this was the sacrifice I would to make."
But were the sacrifices worth it? Now that she lost. Now that she's not going to hold that elected office.
"Absolutely," says Flores. "I go to my grave knowing that I chose to ran for the right reasons in my heart and gut and that allows me to live with myself."
For many women who ran, their journey as leaders and advocates was not ended by their campaign's losses and, in many cases, are just beginning. Brown plans on running again; Wilson, Frank, and Flores aren't ruling out future campaigns.
"The natural counter to extreme loss is the opening up of new possibility," Wilson says. "Anyone who put themselves out there in that big and public of a way is opening themselves up to opportunities that they never would have otherwise had. So I'm really interested now in how women, and candidates of all genders, leverage the networks and connections they've made during the campaign and continue to use that for change and the greater good."
From explainers to essays, cheat sheets to candidate analysis, we're breaking down exactly what you need to know about this year's midterms. Visit Marie Claire's Midterms Guide for more.
Celebrity news, beauty, fashion advice, and fascinating features, delivered straight to your inbox!