My Name Is Breitbart
And it's hurting my career. Thanks, Steve Bannon.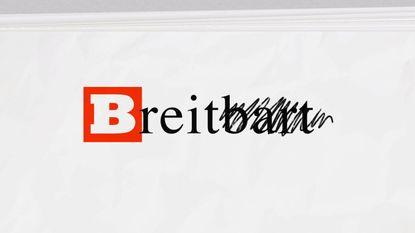 (Image credit: Betsy Farrell)
You know that scene in You've Got Mail when Meg Ryan's character slams Tom Hanks's for introducing himself as just Joe? "As if you were one of those stupid 22-year-old girls with no last name," she says with disdain.
Hi, 22-year-old girl with no last name here.
Technically, my surname is Breitbart. But if we've met recently, I probably introduced myself as just "Carly." It hurts the feminist inside me to hide my last name, especially in a professional setting. But lately I think sharing it will do more harm to my career, even though leaving it out sounds flighty and dumb.
Days after President Trump's inauguration, I walked into my first newsroom internship. Armed with borrowed flats and a spiral notebook, I was ready for my first press call. On the agenda: House representatives from Florida would be urging U.S. senators to oppose Neil Gorsuch's nomination to the Supreme Court. I was assigned to call in, take notes, and write a brief.
Before I started dialing, an editor keeping track of assignments asked, "What's your name?"
"I'm Carly," I replied. To which he responded, "What's your last name?"[editoriallinks id="fe99f87d-896b-4561-b594-68d6e62d6433"][/editoriallinks]
RELATED STORIES
Simon & Schuster Cancels Milo Yiannopoulos' Book
My answer evoked a barely-contained laugh. "Breitbart?" he asked. "And you want to go into journalism?"
I was worried that the press call would be given to someone else. I scrambled to defend myself in the same way I've often had to over the course of the last year: No, I'm not related to Andrew Breitbart. No, I do not align with the alt-right. No, I can't tell Milo Yiannopoulos you said hi.
And yes, I do want to go into journalism. If nothing else, my last name has given me one good thing: It's fueled my fight against the fake news it celebrates.
The notoriety of my name has skyrocketed since Trump appointed Steve Bannon, former executive chairman of Breitbart News, as his chief strategist and senior adviser. Breitbart News is a "platform for the alt-right," Bannon told Mother Jones, home to headlines like "Gabby Giffords: The Gun Control Movement's Human Shield," "Trannies 49 Xs Higher HIV Rate," and my personal favorite, "Birth Control Makes Women Unattractive And Crazy."
I am everything that Bannon hates: a liberal feminist half-Jewish aspiring journalist. Still, every editor, professor, and—I'm assuming—reader raises an eyebrow when they see my byline.
Having people assume my political leanings based on my name is frustrating enough at the office, but the more publicity Breitbart News gets, the more my moniker messes with my personal life, too.
I met a Clinton campaign staffer at a party recently. After some flirtatious conversation, he asked me to put my number in his phone. "Breitbart? Well anyways, it was nice meeting you," he said, pretending to walk away. I promised him it was just a coincidence. We laughed about it. I haven't heard from him since.
Before our president was anything but a reality-TV star, Breitbart was just a name to me. Often misspelled and always mispronounced. According to my grandfather, it means "broad beard" in German. I vaguely remember people asking if I had any relation to Andrew Breitbart, creator of Breitbart News. I had no idea who they were talking about, but told them I might have a long lost cousin named Andrew.
That all changed when Breitbart News's Bannon became a Trump campaign bigwig and I saw my last name in headlines all over the internet. I decided to do some digging. There's no way I share DNA with the mastermind behind a site that declares: "There ought to be a cap on women studying science and maths."
With the help of a few free trials on genealogy websites, I assured myself there was, in fact, no connection. But that doesn't stop people from jumping to conclusions when bouncers check my I.D. or my professors call roll. On the first day of my personal branding class this semester, nearly every head in the lecture hall turned when I said "here." I then registered the confused faces of those who spotted the "the future is female" sticker adorning my laptop.
"Different Breitbart!" I said with a nervous smile.
So I recently made the decision to change my byline—and my social media accounts—to just Breit. My younger sister did the same when she started looking for a college roommate. (She campaigned for Bernie Sanders before she was old enough to vote, and feared our eponym might attract a white supremacist to her dorm room.)
My parents are sticking with Breitbart despite the occasional "any relation?" question. They're a little bummed to see me and my sister part with our family name, but ultimately they support us.
Though Bannon and Yiannopoulos have recently left the site, I don't foresee "Breitbart" seeming any less shady any time soon. So while they keep advancing the Trump agenda, I'll keep fighting for equal rights and a free press. With a shorter, better byline.
Follow Marie Claire on Facebook for the latest celeb news, beauty tips, fascinating reads, livestream video, and more.