How Attorney General Ellen Rosenblum Is Quietly Fighting Trump—and Beating Him
Though every day seems to bring another crushing blow to reproductive rights, there have been small victories.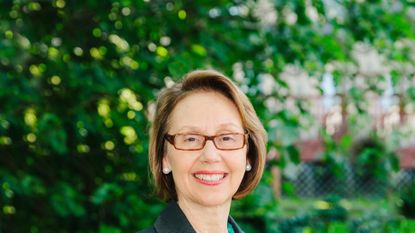 (Image credit: Friends of Ellen Rosenblum)
Our lives are at risk. The last two weeks brought a devastating cyclone for reproductive rights (opens in new tab): Georgia's governor signed a law banning abortion as early as six weeks, which is—in case you forgot from health class—before most people even know they're pregnant; Ohio's legislature introduced House Bill 182, which would block most insurance companies from providing abortion coverage; the Alabama Senate passed a bill that outlaws most abortions and makes it a felony for doctors to provide them; and just today Missouri's governor signed an eight-week abortion ban. Across the board, these bills put folks who are pregnant or becoming pregnant—intentionally or not—at fatal risk, all in service of a "pro-life" agenda intended to threaten Roe v. Wade, which is—again, in case anyone forgot—enshrined in our constitution under the right to privacy.
Yet, despite this doomsday Armageddon hellhole that feels like The Handmaid's Tale come to life, there have been small victories...and those are actually big deals. Seriously, it's not all doom and gloom out there. Doom and gloom just gets the headlines. There are organizations and politicians and government officials out there pounding the pavement (and courtrooms) in favor of reproductive rights. Like Oregon State Attorney General Ellen Rosenblum—the woman behind many of these wins—and her colleagues.
If you've been following the ongoing efforts to colonize and control other people's bodies, you might have had May 3 flagged as an important date for what's known as the "gag rule." The rule would both end Title X funding to doctors and clinics that provide abortion, like Planned Parenthood, and quite literally—this is why it's called a "gag"—limit doctors from telling their patients about abortion information and options whatsoever.
But the rule, which was supposed to go into effect that day, has not. (Temporary exhale.) Three weeks ago, in a lawsuit filed in Oregon—along with 20 other states—U.S. District Judge Michael J. McShane ruled a second nationwide preliminary injunction, halting the Trump administration's attempt to destroy Title X, which since the 1970s has provided low-income individuals with family planning access and healthcare. (This lawsuit was brought alongside a similar suit filed by Planned Parenthood and the American Medical Association in the U.S. District Court in Eugene, Oregon. It's complicated to explain why they were filed in parallel, but the judge heard them at the same time and they were both wins.)
"I personally have very, very strong feelings about choice and about access to medical care, access to justice, access by poor individuals," says Rosenblum, who spearheaded the charge. The case was the first time that Oregon—under this administration—has taken the lead on a major multi-state lawsuit, with New York as a co-lead. Rosenblum and New York State Attorney General Letitia James were able to do so because they were challenging a federal mandate. Unfortunately, they can't challenge, say, Alabama's abortion ban, because it's a state law.
It's the first day of May, mere days after her win, and I'm meeting Rosenblum, who is in New York City for an American Bar Association event, at the Marriot Marquis hotel in Times Square. "I look out for the most vulnerable," she says. "That's my job."
And the gag rule truly would have effected the country's most vulnerable. In Oregon, the Oregon Health Authority, which is a state government agency, receives Title X funding, dispersing it to clinics enabling them to provide low-income individuals with access to contraception, cancer screenings, treatment for sexually transmitted infections, and other healthcare, including information about abortion options. According to the Oregon Department of Justice, two-thirds of patients who receive support through Oregon's Title X clinics are at or below 100 percent of the federal poverty level and 95 percent were below 250 percent of the federal poverty level.
"This administration is basically trying to find a way to shut down abortion," says Rosenblum. "It's really about censorship." And, she adds, "It is a direct affront to the independence and the ethics of the medical profession to be told that they cannot provide certain information."
The Title X case isn't the only thing on Rosenblum's plate. Along with Karl Racine, the Attorney General for the District of Columbia, Rosenblum co-chairs the Democratic Attorneys General Association (DAGA), which has revolutionized its recruitment, fundraising, and get out the vote efforts over the past few years to help elect more Democratic state attorneys general (there are currently 27 nationwide). And while DAGA itself doesn't push policies, as a committee, it helps facilitate collaboration between Democratic attorneys general. This teamwork is how multi-state lawsuits like the Title X case take shape.
"When things happen, we want to be right out there on the front lines," says Rosenblum. "We want to make sure the individual AGs are getting credit for what they're doing in their state."
In Oregon alone, Rosenblum's office has signed on to 91 environmental actions (which refer to lawsuits, demand letters, claims, notices of non-compliance or violation, etc., in any way connected to laws that impact the environment) since Trump took office. She also led a report on the status of civil rights in U.S. and marshaled a coalition of 10 states to challenge the Environmental Protection Agency's mercury ruling report. She's joined the multi-state efforts defending DACA and challenging family separation, as well as rallying efforts around the opioid crisis—a bipartisan issue—to bring justice against pharmaceutical companies and even individual owners. She is also leading a statewide task force around hate crimes, giving her office more authority and pushing to require better police officer training to help law enforcement cease from engaging in profiling. So in a climate where Trump's administration exercises its executive power in a way that feels like the antithesis to democracy, Rosenblum is taking care of her state and the country at large.
"Being attorney general has caused me to focus on the importance of the courts in being able to be that back-stop when it looks like things are starting to just get out of control, and that has been the name of the game under the Trump administration," she says.
Rosenblum, who spent 22 years as a judge before stepping into the state attorney general role seven years ago, feels like an "uncaged bird." She sits up as she says this, taking her time as she opens up.
Now, she says, she can express and share her personal and legal views, especially with regards to reproductive rights. "I was never able to express them publicly until now," she says. "It's a freeing feeling. I feel like I'm able to finally do the work that I was meant to do."
This piece has been updated to reflect the news that Missouri's governor signed into law HB126 today, May 24.
For more stories like this, including celebrity news, beauty and fashion advice, savvy political commentary, and fascinating features, sign up for the Marie Claire newsletter.
SUBSCRIBE HERE (opens in new tab)
RELATED STORY
Caroline Rothstein is a New York City-based internationally touring and award-winning writer, poet, performer, and educator. Her work has appeared in Marie Claire, Cosmopolitan, BuzzFeed, NYLON, Narratively, The Forward, and elsewhere. She has been featured widely including in The New Yorker, MTV News, Chicago Tribune, CBS Evening News, BuzzFeed News, Huffington Post, Mic, and Newsweek, and was called a "very inspiring woman" by Lady Gaga.