The Troll Hunter Who Could Stop Russia from Hacking the 2020 Presidential Election
Bots, beware: Camille François is coming for you.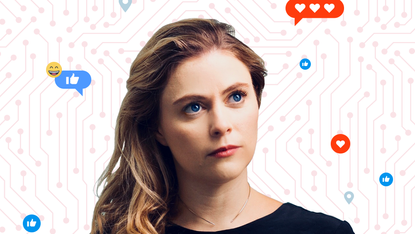 (Image credit: Morgan McMullen)
Marie Claire Newsletter
Celebrity news, beauty, fashion advice, and fascinating features, delivered straight to your inbox!
Thank you for signing up to Marie Claire. You will receive a verification email shortly.
There was a problem. Please refresh the page and try again.
Camille François's colleagues like to say she's the most optimistic person looking at the darkest corners of the Internet. François is chief innovation officer at Graphika, a New York–based company that uses artificial intelligence and other technologies to map out social-media interactions.
It's a deceivingly simple description for an operation helping to secure the future of democracies worldwide by shedding new light on the way foreign governments, special interests, and politicians can—and are—using social media to manipulate elections and thwart human rights. "I can't tell you the things I've seen on my screen are the best parts of the Internet," says François, 30. "But I love this work."
After the 2016 election, the U.S. Senate Select Committee on Intelligence tapped Graphika, along with the University of Oxford, to analyze how Russia used Facebook, Instagram, Twitter, and YouTube to manipulate the American public. François spent seven months digging into the data, looking for what she calls "the ABC's of disinformation": the actors (are the domain names linked to Russia's Internet Research Agency?), the behavior (were all the accounts pushing a hashtag created on the same day?), and the content (do the messages use the same phrasing?).
The resulting report, released in December 2018, marked the first major analysis of Russian influence on the election and revealed efforts to dissuade black people from voting, to serve right-wing users with anti-immigrant messaging, and to use LGBT issues to pit liberals and conservatives against one another.

Unwinding the ugly side of the Internet was not François's original plan. When she was growing up in France, her goal was to become "a space baker"—as in, she wanted to bake croissants on Mars. "I think it has to do with being French," she says, laughing. As she got older, the creeping desire to make the world a better place led her to complete two master's degrees—one in human rights and a second in international security.

The jump from human rights to tech may not seem obvious, but François saw the potential the Internet had to bring freedom to the oppressed. "My generation grew up as Internet optimists who thought cyberspace was going to bring democracy everywhere, help spread human rights, and expose corruption," François says. "When the tech I loved became a vector for abuse, I wanted to understand how that happened and how we could set it straight."
After stints at the Mozilla Foundation and as a special advisor to the chief data officer of France, François joined Google, where she started a research program to counter online propaganda and prevent terrorist networks, including ISIS and Al Qaeda, from recruiting members online. She also took on harassment campaigns targeting civilians, one of whom was Filipino American journalist Maria Ressa, who, after reporting on a troll army harassing critics of President Rodrigo Duterte, became a target herself, receiving up to 90 threats an hour. "People have this idea that women get harassed online but that it's kind of like bullying from classmates," François says. "I don't think they really understand that governments use harassment to silence women journalists, women running for office, and women human-rights heroes." She analyzed the attack against Ressa and identified the troll farms—organized operations of people paid to create online content—behind it, many of which were then shut down.

Her research at Graphika has helped thwart an Iranian effort to interfere in the 2018 midterm elections and contributed to quashing misinformation and manipulation campaigns on Facebook in Bangladesh, the Philippines, and Saudi Arabia.
As the 2020 election nears in the U.S., she and her team are using machine learning and data analysis to make sure they can detect foreign—or domestic—election interference. "If you have foreign actors manipulating audiences, your democracy is losing," she says. "And if you have important voices being harassed out of the discussion, then you're not doing your job of protecting the Internet as a space for democracy." Luckily, François is ready for battle.
A version of this story originally appeared in the October 2019 issue of Marie Claire.
RELATED STORY
Celebrity news, beauty, fashion advice, and fascinating features, delivered straight to your inbox!