The Architect Behind Alexandria Ocasio-Cortez's Green New Deal Has a Plan to Save the Planet—and All of Us
Rhiana Gunn-Wright's got the Earth's back.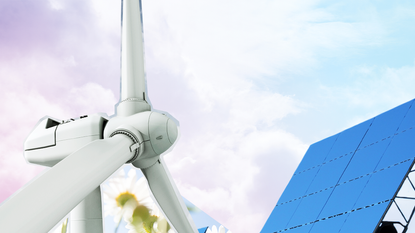 (Image credit: Morgan McMullen)

In late 2018, Rhiana Gunn-Wright, an architect of the Green New Deal, found her work thrust into the spotlight by a sit-in at Nancy Pelosi's office. In her role as policy director at the D.C. think tank New Consensus, Gunn-Wright had been exploring how to "put meat on the bones" of the omnibus plan that aims to simultaneously curb climate change, create jobs, and address income inequality.
Suddenly, on November 13, her phone and email started pinging with the news that the Sunrise Movement, a youth-led climate-change activist organization, and the progressive Justice Democrats—two groups she'd been working with on the proposal—had taken over the speaker-elect's office, urging Pelosi to create a select committee to draft an action plan. When Alexandria Ocasio-Cortez, fresh off her surprise win in New York, joined the protest, media attention skyrocketed.

Gunn-Wright had just joined the months-old nonprofit. Until then, it had been hard to get her phone calls returned; few had heard of the Green New Deal, and those who had thought it was an unattainable dream. "None of us expected the sit-in to blow up the way it did," says Gunn-Wright, 29. Just like that, she says, "everything changed."
The Rhodes scholar and former intern to Michelle Obama had just wrapped up a stint as policy lead on former Detroit Health Department head Abdul El-Sayed's unsuccessful campaign for governor. When El-Sayed asked her to join his campaign, she joked, "Are you sure? Because you're very Muslim and I'm very black, and this is Michigan." He said yes, and Gunn-Wright went on to win attention in the role for churning out 250 pages of bold and detailed ideas, including one for state-funded Internet access.

After the loss, Ocasio-Cortez's then-campaign manager Saikat Chakrabarti (who Gunn-Wright had met when AOC stumped for El-Sayed) connected her with New Consensus. Before long, Gunn-Wright was drawing on her Oxford master's degree in comparative social policy to sketch the framework for how the country could shift away from fossil fuels.
Despite its name, the Green New Deal does not focus solely on environmental policy; it intends to transform the economy by investing in clean energy and infrastructure—creating millions of high-paying jobs—but its commitment to social justice is just as important to the framers. As Gunn-Wright wrote on Twitter, "Folks may be mad that the GND is not all about climate. But this is what a commitment to justice and equity means!" To that end, the policy's ambitious goals of transitioning the country to electric cars, high-speed rail, and 100 percent renewable energy while strictly reducing emissions will be promoted alongside progressive social policies like government-funded childcare and universal health care.

For Gunn-Wright, the policy is personal. She grew up on the South Side of Chicago, which, like many low-income and minority communities, has borne the brunt of the environmental impacts of development. Residents in neighborhoods like hers are more likely to suffer from asthma, in part because of their proximity to air- and water-polluting industries. (Over 70 percent of African Americans live in counties that violate federal air-pollution standards, according to research from the NAACP.) Areas with more money, resources, and political power will boot unsavory industrial projects (like Bismarck, North Dakota—about 93 percent white—allegedly did with the Dakota Access Pipeline, which was rerouted through a poorer, less influential Native American reservation). "My community in Chicago has been used as a bargaining chip so many times," she says. "I had asthma because of the pollution there. I was out of school for at least three days every spring." After Gunn-Wright left home at 14 for a boarding school in Aurora, Illinois, her asthma symptoms gradually disappeared. "Policy is an instrument to distribute power," she says. "It determines who gains what."
The challenge now facing the Yale alum is "figuring out how you create policies when you assume that no one and no place is disposable." That means tackling complex questions: How to upgrade homes and buildings while not disempowering people? How to switch to electric cars without burdening rural communities? How to transition to solar when many homeowners can't afford to install panels?
Gunn-Wright wants to have answers and a blueprint by the middle of next year so the draft can be tweaked and perfected until it's handed off to whomever wins the election in 2020. (A majority of the leading Democratic candidates for president support the Green New Deal; President Donald Trump has called it a "road map to destroy the American economy.")
"A Green New Deal will take the level of ambition and innovation on the scale of the moon landing," Ocasio-Cortez says. "Leaders like Rhiana are helping make this a reality by connecting climate action to more tangible issues like wages and health care. Together, we are creating a national strategy that everyone can get behind—and benefit from." It may be a lot for any piece of legislation to take on, but Gunn-Wright is determined to make an about-face possible.
This story appears in the October 2019 issue of Marie Claire.
RELATED STORIES
Marie Claire email subscribers get intel on fashion and beauty trends, hot-off-the-press celebrity news, and more. Sign up here.
As the research director of Inc., Karen L. Smith-Janssen helps untangle factual and legal hairballs for the magazine. She has a hand in production of the Inc. 5000 as well as the brand's other recognition programs. Her work has appeared in Vogue.com, NRDC.org, Marie Claire magazine, Prevention.com, Women's Health magazine, and other outlets.