Syrian Journalists Reflect on Covering a Decade-Long War
Five women who have lived under the shadow of civil war tell us how and why they risk their lives regularly to document what's happening in their country.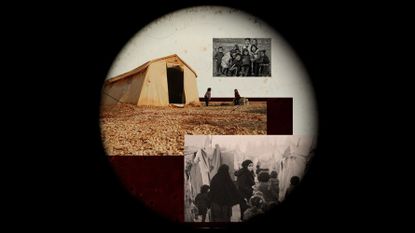 (Image credit: Coutesy / Getty Images)
March marks the 10th anniversary of the Syria conflict, which began when President Bashar al-Assad's military crushed nonviolent, pro-democracy protests in the southern city of Daraa. In the 10 years since, this civil conflict has killed more than 500,000 and driven 12 million people from their homes, according to the Syria Campaign (opens in new tab), a human-rights advocacy group. In the past decade, we have read searing stories of conditions in displacement camps (some of which have grown from a few tents to semipermanent cities (opens in new tab)) and of efforts by White Helmets (opens in new tab), volunteers who wrest victims from the rubble after air strikes rain down on cities. We've watched the horrific video (opens in new tab) of civilians exposed to prohibited chemical weapons. The Syrian government withheld humanitarian aid, while anti-government groups attacked government-held areas and prevented civilians from fleeing.
As active conflict decreases, Russia and Syria have called for refugees to return, and the Syrian government has passed laws to facilitate reconstruction, but watchers say human rights are still being violated. We reached out to five women who have been telling the stories they've been witnessing around them and documenting the country's difficult way forward.
---
"When the revolution started, I was in 10th grade," Hiba Barakat, now 25, says. "I couldn't participate in any of the peaceful protests that started in my village, but I would watch my brother go."
Her mother was an avid photographer who filled many albums with family pics. Inspired by her mother's creativity and her parents' love of reading, Barakat started painting and writing in school—poetry and stories—and in her teens she began documenting what she saw around her. After she and her husband, a journalist, divorced, she contributed to the Al Jazeera blog and other outlets. Her passion for photography didn't go away. "I realized later that I can tell more stories and I can reach more people through photos instead of just writing," she says.
In February 2020, the photojournalist and her family were driven from their home in Urem, a village in western Aleppo, "because the regime launched this intensive military campaign against civilians in the province and our town." They sought shelter in a nearby village, thinking it would be just a few days, but the bombing went on. About 10 days later, they took a chance and returned home. "I knew that this was the last time I was going to see home," Barakat says. "We couldn't take anything; we left all of our belongings at home. My mom was able to take only some of our photos." She adds, "Our village was captured by the Assad regime forces four days later."
For a while after the relocation to Idlib province, she couldn't work. "I tried to talk to people and to report on this humanitarian catastrophe, but it was such a hard crisis that you don't know what to say anymore," she says. "I remember the last day I was in my village, Urem. I shot this selfie video where I talked about what happened and that the regime is forcing us to flee and to leave our homes, but that was the only thing that I could do."
Women have borne the brunt of this war, she says. "There are so many painful stories about young girls and women in Syria. I'd need a book to tell them all. The stories of Syrian women's struggles are of forced marriages resulting from wartime pressure, of loneliness and displacement, of having to leave school and abandon their dreams. This war is a curse that women have suffered from the most. It has made some of us stronger, but it has also broken many of us."
As for her mother's hobby that started Barakat on this path, she says, "My mom lost interest and stopped taking photos since my brother was detained by the Assad regime in 2014. We haven't heard anything about him since then."
---
Nabiha Taha
Photojournalist Nabiha Taha is only 22 years old, but she has already lived several lives. "When the revolution started 10 years ago, I was only 12 years old," she says. "When the regime invaded my city and started bombing it, there were a lot of injured people who needed help." At 13, she learned first aid and worked as a medic. In that role, she did a few things that didn't sit well with conservatives, like working in ambulances and field hospitals with male colleagues. "This was frowned upon by ISIS members," she says.
She also violated the ISIS-imposed dress code for women. One day, the jeans she was wearing under her black abaya cover-up were visible. A carful of ISIS members picked up Taha and a few friends. "They took us to their center. It's called al-Hisbah. It's where they do trials and they judge people," she says. "They whipped us. Me and my friend got the most lashes. Our other friend who was pregnant got the lashes on her feet, and then they let us go." She went right back to work at the hospital. At 18, she volunteered with the White Helmets. But after a year, she decided she wanted to be a journalist.
Now she's studying journalism and is scheduled to graduate from Syria's Media Institute this year. She writes and produces reports for local outlets like Ayni Aynak (a.k.a. Women of Syria, a blog for female Syrian writers), online news platform Furat Press, and a humanitarian NGO. "Of course female journalists face so many hurdles that our male colleagues don't," she says, "especially in northern Syria because it's a conflict zone; so many other groups are taking control of this area. We are always at huge risk—not just me, but all of my female colleagues. We face harassment in the streets sometimes. Also, because the community here is very conservative, it's not usual for them to see a girl outside in the street holding a camera in her hand, so sometimes I face bullying or harassment. Someone once attacked me and tried to break my camera while I was working."
Kidnapping is a real threat. "When I want to move to other places that are controlled by extremists, it's very dangerous for me," she says. "I can't go because there are checkpoints on the roads and I might be subjected to kidnapping or intimidation by those armed groups. Some of my colleagues were assassinated during the past years by those groups because they don't want the truth to come out, but that didn't stop us, and we continue to do our work." She adds, "I hope that the U.S. and the international community will play a [bigger] role in protecting civilians and journalists. Because a journalist here in northern Syria is [not valued] and anyone can kill them with one bullet."
---
Ramia Akhras
Ramia Akhras, 34, had a business and accounting degree when she was married, but her "very conservative" husband did not want her to work, she says. They lived in Kafranbel, a town in Idlib province known for its activism against the regime. After her husband joined the rebel army and was killed by a bomb in 2017, she says, "I had four children and I didn't want to wait for charity or for help; I wanted to be financially independent." She worked as a mosaic artist for a craft store. After the photos she posted of her creations received compliments, she decided to sign up for some photography and journalism courses.
She has worked for the past several years for an online platform called SY+ (opens in new tab) that tells stories about Syria and Syrians using creative video. In 2018, she lost a son in a house fire; she and her other children had burn injuries and needed multiple surgeries. "All of my managers and my colleagues are my role models," she says. "They've always supported me. And when I had the accident—the fire accident when I lost my son—they took me to Turkey to do the operations, and they stood by me, and they really took care of me, and I'm forever grateful for them."
The next year, a military campaign by Syrian forces forced her family to flee to a town in northern Syria, near the Turkish border. It's harder for female journalists to safely get around, especially alone, Akhras says, but they do have access that men can't have in the conservative culture. "Male journalists weren't able to have access to the women in our communities," she says, "so me and my female colleagues are able to go and meet more women and cover their stories and interview them."
Akhras often goes to the displacement camps for her work. "Everything I went though, from losing my husband to losing my son a year [later], I carry this pain in my heart," she says. "And I always look for stories that I can relate to or I can share this pain with others. I think that I was blessed to get this job because it makes me forget a little bit about my suffering and think about other people's suffering."
---
Sarah Kassim
As a seventh grader, Sarah Kassim was living in Homs, the country's third-largest city and the so-called capital of the revolution. "I was displaced from my city, but before I was displaced, I lived for two years under the siege," she says. "I witnessed how the war planes were targeting us as civilians, without [being] careful of the children, women, or even the medical centers." She and her family scrambled to find food and other basic necessities such as fuel, clean water, electricity, and medicine. Her school closed.
Kassim, now 22, and her family went to Idlib, where she's studying English literature. Her favorite book is George Orwell's 1984. "The message that he has is the same that we have now. It's about totalitarianism," she says. Learning a second language has helped her journalistic work. She's doing video reports on SY+, including an online discussion last July hosted by Kelly Craft, then the U.S. ambassador to the U.N., about the Security Council's vote to consider cross-border delivery of humanitarian aid.
Growing up under the shadow of war, she says, "was an awful experience for me." But it taught her not to give up. "I have a message, and I have to share it, no matter what the difficulties I'm going to face or no matter what will happen." She adds, "What I want you to know about me is that I am a person like anyone else, but a person who has witnessed the most painful tragedies and images, pictures of a war that feels endless. And this war, you know, no one wins." Her message, she says, is "to keep fighting for the right things, and be a good example for society, and fight to change your society for the best. [It is] to be a good woman and not to give up your dreams, no matter the difficulties you have in your life, and to fight for freedom, fight for justice."
---
Yakeen Bido
In Syria, going out to report on a story can get you arrested, abducted, or killed. But Yakeen Bido, 27, doesn't let fear stop her. "I believe that even if I left journalism and just stayed at home like a lot of people want me to, any time a rocket or a missile can come and be dropped on my house and I could just die. So why sit at home doing nothing?" she says. "At least by my career in journalism, I'm an active citizen. I'm doing something. I try to leave a legacy. I try to make a difference in people's lives and to elevate their voices and to tell their stories."
Reporting on scenes of war shocks some in her culture. "Sometimes I would report on battles, bombings, or massacres," she says. "The community here is not used to seeing women as military reporters. Very few dare to appear in front of the camera on the spot where there's a bombing or there's a battle happening. So I think this is why there was so much spotlight on me."
Bido was the target of a smear campaign and anonymous threats last year. In early 2020, Assad's forces launched a military campaign to capture the town of Saraqeb, strategically located on the Damascus to Aleppo highway. Saraqeb was under siege by regime forces when the rebels took it back briefly in early March 2020. "So the regime was trying to advance to this town, and they invaded this city for only like 24 hours. Then the rebels fought back and they got the city back. And during the early hours of when the rebels got the city back, I was able to go there, and I filmed myself in a video standing in the city center, saying, 'This is our land; we want freedom. We are challenging the regime that's using brutal force to kill us and to silence us, but we won't be silenced.'"
When the regime saw the video, "it blew their minds," she says. "They couldn't stand that a woman is challenging the Syrian regime from the middle of a city during a battle; the battle wasn't even done." As payback, she believes, a prominent official spread the rumor on social media that Bido was raped by extremists. And the next rumor was that when her father found out she was raped, he killed her. "So I was having breakfast with my friend and I started getting all these calls and messages from my friends saying, 'Are you okay? Has something happened to you?' And I couldn't believe how low they went to attack me, because I'm a woman. What helped me to overcome all these threats and obstacles and challenges is that I believe that I have a goal. I won't stop and just give up. I need to continue even though I know that the path of journalism, especially for women, is not an easy path, especially in somewhere like Idlib."
All interviews conducted through an interpreter and edited for length and clarity.
Maria Ricapito is a writer who lives in the Hudson Valley.