Grand New Party?
Moderates are appalled—and fleeing—but the Republican base is more besotted with Trump than ever. Six conservative female leaders chart a path forward.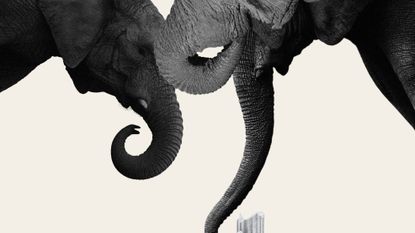 (Image credit: Morgan McMullen)
For many Republican leaders, this moment in history—a devastating pandemic, an economy on life support, a violent insurrection at the Capitol, and a second presidential impeachment—has called into question the values, ideals, and alliances of their party. Some can't admit political defeat, others can't stop spewing QAnon conspiracies, and then there are those holding tight to traditional party ideals, like small government and fiscal and social conservatism. With nearly 140,000 Republicans having quit the party this past January alone (in the 25 states with readily available data), it's clear something must be done.
We asked leading conservative women what to make of the past four years and how to approach the next. One point stood out: It's time for the good old boys' club to go. As Rep. Elise Stefanik (NY-21), founder of E-PAC, which helped fuel a record-breaking pink wave in November, told us, "Women are very effective legislators and decision makers, and they're good listeners, which ultimately makes you the most effective public servant. Frankly, that's how some of our women Republicans won."
Young Kim, U.S. Representative for California's 39th District
Freshman Kim, one of the first Korean American women in Congress, spoke out against Trump's anti-Asian "kung flu" comments during her campaign. She serves on three committees, including Small Business.
On dealing with backlash:
As long as I know in my heart that I did the right thing, I have to get past backlash from the base or other Republicans. I know I am not going to make everybody happy 100 percent of the time. If I can go to sleep after taking a tough position, then I know that I've done something right.
On unity:
I was encouraged to hear [President] Biden asking for unity. That's why I was one of the 17 in the [GOP] freshman class to send a letter to the Biden administration offering our sincere desire to work in a bipartisan way to move our country forward. I came to Congress to bring that independent voice, independent leadership, and to find bipartisan solutions to get us out of this very difficult time.
On moving the party away from extremism:
[Removing Rep. Marjorie Taylor Greene from her committee appointments] was a tough vote. I respect her fighting spirit, and I recognize she was elected by her constituents. But words have consequences. This was not a vote against Republican leadership. This was about sending a message that such hateful rhetoric and anti-Semitism have no place in our country.
On paving the way:
While it's exciting to be one of the first, I'm very excited to know that I'm not the last. I really hope that my story can inspire immigrants, especially young girls, that they too can achieve their dreams, just like I did. I really feel that in this Congress, I have the moral responsibility to encourage other women and immigrants to speak up and get involved.
Jaime Herrera Beutler, U.S. Representative for Washington's 3rd District
Herrera Beutler has been re-elected five times and is the first Hispanic person to represent Washington State on a federal level.
On addressing the current crises:
Many of the problems that existed before have been exacerbated by COVID: housing affordability, childcare access, college costs, government regulation that gives [the] advantage to big corporations while stifling small businesses, and on and on. I'm going to redouble my efforts to tackle these challenges, working with Republicans and Democrats to bring solutions like increasing access to childcare, keeping Main Street afloat, and getting students back into the classroom.
On the future of women in the GOP:

A better question is, "What is the future of Republican women in history?" I'd answer it by saying, "Whatever we want it to be." It's a simple guiding principle: We want Americans to continue enjoying those ideals the Declaration of Independence so clearly states: life, liberty, and the pursuit of happiness. And I think more and more Americans want a refocus on those ideals, which is why, despite the top of the Republican ticket losing, the 2020 election saw a record-breaking number of Republican women elected to the U.S. House—the most in history! To me, that shows Republican women are more motivated than ever to step up and serve their communities, and their communities are responding. I predict that number continues to rise.
On the second impeachment trial:

The January 6 attack on our Capitol will live in infamy, and I was there. I didn't invite the opportunity to testify, but if asked, I wasn't going to suddenly reverse course to suppress the information I had about the president gloating in the attack. My faith, my moral compass, and my belief that conservatives are willing to face the truth meant I had an obligation to share the facts.
On getting back to basics:
We can either be a strong, united Republican majority delivering on consequential conservative ideals—ideals like free markets that generate economic opportunity for all, limited government, personal responsibility, individual liberty, justice, life, family, and equal opportunity for everyone in our communities—or we can be a splintered Republican minority driven by anger and fear and centered on one man. I choose the former, and my hope is that others will join me in re-establishing what our party stands for.
On Democratic vs. Republican Policy:
As a nation, we face big challenges. To name a few: racial injustice, economic oppression, government overreach (and incompetence), skyrocketing health-care costs, and decreasing employment opportunities. Leading Democrats think the answer to these challenges is more government intervention. I believe that We the People have the answers. We must empower people to limit their government, choose how to raise their families, decide which school is best for their kids, start a business or a nonprofit, and practice their faith. I believe most Americans agree with [conservatives] on these issues. That's why in the most recent election we saw Republicans win seats in the U.S House, despite widespread prognostications that our party was doomed. When we present our priorities to citizens directly, Americans choose our ideals and solutions over the kind of socialist agenda that's become the new bedrock of the Democratic Party.
Jennifer Carroll, National Spokesperson, Maggie's List
Carroll, the first Black person and first woman elected to be Florida's lieutenant governor, is the spokesperson for conservative political action committee Maggie's List.

On changes she's seen:
When I ran for Congress [in 2000], it was more political to not receive support from my party—the good old boys in the system—because they had their political agenda. It's Who is going to grease the [palm] for me so that I can either stay in power or make money? which is unfortunate, and you still see some of that. Now that we have our first woman vice president and more women than ever elected to Congress, leadership cannot refute the importance of women taking over government positions. They're going to have to make room.
On moving forward:
Unfortunately, we have come to a point where many have taken their corners. Our elected officials, at least those who have been there for over 10 or 20 years, have forgotten that they represent the people. This is a republic. The female candidates that Maggie's List endorsed embrace that. We are hoping that they will push those who have forgotten the people to really bring it back.
Sarah Longwell, Executive Director, Republican Accountability Project (RAP)
Longwell cofounded RAP with the goal of steering the party in a less extreme direction following the deadly Capitol attack.
On rejecting Trumpism:
Joe Biden has obviously talked a lot about unity, and I think all of us would like to live in a country that is more unified, but the fact is, Donald Trump has spent the last five years tearing the country apart and deepening divisions. It culminated with an attack on the Capitol because he was lying to voters about an election being stolen. As long as the Republican Party remains in thrall of Donald Trump, it's going to be very difficult to move forward because [he] is the most divisive political figure of the modern era.

On the GOP's future:
One of the things you saw during the Republican National Convention last year is that they didn't, as is customary, put forward a platform. All they did was put out a statement about their complete support for Donald Trump. For the Republican Party to pull itself together, it's going to need an affirmative policy agenda—something that it stands for. It cannot simply be against the Democrats.
People like me, who would otherwise be involved in the Republican Party, are leaving. You're seeing all over the country people changing their registration. The Republican Party is headed for an identity crisis because it doesn't know what it stands for beyond Donald Trump. People who used to traditionally be Republicans—college-educated suburban voters—those people are drifting away from the party because they don't feel at home. I will continue to fight for a responsible center-right party, and I will continue to defend Republicans who do the right thing, like Liz Cheney and Adam Kinzinger and Mitt Romney.
On the forces dividing us:
Some of it is social media, but some of it is just the state of our politics, where we treat one another as enemies rather than opponents. Where the rhetoric that people use—Donald Trump didn't invent it, but he made an art out of it—of calling the media the enemy of the people and using constant incendiary and divisive language, name-calling, and lying. I also think people are about 30 percent crazier right now because we've been cut off [for a year] from a lot of the other activities that keep people grounded. You can't go to church or school and be out doing things that keep you from focusing on politics. Everybody's a little angrier.
Julie Conway, Executive Director, Value in Electing Women (VIEW)
Founded in 1997, the VIEW political action committee has helped raise more than $8.5 million to elect Republican women to Congress.
On women leading the charge:
People often say, "How can you be a Republican and be a woman?" And "The Republican Party hasn't taken care of Republican women." And while some of that is true, there are very serious women who have worked very hard to get to where they are, and I think they are going to start to be heard, such as Kay Granger, the ranking member and lead Republican of the powerful House Appropriations Committee, and Cathy McMorris Rodgers, the incoming Republican leader at the House Energy and Commerce Committee. These are two of the most important committees in Congress led by women—strong Republican women who do not think this is a circus and do not want to be on TV saying something outrageous.
On a third party:

I think the Trumpers are the third party. They are not Republicans. They are right-wing extremists following this idol worship of Trump. If that's what you want to do, fine, but that doesn't make you the Republican Party.
On the future:
There is a path for calmer minds to prevail. There definitely needs to be a pivot back to being a legislative body that's not a circus. [Legislators] want what they were elected to do: to actually get the country back moving again; get the kids back in schools; deal with healthcare; deal with education; deal with safety.
S.E. Cupp, Political Commentator, CNN
Cupp is a TV pundit, nationally syndicated columnist, and author of Why You're Wrong About the Right: Behind the Myths—The Surprising Truth About Conservatives (with Brett Joshpe).
On taking stock:
I've been asking myself for the past four years what the future of the GOP is. All the way back in 2012, when I worked on the GOP autopsy, we identified the gaps in our voters: women, minorities, LGBTQ+, and millennials. How could we make inroads to those constituencies? I think we started to make some progress, and then, of course, Trump comes along and really demolishes all of that.
There's a famous axiom in politics: When you get sent to the woodshed, you go there and think about what you've done. And that's not really happening. When you look at the fact that Trump not only lost after one term but Republicans lost the House and the Senate during the course of his term, who in their right minds would say, "Well, let's keep doing what we've been doing"?

On conservative values:
Let me just say, I think conservatism as a value set survives this. Whether the Republican Party in its current form does or not is another thing. Fiscal responsibility, for example, self-reliance—that's for everyone. Lower taxes, being able to keep more of your own money, and antiprotectionism. All of this is good for women because it's good for everyone. But we haven't been able to really even engage in those kinds of political debates because Trump and Trumpism and wild, baseless conspiracy theories have taken over the party and the conversation and eaten up all the oxygen.
On the credibility gap:

Who would listen to any Republican who wants to say what's good for women or what's good for anyone other than white guys of a certain age? We've really lost any moral authority we once had, if we had it.
It's so important to have two strong parties in this country because neither gets it right every time. And [women] can end up being pawns in a system that is fighting over politics, and that's awful for anyone caught in that, but especially for women because our needs are so dire and so great. The world runs better when women are feeling good. And I think too many women are not feeling good right now. Women should want the Republican Party, even if they're outside of it, to be better than this and stronger than this.

Responses edited for length and clarity.

A version of this story appears in the April 2021 issue of Marie Claire.
RELATED STORIES
Celebrity news, beauty, fashion advice, and fascinating features, delivered straight to your inbox!