Naked Ambition: Marriage and Politics
He's in politics; she's in pasties. So how does that work?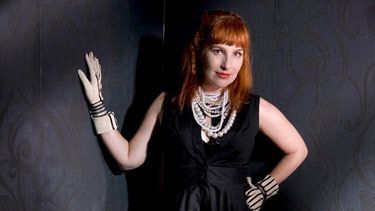 (Image credit: Greg Kessler)
Strands of pearls have long been the quintessential accessory for political wives, whether strung around the neck of Michelle Obama, Barbara Bush, or Jackie Kennedy. So how could it possibly hurt my husband's political aspirations if my pearls are pulled from silk stockings while I'm wearing tasseled pasties and shimmying onstage to Edith Piaf?
My husband, Dave, just finished his third term as chairman of our local New York City community board. He serves as cochair of the landmarks committee, and was recently awarded his own Appreciation Day by the borough president. His life revolves around volunteering as a subdeacon at an Episcopal church and listening to the public complain about subway construction, class size, and too-noisy bars. His dream is to make it to Congress one day, and to have an old-fashioned, street-level storefront office where constituents can stop by. After a long political career, he hopes to attend divinity school and become an Episcopal priest.
As an amateur burlesque dancer, I perform mostly at upscale restaurants and wine bars in New York City. My dream is to go on a burlesque tour through Europe, wearing ostrich feathers and velvet and bustiers, removing piece by strategic piece in lush, red-curtained, time-stained theaters. Usually, political scandals implicating half-dressed women involve everyone but the wife. In our case, the sex scandal is the wife. Though, for the record, I never get completely naked when I dance, and I use a pseudonym, Grace Gotham, to stay incognito. But still, you can see how my new hobby might put some drag on my husband's political trajectory.
It started innocently enough. A few months ago, a friend asked if I would fill in for a dancer who had to cancel her performance in their monthly burlesque show at a New York City brasserie. After all, I had a lifelong dance background and a flair for the dramatic and my favorite job to date had been shimmying in a cage (fully clothed) for an all-female mod band back in college.
I was also newly ready to say yes to anything. Earlier that year, I'd been in a devastating Vespa accident, which left me with a metal plate and 11 screws in my arm. Spending more than two months in bed, getting up only to hobble to the bathroom (that's once I graduated from the bedpan), left me feeling like a faded, mangled sliver of the effervescent person I'd always been. Now all I did was sleep, replay the accident in my head over and over, eat comfort foods, and bemoan all the able-bodied years I'd taken for granted. I promised myself that when I made it out of this, I would actually take time to appreciate being alive. And few things in life seemed as exhilarating to me as removing my clothes in front of a bunch of cheering strangers. I was so excited at the prospect of doing this crazy thing that I didn't really consider how Dave would feel. Of course, if he didn't want me to do it, I would acquiesce; I respect his decisions and desires just as much as he respects mine. But I knew he wouldn't ask me to hold back. That's just not who he is.
After my first performance, I admitted to Dave that I was hooked. I created a sultry website and booked several more gigs. I felt bolstered by Dave's support and his active hooting and hollering during my shows. But then he received a Google alert about "Sarah Liston, aka Grace Gotham, performing in a burlesque show," complete with pictures of me in my underthings. Uh-oh. My cover was blown, and in a big way — Dave knew that some of his colleagues on the community board had signed up to receive Google alerts about him ... and me. Shortly after the alert went out, Dave called me from work and said I had to pull my real name and photos from the website.
My heart sank. Was it really that big of a deal to shake my pasties-clad boobies in public? I'm no Dita Von Teese, but anonymous isn't my style, either. Plus, I couldn't stand the idea that politicians needed perfect cookie-cutter wives who'd sacrifice their own identities for their husbands' careers. The fact that Dave was buying into this — and wanted me to keep my new passion hidden away — made me go so far as to question our marriage.
In the end, we decided that I should keep dancing. Dave says that when he thought back to those months playing nurse to me — through the painful bandage changes, intense physical therapy, and even surgery to implant a cadaver bone in my arm — he remembered why I needed something to be passionate about. Only a few months earlier, he had washed my hair in an inflatable tub while I lay in bed, unable to move. He said it was a thrill to see me now, sashaying onstage with a can of whipped cream, living every moment.
Sometimes he still worries how my dancing might affect his career, that the image of his wife in ruffled panties, prancing around a giant coffee cup, might detract from all the hard work he's done for the community. But he says that my happiness is worth a certain amount of risk. We figure we're just an extreme example of what most couples grapple with — how to balance each person's quirks and passions.
Yes, life might have been a lot simpler if we'd chosen different spouses. Dave could have married the perfect twin-set-wearing PTA president. But then there would have been no feather ticklers sticking out of the champagne stand, no un-dress rehearsals in the living room. And if I had married a brooding, tattooed artist type who didn't own a suit, I wouldn't be with a man who can turn a contentious community meeting into a lovefest. I value the fact that Dave asks my opinion about the Bible passages he's going to read at church on Sunday while I try to attach a retractable leash to my kitty collar. Our life together is hilarious and unpredictable — the HBO version of I Love Lucy — except I don't have any 'splaining to do.
Celebrity news, beauty, fashion advice, and fascinating features, delivered straight to your inbox!