One Year Later, We Must Remember George Floyd's Legacy
Virginia gubernatorial candidate Jennifer Carroll Foy has experienced America's two-tiered system firsthand. Here, what she believes is needed in the continuing fight for racial justice.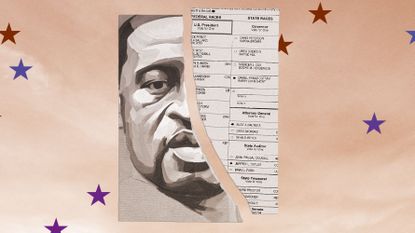 (Image credit: Getty Images)
Marie Claire Newsletter
Celebrity news, beauty, fashion advice, and fascinating features, delivered straight to your inbox!
Thank you for signing up to Marie Claire. You will receive a verification email shortly.
There was a problem. Please refresh the page and try again.
It has been one year since the murder of George Floyd. Over the course of this grueling year, the world has reacted in big ways—we've seen demonstrations in the streets here in America and we've seen communities across the globe protest in outrage against systems of oppression that have plagued the world for far too long. And ways not big enough—we've seen dozens more Black men and women killed at the hands of police. The feelings of hurt, exhaustion, and defeat are understandable. And while so many of us were already familiar with the pain that came from watching Derek Chauvin's knee on George Floyd's neck, the tragedy woke much of the rest of our society up to the reality that Black people have long understood: There are two different systems at work in this country—one for white people and one for people of color.
I grew up in Petersburg, Virginia, one of the poorest communities in the Commonwealth. I attended a school that didn't have textbooks to take home or accredited teachers in its classrooms. I remember seeing students from the neighboring community of Colonial Heights getting so much of what they needed to succeed. Our community was resilient, but even at a young age, I realized we lived in a two-tiered system that didn't benefit people who looked like me.

After law school, I became a public defender and, daily, I saw the two-tiered system embedded within the bricks of our criminal justice system. In the courtroom, I defended marginalized communities and clients, who faced charges for crimes that they did not commit, forced to sit in jail while their white counterparts, who were often easily able to post bond, went home the next day.
Outside the courtroom, I think about my family. My husband Jeff knows what it's like to see the flashing light of a cop in his rearview mirror and inevitably think, Could this be a ticket or is it going to end up much worse? I think about my twin 3-year-old boys. At what age will people stop thinking they are cute kids and instead think they look like criminals?
Structural racism can be a matter of life and death. Americans witnessed that fact with their own eyes on May 25, 2020. Last month, Derek Chauvin was held accountable for his actions. But true justice would mean George Floyd would still be with us. As we keep fighting for equality, it's incumbent upon us to recognize that the unanimous Chauvin verdict was just one case. Many trials have not had the same outcomes, failing to go the way of accountability. Many grand juries have not brought down an indictment. Many defendants have heard the finding "not guilty."

So, what can we do to keep up the fight for racial justice? Vote.
Americans must show up and vote for people who understand what a fair criminal justice system looks like, and, more importantly, who will make it a reality. They need to vote for candidates who are focused on eradicating systemic racism up and down the ballot—from President and Senator to school board member and district attorney.
This year, I'm running for Governor of Virginia. I will be a governor who has lived through the broken, two-tiered system. My grandmother who raised me always taught me to stand up for those who needed a voice—if I didn't, who would?
But to change this system that treats Black students differently than white students, that treats Black men at a convenience store differently than white men at a convenience store, we must all step up and show up—whether that's in the streets, at the ballot box, or even running for office ourselves. Change can't wait.

Jennifer Carroll Foy was a member of the Virginia House of Delegates from 2018 to 2020, during which time she passed a ban on chokeholds by law enforcement. She is currently running for Governor of Virginia; if elected, Carroll Foy would be the first Black female governor in the United States.
RELATED STORIES
Celebrity news, beauty, fashion advice, and fascinating features, delivered straight to your inbox!