Texas's "Trigger Ban" on Abortion: What to Know
The new ban would criminalize abortion in the state, should Roe v. Wade fall.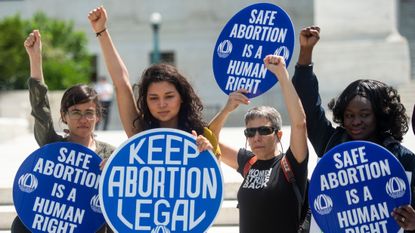 (Image credit: ANDREW CABALLERO-REYNOLDS)
In another major blow to abortion rights, Texas's legislature passed a bill late Tuesday that would effectively ban abortion in the state if Roe. v Wade falls. House Bill 1280, known as a "trigger ban," would come into effect 30 days after a Supreme Court ruling to overturn Roe v. Wade, or if a court ruling or constitutional amendment gave states the power to ban abortions. The bill does not make exceptions for people who are pregnant by rape as well as in cases of fetal abnormalities, and only has a small exception: if a pregnant person's life is at great risk.
Outside of greatly restricting a pregnant person's constitutionally protected right to receive care, the ban would also make it a second-degree felony to perform or attempt to perform an abortion, increased to a first-degree felony if the fetus dies as a result, which could result in a life prison sentence. Abortion providers could also be fined $100,000 for attempting to perform an abortion, and risk getting their medical license revoked for violating the ban.
The blow comes less than one week after Texas Governor Greg Abbott signed a fetal heartbeat bill, one of the strictest abortion laws nationwide, which bans abortion in the state after a heartbeat is detected, which could be as early as six weeks. This is well before many people even know they are pregnant—and certainly does not leave pregnant people enough time to receive care, especially because state law requires that all pregnant people seeking an abortion have at least two visits to the abortion facility.
Texas, which bans telehealth abortion, or teleabortion, only has 21 open abortion clinics in the entire state, according to 2017 data by the Guttmacher Institute (though those numbers may differ today; only 17 come up in the state on the National Abortion Federation provider locator). That means many people may need to drive hours back and forth to receive crucial care—and do it on a time crunch. And those few providers must service thousands of people seeking care (56,600 in 2019, according to data).
The trigger ban could have a domino effect in other hostile states that are considering their own restrictive abortion bans that undermine Roe v. Wade. (Hostile states are already introducing legislation that weakens Roe v. Wade; Texas is the eleventh state to introduce a trigger ban.)
As another major state abortion case makes its way to the (conservatively learning) Supreme Court, the fate of a person's right to receive care is more fragile than ever.
RELATED STORIES
Marie Claire email subscribers get intel on fashion and beauty trends, hot-off-the-press celebrity news, and more. Sign up here.
Megan DiTrolio is the editor of features and special projects at Marie Claire, where she oversees all career coverage and writes and edits stories on women's issues, politics, cultural trends, and more. In addition to editing feature stories, she programs Marie Claire's annual Power Trip conference and Marie Claire's Getting Down To Business Instagram Live franchise.