The Biden Administration Announced It Will Remove the Hyde Amendment
The pledge was just one of many gender equity commitments made by the administration, including the creation of the first U.S. National Action Plan on Gender-Based Violence.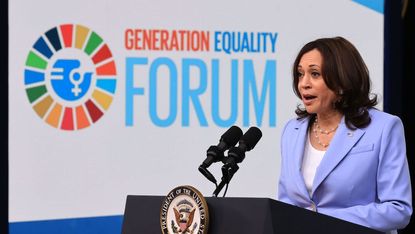 (Image credit: Chip Somodevilla)
Marie Claire Newsletter
Celebrity news, beauty, fashion advice, and fascinating features, delivered straight to your inbox!
Thank you for signing up to Marie Claire. You will receive a verification email shortly.
There was a problem. Please refresh the page and try again.
Wednesday marks a step in the right direction for reproductive rights in the U.S.: The Biden administration announced its plan to remove the Hyde Amendment restriction from government spending bills. The announcement follows Vice President Kamala Harris's remarks at the 2021 Generation Equality Forum in Paris, where she restated the administrations commitment to gender equity and equality. Though President Biden's budget proposal last month revealed they were dropping the policy, Wednesday's announcement reinforces the administration's commitment to making healthcare more accessible.

The announcement has long been anticipated: President Biden pledged to repeal the controversial policy during his campaign. The Hyde Amendment, originally instated in 1976, bars the use of federal funds to pay for abortion care except in cases where the woman's life is at risk, or if the pregnancy is a result of incest or rape. This means that many pregnant people, especially those on Medicaid (Medicaid provides coverage to 1 in 5 women of reproductive age), have limited or no reasonable access to care: Approximately one-quarter of women who would have Medicaid-funded abortions instead give birth when this funding is unavailable. We know that the Hyde Amendment exacerbates racial disparities and that it disproportionally impacts access to care for women of color.

Though many Republican leaders are expected to fight the notion in budget negotiations, the removal of Hyde is an important step forward in protecting the reproductive rights of people in the U.S. and making abortion access more equitable.
This wasn't the only action-oriented commitment the administration announced at the Generation Equality Forum. Read a few of those commitments, below, and watch Vice President Harris's remarks.
Addressing Gender-Based Violence
"The administration will create the first U.S. National Action Plan on Gender-Based Violence, led by the White House Gender Policy Council, to be launched in 2022. This plan will establish a whole-of-government approach to preventing and addressing gender-based violence (GBV) domestically and globally, with significant input from civil society."
Preventing Domestic Violence and Sexual Assault
"The administration will provide $450 million in supplementary funding through the President's American Rescue Plan to prevent and respond to domestic violence and sexual assault. This includes $200 million for domestic violence services and support; $198 million for sexual assault services programs; and $49.5 million for a new program to fund culturally specific community-based organizations to improve access to services and safety for survivors in historically marginalized communities, with a primary focus on racial and ethnic minority communities."
Recommitting to the Fight Against Human Trafficking
"The administration will strengthen the U.S. National Action Plan on Trafficking in Persons to integrate the administration's commitments to gender and racial equity."
Proposing "Safe Leave"
"The administration will propose 'safe leave' as part of the American Families Plan, a comprehensive paid family and medical leave program that would permit workers eligible to receive paid leave for reasons pertaining to sexual assault, stalking, dating or domestic violence."
Helping Families Hit Hard by the COVID-19 Pandemic
"The administration will provide immediate relief for women and families through the American Rescue Plan (ARP), helping hard-hit households recover from the economic impacts of the COVID-19 pandemic. The ARP expands the Child Tax Credit, allowing more families to benefit, increasing the size of the benefit, and distributing benefits monthly. And it includes a historic investment of more than $40 billion in child care and early learning. States, tribes, and territories can use these investments to help child care providers—who are disproportionately women of color—avoid potential closure and ensure that they can operate safely and increase pay and benefits for care workers, who are also disproportionately women of color. These funds can also be used to help parents better afford high-quality child care."
Investing in Care Infrastructure
"The administration will propose, as part of the American Jobs Plan, a major investment in care infrastructure, including a $400 billion investment in expanding access to home- or community-based care, expanding access to long-term care services under Medicaid, and additional investments to modernize schools and child care facilities."
Working Towards Equity for In-Demand Jobs
"The administration will strengthen the workforce pipeline for all, including more women and communities of color, to access in-demand jobs through the American Jobs Plan, including by investing in apprenticeships and other workforce development programs like Women in Apprenticeship in Non-Traditional Occupations. This commitment includes ensuring jobs with fair and equal pay, safe and healthy workplaces, and workplaces free from racial, gender, and other forms of discrimination and harassment."
Promoting Women's Entrepreneurship
"The administration will promote women's entrepreneurship around the world, including through grants to grassroots and community-led organizations through the Inter-American Foundation and grants to gender-inclusive digital services for women-owned businesses through the U.S.-African Development Foundation."
RELATED STORIES
Celebrity news, beauty, fashion advice, and fascinating features, delivered straight to your inbox!
Megan DiTrolio is the editor of features and special projects at Marie Claire, where she oversees all career coverage and writes and edits stories on women's issues, politics, cultural trends, and more. In addition to editing feature stories, she programs Marie Claire's annual Power Trip conference and Marie Claire's Getting Down To Business Instagram Live franchise.