What's at Stake for Abortion Rights in the 2020 Election
"Everything is on the line in this election—our health, our rights, our bodies, and our futures."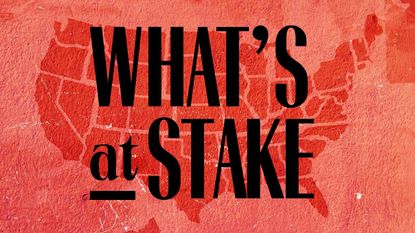 (Image credit: Hanna Varady/Getty)
It's one of the most contentious topics of our time, splitting political parties, lawmakers, and dinner tables alike: Abortion. But it shouldn't be: No matter your personal beliefs, a person has a right to access an abortion without the excessive intrusion and restriction of the U.S. government, thanks to the landmark 1973 court ruling Roe v. Wade.
Yet the rights of pregnant people have remained under attack ever since that historic day almost 50 years ago, via countless rules and restrictions that undermine the Roe v. Wade ruling. Over the past four years alone, new rulings have jeopardized access to an abortion, making it more difficult for people, especially for low-income women and women of color, to get the care they need.
"Everything is on the line in this election—our health, our rights, our bodies, and our futures. Access to sexual and reproductive health care writ large, not just abortion, is at stake," says Alexis McGill Johnson, President of Planned Parenthood Action Fund.
Here, we break down what might happen to one's access to reproductive care and an abortion depending on who is elected into office on November 3.
Where the Candidates Stand:
According to nonpartisan, nonprofit organization OnTheIssues.Org, Trump called himself "very pro-choice" in 1999, but when running for president in 2016, it was clear he had radically switched his position, claiming that he was "pro-life" and that he thought Roe v. Wade would "automatically" be overturned if he was elected.
He has not been successful yet in making that happen, but he has done anything within his power to fundamentally weaken a person's access to an abortion: He has stacked the Supreme Court with conservative judges; he backed an unsuccessful bill that would have banned abortion past 20 weeks of pregnancy, he supports the Hyde Amendment, which bans the use of public funds for most abortion services; he imposed a gag rule dismantling Title X, meaning he banned health care providers that receive Title X grants from telling people how they can safely and legally access abortion; and he plans to weaken the Affordable Care Act, which many women rely on for contraception.
Directly quoted from his "accomplishment" page on his website in relation to abortion, he touts:
President Trump's Human and Health Services announced changes to Title X to stop taxpayer dollars from supporting abortion providers
The Trump administration issued a rule allowing health care workers to refuse to provide services like abortion, sterilization or assisted suicide, if they cite a religious or conscientious objection
Biden has laid out the framework for a plan that will strengthen a person's access to reproductive care. He supports a woman's right to choose and has announced a plan that will not only put an end to Trump administration rulings, but introduce new protections. During the Democratic Primary, Biden reversed his position on the Hyde Amendment. He has previously supported it, but now opposes it and plans to repeal it, claiming in 2019 that he "can't justify leaving millions of women without access to the care they need."
Directly quoted from his plan on his website, he pledges to (among other things):
Restore federal funding to Planned Parenthood
Rescind the Mexico City Policy (also referred to as the global gag rule) that President Trump reinstated and expanded.
Work to codify Roe v. Wade
Stop the rash of state laws that so blatantly violate the constitutional right to an abortion, such as so-called TRAP laws, parental notification requirements, mandatory waiting periods, and ultrasound requirements
So, what's at stake?
According to Jacqueline Ayers, Vice President of Government Relations & Public Policy for Planned Parenthood Action Fund, ensuring fair and equitable access to birth control is a crucial first step to protecting people who can get pregnant, and should be a main focus of our new administration. "Birth control is healthcare," she says. "If you're Black or Brown in this country, we know that you're likely to not have equal access to abortion and the full range of reproductive health care. That's why there's a real opportunity to seize on the moment in a new administration."
Trump wants to repeal and replace the Affordable Care Act (though he's offered no substitute plan), which many women rely on to receive reproductive care. This could disproportionately impact women of color, who already face increased barriers when it comes to receiving reproductive care and contraception. Additionally, Trump has issued a rule that allows employers to opt out of covering birth control if they cite religious reasons. If elected, it's fair to expect Trump will uphold such decisions as well as implement new restrictions that make it more difficult to access and abortion and get covered care.
Related Story
Instead of stifling the Affordable Care Act, Biden wants to build upon its progress. The ACA covers access to preventive care and contraception for many people across the country, and strengthening that access is crucial. He also plans to put funding back into Planned Parenthood. Additionally, he intends to implement policies to reduce racial disparities. According to his plan: "Compared to other developed nations, the U.S. has the highest rate of deaths related to pregnancy and childbirth, and we are the only country experiencing an increase in this death rate. This problem is especially prevalent among black women, who experience a death rate from complications related to pregnancy that is more than three times higher than the rate for non-Hispanic white women." Biden wants to take a plan born in California (that has reduced maternal deaths by 50 percent) nationwide.
The monumental 1973 Supreme Court decision that grants women the right to choose to have an abortion hangs in the balance. Trump has nominated Supreme Court justices (including current nominee Amy Coney Barrett) that would likely rule to overturn Roe. If that happens, it will impact the lives of Americans for decades to come. Now that the Supreme Court has a strong conservative base, it's imperative that we have an administration in place that can introduce abortion protections should the court threaten Roe v. Wade.
"We know Donald Trump has committed to only nominating justices who will overturn Roe v. Wade and Judge Barrett's record is proof that she could fit that bill. If Roe is overturned, nearly half of all states in the country are poised to ban abortion—that means 25 million women of reproductive age live in a state where abortion could be banned if it falls," says Johnson. "However, we know that for many people, due to years of attacks and systemic barriers in the health care system, abortion is already a right in name only: there are already five states with only one abortion provider."
In his town hall on October 5, Biden said that he wants to make Roe v. Wade "the law of the land" and plans to codify the ruling into law. To read his entire Agenda for Women, which outlines his plan to protect reproductive rights, click here.
In the decades since Roe v. Wade's passing, individual states have introduced laws limiting or weakening abortion rights. While overturning Roe is a real concern, numerous new state cases are currently making their way to the Supreme Court. Now that the court has a conservative majority, the ruling on these cases could fundamentally weaken one's access to an abortion or reproductive care. As Rachel Fey, Senior Director of Public Policy at Power To Decide, puts it, Roe v. Wade is the floor, not the ceiling. As abortion-related or adjacent cases climb through the courts, there's greater possibility that a person might face increased barriers to access an abortion, even if Roe v. Wade is protected.
"There are numerous cases [17] working their way through other levels of federal courts concerning abortion," says Fey. "They range from issues like a ban on abortion after six weeks, which I should note is sooner than most women even realize they are pregnant, to bans on whether or not a state can exclude certain abortion providers from their Medicaid program to requirements on how to dispose of fetal remains that shame and stigmatize those that receive abortions."

According to Biden's plan, he will "do everything in its power to stop the rash of state laws that so blatantly violate the constitutional right to an abortion, such as so-called TRAP laws, parental notification requirements, mandatory waiting periods, and ultrasound requirements." On the other hand, Trump in the past has stated that abortion decisions could be left up to the states, saying in 2018: "Maybe some day it will be to the states, you never know how that's going to turn out."
Passing off responsibility to the states could jeopardize abortion access. "There's a lot of things that are all working their way through the court," says Fey. "Some of them are cases designed to challenge Roe v. Wade. Others are cases that are what we would call targeting regulations of abortion providers, or TRAP laws, that are designed to further restrict access to abortion care with no medical benefit for the patient. A good example of a TRAP law is the Louisiana law that was struck down earlier this year."
Biden plans to establish nationwide protections for abortion, so even if Roe v. Wade is overturned by the Supreme Court, there will be other failsafes in place. Plus, Senator Harris co-sponsored Women's Health Protection Act (which would "protect a woman's ability to determine whether and when to bear a child or end a pregnancy, and to protect a health care provider's ability to provide reproductive health care services, including abortion services"). It's currently with the House of Representatives.
Related Story
Without introducing additional protections, people of color face increased risk. "Since day one, the Trump administration has pushed not just judges with records hostile to abortion rights, but also policies undermining access to sexual and reproductive health, and they've undercut our health safety net, with a devastating impact on Black people, Latinos, and families with low incomes" says Johnson.
Trump supports the Hyde Amendment, a rule added and approved to the Congress spending bill every year, which bars the use of federal funding for most abortion services (the funds can be used in cases where the pregnant person's life is at risk or in cases of rape). Biden supports ending the Hyde Amendment, stating in his plan that "health care is a right that should not be dependent on one's zip code or income."
The impacts of the Hyde Amendment impact all people, but acutely impact women of color. "Access to abortion is not equal right now," says Fey. "Seven million women live in states where Medicaid does not cover their abortion care. Half of those women are women of color."
Johnson shares how the Hyde Amendment also widens racial disparity: "Because of centuries of systemic racism, the Hyde Amendment, which eliminates abortion coverage for people who have low incomes, has disproportionately prevented people of color from being able to access reproductive health care. For more than four decades, it has blocked federal Medicaid coverage of the vast majority of abortion services—it's a textbook example of the systemic racism that has driven millions to protest over the past several months and led to deep racial disparities in health care outcomes that the COVID-19 pandemic has laid bare," she says.
One can expect not repealing the Hyde Amendment will continue to have real-life consequences: Research shows that approximately one in four of women who would have Medicaid-funded abortions instead give birth when this funding is unavailable. We also know that denying a woman who relies on federal assistance an abortion may push her deeper into poverty.
With only 13 days until the Presidential Election, there's a lot of complicated conversation to cut through (and yelling…So. Much. Yelling.) With so much hanging dangerously in the balance (health care, gun control, police reform) it's critical to make your voice heard. The right to choose and equitable access to an abortion is unquestionably on the ticket this year, so make a plan to vote on November 3 (or, if your state allows it, vote early or mail in your ballot!).
Related Stories
What's at Stake for Healthcare in November
Megan DiTrolio is the editor of features and special projects at Marie Claire, where she oversees all career coverage and writes and edits stories on women's issues, politics, cultural trends, and more. In addition to editing feature stories, she programs Marie Claire's annual Power Trip conference and Marie Claire's Getting Down To Business Instagram Live franchise.