How to Help Humanitarian Efforts in Israel and Gaza
Organizations devoted to supporting those in need.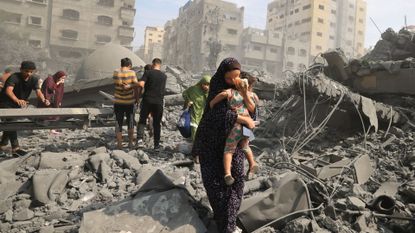 (Image credit: MAHMUD HAMS/AFP via Getty Images)
In the wake of militant group Hamas' attacks against Israeli citizens on October 7, the Israeli government responded with what Israeli Prime Minister Benjamin Netanyahu called a "complete siege" of Gaza. The current conflict has already impacted millions of people, and is set to impact millions more. In Israel, over 1,400 citizens were killed by Hamas and over 200 people were taken hostage. In Gaza, over 11,100 people have been killed by the Israeli government's air and ground offensive, and Israel has cut off access to water, food, power, and supplies to the 2.3 million Palestinians living in Gaza, about one-quarter of whom already lived in poverty.
The war has caused chaos in the region. The Biden administration, which has continued the United States' historic support of Israel, warned Netanyahu that the Palestinian humanitarian crisis, which existed in Gaza and the West Bank before the war, has only worsened since its onset. Israel has blocked attempted fuel aid, and the humanitarian aid that's been able to finally enter Gaza has been extremely limited. Overflowing Palestinian hospitals remain in need of power and supplies.
Meanwhile, Israel's medical system is tending to more than 4,500 injured Israeli citizens. Hamas has also released some hostages, who are in need of medical and psychological care.
Help is needed. Which means it's important to support the Arab, Muslim, and Jewish diasporas in our immediate communities—especially considering the alarming rise of anti-Semitism (which has been intensifying over the last few years alongside the rise of white supremacy) and anti-Muslim and anti-Arab hate here in the U.S.—as well as those suffering abroad.
Below, organizations that are currently working to address the humanitarian crisis brought on by this war. These non-government entities are focused solely on saving lives and reducing suffering for all afflicted, regardless of religion, ethnicity, or political affiliation.
Oxfam
Oxfam was founded in 1942 in response to the widespread humanitarian crises ignited by the Second World War. They've been present in Gaza since the 1950s, addressing the needs of the two million people who live there and have limited access to basic resources because of Israel's decade-long blockade. Now, they work with over 60 Israeli and Palestinian partner organizations to improve the livelihoods of Palestinians and deploy emergency aid. You can donate to them.
Medical Aid for Palestinians
Medical Aid for Palestinians is devoted to developing long-term, sustainable healthcare solutions for Palestinians. Their programs are based in Gaza, the West Bank, East Jerusalem, and Lebanon, and they are focused on emergency services, the health of women and children, mental health, and disability support. Right now, you can donate to their efforts to stock up on medication, triage equipment, and other urgently needed medical supplies.
Doctors Without Borders
Doctors Without Borders has been active in Gaza and the West Bank for around 20 years, providing both medical and psychosocial support to Palestinians who have been impacted by the conflict. Currently, they're providing emergency support to those injured by the bombings as well as systemic support to Palestinian hospitals. Because Israel's normally robust medical system has also been overwhelmed, the organization has also extended their support there. You can support them today.
Save the Children
Save the Children, per its name, is focused on the health and well-being of children impacted by climate change, natural disasters, and war. They've had a presence in Palestine for years now, working to minimize children's exposure to violence and to provide medical, mental health, and educational services to Palestinian children. You can donate to support their efforts, including the emergency measures they've taken in the midst of the recent violence.
World Central Kitchen
When people are displaced, they often don't have access to food—especially healthy, nourishing food. World Central Kitchen (WCK) looks to ameliorate this issue. In Gaza, they've partnered with Anera, which distributes food kits and warm meals to families in need. In donating to the organization, you'll be directly supporting these efforts.
International Medical Corps
International Medical Corps has a strong presence in Gaza and a direct partnership with the JDC in Israel. Throughout the region, they are committed to providing critical supplies to families in Gaza and to supporting the JDC's efforts in Israel. Donations made to them will be used to supply medical stations and hospitals, transport necessary resources, and address shortages of medicine.
The International Committee of the Red Cross
International Committee of the Red Cross works with Red Cross and Red Crescent chapters all over the world to supply basic necessities like food, water, supplies, and medical equipment to those impacted by conflict and natural disasters. You can donate to them to support their work all over the world, or you can donate directly to the Israel and Palestine chapter of the Red Crescent, which is working on both sides of the border to address life-threatening injuries and to supplement the overwhelmed medical infrastructure.
Islamic Relief USA
Islamic Relief USA works in over 40 countries worldwide to help those of all religions recover from trauma induced by natural disasters, economic and political instability, violence, and more. In Palestine, they support health programs and long-term educational and vocational initiatives. Now, they're focused on supporting Gaza's dire emergency medical situation. When you donate to them, you're supporting their ability to provide emergency aid, food, medical supplies, and more.
Marie Claire email subscribers get intel on fashion and beauty trends, hot-off-the-press celebrity news, and more. Sign up here.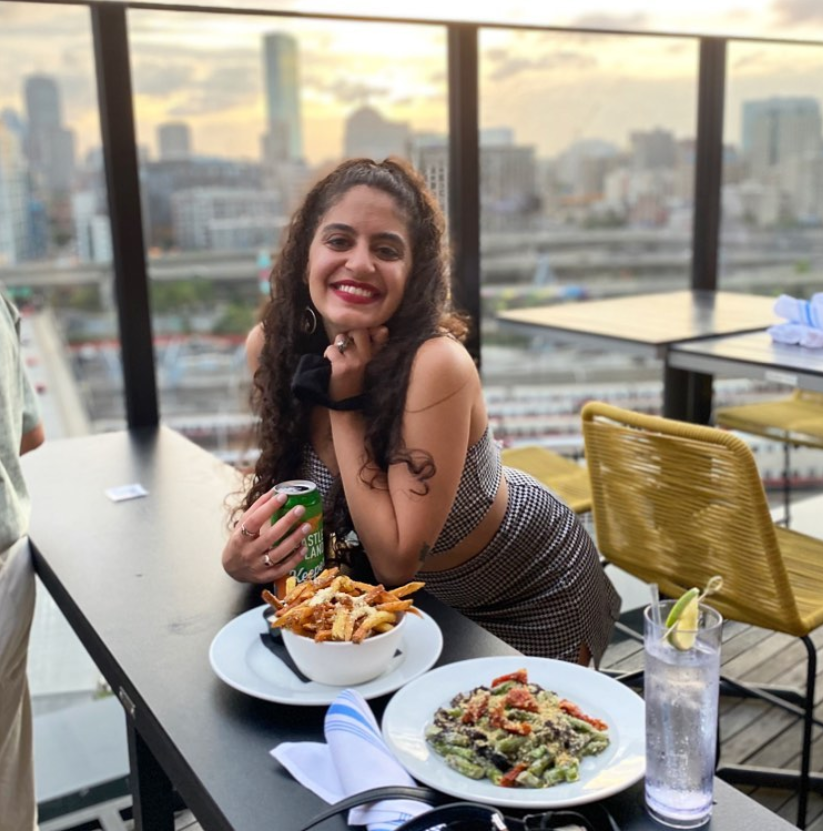 Gabrielle Ulubay is an E-Commerce Writer at Marie Claire and writes about all things beauty, sexual wellness, and fashion. She's also written about sex, gender, and politics for publications like The New York Times, Bustle, and HuffPost Personal since 2018. She has worked extensively in the e-commerce and sales spaces since 2020, including two years at Drizly, where she developed an expertise in finding the best, highest quality goods and experiences money can buy. As a film school graduate, she loves all things media and can be found making art when she's not busy writing.