One In Five Women Will Be Raped In Her Lifetime
One Out Of Every Five Women Will Be Raped In Her Lifetime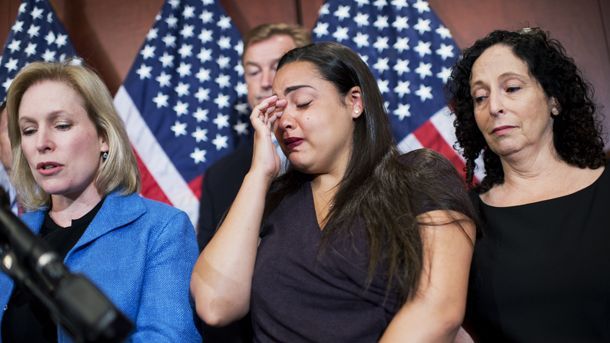 (Image credit: Archives)
Anna, a victim of sexual assault, during a news conference presenting legislation about curbing rape on campus.
In the midst of the government cracking down on sexual assault and rape, the Center for Disease Control (CDC), released a startling statistic that once again reminds us how much of a problem rape and sexual assault is throughout the United States. Nearly one in five women will be raped at some point in her life, the CDC reported. The data was discovered from the findings of the organization's National Intimate Partner and Sexual Violence Survey. The report stated that "A substantial proportion of U.S. female and male adults have experienced some form of sexual violence, stalking, or intimate partner violence at least once during their lifetimes," but noted that the rape epidemic has a greater impact on women. And the numbers back that statement up: If one in five American women have been raped, that means that over 23 million women throughout the country have been victims of this devestating form of assault.
The survey also showed that while both men and women are victims of sexual violence (23.4 percent and 43.9 percent, respectively), in nearly all cases, those who were committing the crimes themselves were male. Even more evidence that the conversation surrounding sexual violence needs to include men—and needs to start early on—if we ever want this number to drop.
Related

Sexual Assault Survivors Speak Out Against Campus Rape

President Obama Is Getting Serious About Campus Rape



White House to Colleges: Here's How to Curb Campus Rape

Photo via Getty Images