We Were Forced into Arranged Marriages...but We Fought Back
Niger has one of the highest rates of child marriage in the world. These three women refused to become a statistic.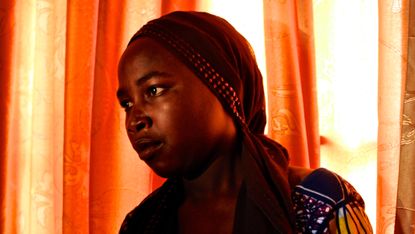 (Image credit: Jillian Keenan)
Many girls around the world dream of a wedding—but for some girls in Niger, a landlocked desert country north of Nigeria in Western Africa, that day comes when they are still, quite literally, just girls.
Niger has one of the highest rates of child marriage in the world. The country's legal age of marriage is 15, but 36 percent of Nigerien girls are already married by then, according to UNICEF, and 75 percent are married before their eighteenth birthday. When a girl gets married, she usually has to drop out of school—which partially explains why only 10 percent of Nigerien girls are enrolled in high school.
Poverty is at the root of the child marriage epidemic. Niger ranked dead last on the United Nation's 2014 Human Development Index: 187th of the 187 countries listed. Hunger and food insecurity are endemic. Roughly 35 percent of the entire population—at least 5.4 million people—suffer from chronic malnutrition. Nevertheless, Niger has the highest fertility rate in the world, with an average of 7.6 children per woman. There are too many mouths to feed. So while child marriage started as a village tradition, hunger and poverty often transform it into a business transaction: some families sell their daughters to men in other communities or countries.
Even so, some girls have refused to become statistics. These three child brides fought for their dreams…and won.
Balkissa Chaibou: "I will show them what I can do with my life."
Balkissa Chaibou, 19, always loved school. She answered every question in class and made excellent grades. When her family promised her to a middle-aged man in Nigeria when Balkissa was only 12, it wasn't the marriage that scared her the most—it was being forced to quit her education. So Balkissa struck a deal with her parents. If she could just stay in school for five more years, she would get married at 17.
But as the years passed, Balkissa's love of learning only intensified. She knew that she was lucky; staying in school until 17 already made her one of the most well-educated women in Niger, where only fifteen percent of girls ever learn to read or write. But Balkissa wanted to attend university.
On September 14, 2012, the night before her wedding, Balkissa felt her dreams slipping through her fingers: university, and maybe even a career as a doctor, would never be possible now. Marriage wouldn't just be the end of her education; it would be the end of hope. "I was very sad," Balkissa said, recalling that time. "I cried continuously."
Unlike most girls in Niger, 84 percent of whom live in rural areas, Balkissa lived in Niamey, the capital, where she could access some civic services. So at 9:00 p.m., the night before her wedding, Balkissa ran to a police station, where the police took her to an SOS Center in Niamey. For the next week, Balkissa lived in the SOS Center and took her uncle, the family patriarch who had arranged the marriage contract,to court. She was terrified that this act of insubordination would bring dishonor to her family, but her mother quietly encouraged her to keep fighting. The day that Balkissa won the case against her uncle, she says, was the greatest day of her life.
Today, Balkissa is a university student in Niger who hopes to go on to medical school. Balkissa's choice has created a ripple effect: Other young women in her community have approached her to ask for advice about how to fight their own forced marriages. And Balkissa's younger sisters will not have to worry about leaving school before they're ready, now that she's set a precedent. "Nobody will dare to remove my little sisters from school," Balkissa said. "Everyone used to think I was a nasty, disrespectful girl. But now they realize that school is a good option. I will show them what I can do with my life."
Zeinabou Moussa: "I saw that I was sinking."
When Zeinabou Moussa was 15, her parents pulled her out of class. They'd made a deal with a 19-year-old neighbor, Mustafa, who paid a dowry of 10,000 Nigerian Nira (roughly $54 USD, a huge sum in Niger), to marry Zeinabou in two months. It didn't matter that Zeinabou didn't want to quit her education; it didn't matter that Zeinabou didn't know Mustafa, or that he had one wife already. Her fate was sealed. When Zeinabou begged her father to change his mind, he beat her with a stick. "I was not happy," Zeinabou said. "I saw that I was sinking. My whole life was being destroyed."
At her wedding, Zeinabou sat alone, in her traditional wedding outfit, as her relatives celebrated. Her mind ran quickly. What could she do? In her home village, Zeinabou had no access to police services, social programs, or courts; she would have to run away.
That night, Zeinabou ran back to her parent's house, but her father beat her again and took her back to Mustafa. Four times, Zeinabou ran away, and four times, she was dragged back to her husband. "I thought that my parents would finally help me," she said. "I thought that if I kept running, they would understand. But they didn't."
Finally, the moment of truth arrived. Zeinabou's husband wanted to consummate their marriage, and she had no place to run. Zeinabou's parents had never told her what happens on a wedding night, but she'd heard a few things from friends of hers who got married even younger, at 13- or 14-years-old. So Zeinabou had a plan. When Mustafa tried to force himself on her, she bit his penis so hard that he fainted. The next morning, he asked the tribal chief for a divorce.
"My parents have stopped trying to force me to marry," Zeinabou, who has re-enrolled in school, said triumphantly. "I think they finally got the message."
Barrâcou: "He just makes me happy."
For 20-year-old Barrâcou, the problem with marriage wasn't giving up her education: it was giving up her love. For most of her life, Barrâcou says, she was in love with the boy next door, a shepherd her age named Sane. But when Barrâcou was only 14-years-old, her parents forced her to become the second wife to an elderly uncle she had never met. Barrâcou was devastated. The day she left her village to marry her uncle, who lived several hours away, she ran to Sane one last time. "Wait for me," she begged him. "I'll come back." Sane promised to wait.
For the next two years, Barrâcou refused to have sex with her uncle, even though he beat her with a stick every time she said no. One day, friends from her home village came to visit, and Barrâcou hid in their car when they left to drive home. It was her first trip back to her village since the wedding.
Barrâcou says she will never forget the look of joy and surprise on Sane's face when he saw her that day. He immediately ran to her parents and asked for her hand in marriage. At first, Barrâcou's parents were furious that she had shamed the family by running away, but they agreed that it would be better to have her married close to home than to send her back to the marriage she had struggled so long to escape.
Today, Barrâcou and Sane are married, and recently had their first son, Tassiou. "I love Sane because he pleases me," Barrâcou said, with a shy smile. "What can I say? He just makes me happy."
A grant from the United Nations Population Fund supported research for this article.
Celebrity news, beauty, fashion advice, and fascinating features, delivered straight to your inbox!