What It Feels Like to Report, Live on Air, Every Mass Shooting in America
CNN's Brooke Baldwin opens up about hearing the dreaded words from the executive producer in her ear: "There's been another shooting."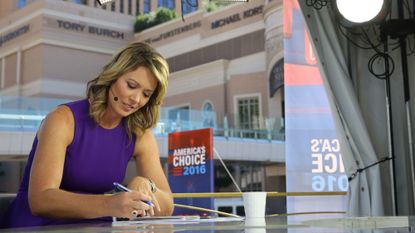 (Image credit: CNN)
Details of the San Bernardino shooting began trickling in just minutes before Brooke Baldwin settled into her seat to host CNN Newsroom last Wednesday. When the show kicked off at 2 p.m., she looked directly at the camera and, with an exasperated sigh, said, "Here we go again."
Last week's mass shooting was the 355th this year. Baldwin has been sitting at the CNN anchor desk when news of many of them broke. In the last few months alone, she's reported on the Planned Parenthood attack in Colorado, where three were murdered, and the Roseburg, Oregon shooting, which left nine dead. Before that, Baldwin was on the ground reporting on Sandy Hook, Virginia Tech, Aurora, and Chattanooga.
For Baldwin, the most recent massacre of 14 people in San Bernardino was just as raw as the first killing spree she reported in 2006, at an Amish school in Washington. "We've done it enough that I know how to proceed when I hear those dreaded words from the executive producer in my ear," she says. "Every time, I get angry. I have to be calm and strong and be a journalist, but every time it really pisses me off."
After wrapping up her two-hour block about San Bernardino last week, deftly jumping from interviews with eyewitnesses to interviews with experts, Baldwin took off her mic and retreated to her office. "I had people coming up to me. I was like, 'Guys I need a minute,'" she says. "I shut the door and just sat with myself. I sat in silence. It was anger that this happened again and, of all places, at a holiday party. These people woke up on a Wednesday morning and they never in their wildest nightmares would have thought this would have happened."
That afternoon, Baldwin penned an emotional essay for CNN.com. It begins: "I know it's my job as a journalist. But in situations like these, I'm getting sick of speaking the words 'active shooter situation.' I've been covering too many of them."
It was important for her, she says, to let her viewers know that, while it's her job to report the news, she wanted them to also know "how my heart feels."
"Active shooter situation" - words @BrookeBCNN is sick of saying. She explains: https://t.co/t34E4dYOL6 https://t.co/m7em8zQbm7December 3, 2015
See more
Baldwin's executive producer, Eric Hall, is the one who has to let her know when there's been yet another mass shooting. Often, she can tell something terrible has happened when her teleprompter goes blank. Then, Hall will calmly say into Baldwin's earpiece: "Brooke, there's been a shooting." After that, the producers face a whirlwind of coordinating interviews with sources on the ground, waiting for the police to begin a news conference and verifying updates as they flood in. But Hall says there are some moments that affect the whole team.
"Control rooms are never quiet, especially during breaking news. But just like our viewers, there are moments that stop us," Hall says. "During the San Bernardino coverage, on live television, a dad fought back tears telling the cameras that his daughter had just texted him, that she was OK. 'Pray for us,' she said. Everyone in the control room fell silent watching relief overcome this father."
Though the people Baldwin interviews are often distraught, it's her job to keep her composure. The only time she remembers breaking down in tears was after Sandy Hook. Three years ago, she was flown to Newtown, Connecticut to report on the mass shooting at the elementary school. Twenty kids and six adults died.
"At the time, I was living in Atlanta. I came home to my high-rise apartment, and it was dusk. I plopped onto my sofa and I just sat there in the dark. I didn't even turn on the light," she says. "I watched the sunset, and I turned on Band of Horses and just played this one song on repeat and wept. I was so haunted by what I had covered…I saw these little caskets. I'm only human."
After Sandy Hook, CNN sent out a company-wide email offering grief counseling for everyone from anchors to producers to the video editors, who have to watch hours of footage, even the clips deemed too disturbing to air.
Baldwin says she leans on her friends, colleagues and cathartic SoulCycle sessions to blow off steam after her worst days. She's also recently started meditating for 20 minutes each morning.
#BREAKING Active shooting over; shooter in custody. Of 20 wounded, at least one female shot in chest #Umpqua #CNN https://t.co/HF3CvLs6MaOctober 1, 2015
See more
"In between live shots in Connecticut, we were working endlessly and were emotionally wrecked," she remembers. "But people were incredible. My cameraman during a commercial break would be like, 'You ok? How you doing?'"
Those who have a front-row seat to tragedy can experience "secondary trauma," according to David Kessler, co-author of the book On Grief and Grieving. "We often think about the people who were shot and their relatives as the only people who experience the trauma," explains Kessler, who recently worked with therapists involved in the Sandy Hook shootings. "Then, of course, in time we realized the first responders who walked into that situation of course experience trauma. But as we take that even further, we now know the therapists, anchors...anyone can be touched and affected by the trauma."
But Baldwin sees it as her duty. "It's not always easy, but I love my job," she says. "It's all about the people. It's not about the celebrities. It's about the real people going through real shit."
Marie Claire email subscribers get intel on fashion and beauty trends, hot-off-the-press celebrity news, and more. Sign up here.
Kate Storey is a contributing editor at Marie Claire and writer-at-large at Esquire magazine, where she covers culture and politics. Kate's writing has appeared in ELLE, Harper's BAZAAR, Town & Country, and Cosmopolitan, and her first book comes out in summer 2023.