This Woman Risks Her Life to Ensure Justice Is Served in Afghanistan
Meet Kimberley Motley, the first foreign litigator working in Afghanistan's criminal courts.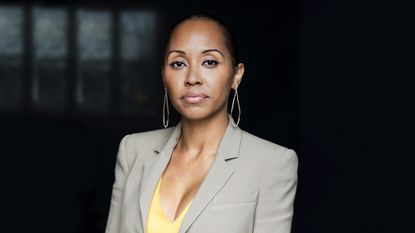 (Image credit: Helle Moos / Made in Copenhagen)
Marie Claire Newsletter
Celebrity news, beauty, fashion advice, and fascinating features, delivered straight to your inbox!
Thank you for signing up to Marie Claire. You will receive a verification email shortly.
There was a problem. Please refresh the page and try again.
Like many criminal attorneys, Kimberley Motley, 40, has endured prison riots and death threats. But as the only non-Afghan practicing law in the country's criminal courts, Motley has the added challenge of doing such work in a culture that devalues women and is skeptical of outsiders. Now, Motley's Law, a documentary directed by Nicole Horanyi making the rounds at film festivals, follows her as she splits time between Kabul and her home in the U.S., where her husband and kids live, fighting for justice for those accused of everything from bribery to murder, and challenging backward traditions along the way.
Marie Claire: What first brought you to Kabul?
Kimberley Motley: I went as a contractor to train Afghan attorneys in 2008. At first, it was about the money. I had been working in the Milwaukee public defender's office—as a mother of three with a lot of student debt. I earned triple the money in Afghanistan. But then I realized how great the need was. So in 2009, I opened my own practice in Kabul.
MC: Why do you stay?
KM: A lot of people come to me in very desperate situations, and it's hard to turn them away. I recently met with a woman whose husband put an ax in her head. The police were only thinking about questioning him before I got involved.
MC: Tell us about your new initiative, The Justness Project.
KM: The Justness Project is a means to give the laws back to the people. Many forget the laws belong to them—they're just as important as the air we breathe. I want to create a blueprint for how I have tackled human rights cases, so people can learn from my experiences. I'm also working on a website where people can look up the laws of their country in their native language, and I'm launching a comic-book series so we can educate kids on the law.
MC: What is the most meaningful case you've tried?
KM: I would say Sahar Gul, a teenage bride who was tortured by her husband and his family. Knowing where she was when we first met—a shy, damaged girl—to watching her speak up for herself in front of the Supreme Court made me very proud. [Her in-laws were sentenced to 10 years; her husband fled.] If I had to pick a case to end my career on, that'd be the one.
MC: You were in Kabul's Serena Hotel in 2014 when Taliban gunmen killed nine people. Did the attack make you doubt your decision to do this work?
KM: I didn't doubt what I was doing, but for a moment, I doubted how long I had been doing it—I had only planned to be in Kabul for a year. But in my work, violence is an everyday reality, so I don't think about it. If I did, I wouldn't be able to operate.
MC: You once marched up to President Hamid Karzai's residential palace to get him to sign a pardon. Tell us about that case.
KM: Gulnaz, a teenage girl, was raped and impregnated by her cousin's husband. The police charged her with adultery but said she might be able to go free if she married her attacker. I got her sentence reduced from 12 years to three—and the court said she should not have to marry her rapist. Then, I went to Karzai's palace with documents for him to pardon her. His guards told me I couldn't be there, but eventually they took the papers to him. It was the first time Karzai issued a pardon for moral crimes. The news wrote about that, but what they didn't write about as much is that two other rape victims were also released that day. It's a long journey, but we're making progress.
MC: Recent headlines say the Taliban is gaining momentum again. What have you seen?
KM: I feel the tension on the ground. Not at the magnitude it's being reported at, but I do feel more insecure. Still, I'm very optimistic about Afghanistan. We hear a lot about the bad stuff, but there are good things—more girls going to school, more female Army captains—happening there, too.
This article appears in the February issue of Marie Claire, on newsstands now.

Follow Marie Claire on Instagram for the latest celeb news, pretty pics, funny stuff, and an insider POV.

Celebrity news, beauty, fashion advice, and fascinating features, delivered straight to your inbox!