The Biggest Abortion Case of the Decade Is About to Hit the Supreme Court—Here's a Preview of What's to Come
Lawyer Stephanie Toti on what it takes to keep more clinics from closing.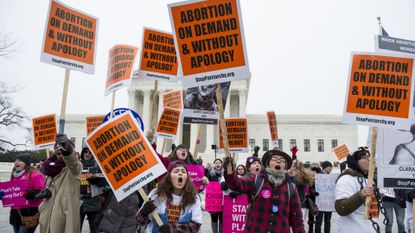 (Image credit: Getty Images)
Lawyers swarmed outside the Supreme Court on November 8, 2006, vying for a seat in the courtroom to hear the first major Supreme Court abortion case in six years. Stephanie Toti, a young lawyer with the nonprofit advocacy organization Center for Reproductive Rights, had driven from her home in New York City to D.C. the night before to hear the case. She and her colleagues had even camped out in front of the court, "like you'd do to buy tickets to hear your favorite band," she recalls. "Six of us huddled together in drenched sleeping bags all night in order to get in. We were really determined to watch the arguments."
The case was Gonzales v. Carhart, an attempt to overturn a 2003 law prohibiting late-term abortion. The Court ultimately decided to uphold the ban.
Now, nine years later, the Supreme Court is slated to hear final arguments on March 2, 2016 in its first case on abortion rights since then. And this time, Toti, 37, won't need to camp out for a seat: She's the lead litigator. In Whole Woman's Health v. Hellerstedt, a case originating in Texas, Toti and her team of 12 will argue that the increasing numbers of laws restricting women's rights to a safe and legal abortion are unconstitutional.
Commonly called TRAP laws (targeted regulation of abortion providers), these initiatives are how conservative lawmakers have increasingly skirted Roe v. Wade and succeeded in closing hundreds of clinics around the country by requiring them to comply with countless seemingly arbitrary restrictions: the width of doorways, the number of janitors, or mandating, as a Texas law known as HB2 would, that abortions be performed in "ambulatory surgical centers"—or clinics with hospital-like standards.
Senior Counsel Stephanie Toti speaks to media following Texas #HB2 hearing. #FightBackTX pic.twitter.com/EvFvH2W800January 7, 2015
See more
"Abortion is an extremely safe procedure—it's rarely, if ever, performed in a hospital," says Toti. "These requirements make it far too expensive for providers to give care, and they're forcing clinics all over the state to close." (In 2013, Texas had more than 40 abortion clinics; if the Supreme Court rules in Texas' favor, just 10 clinics would be able to continue to perform abortions.) In doing so, "they place a tremendous burden on women who'd have to travel long distances for care, or carry an unwanted pregnancy to term, or potentially induce an abortion," Toti says.
The case has national implications, too. "The standard that the Supreme Court sets in this case will affect access to abortion all over the country," Toti explains. "If these Texas laws are upheld, similar laws currently subject to litigation in other states will be, too"—in places like Louisiana, Kansas, Alabama, Missouri, Tennessee, and Oklahoma. And if those states follow suit, "it will threaten to eliminate abortion access for women," she says.
Toti and her team weren't sure the Supreme Court would take the case. If it hadn't, existing TRAP laws would automatically take effect and many clinics would've immediately closed. "We were on pins and needles," she says. "The clinics didn't know if women who had booked appointments would be turned away, or if they'd have to lay off their staff." Her staff spent Friday, November 13 nervously refreshing the Supreme Court's SCOTUSBlog—the Court posts updates on Monday morning and periodically on Fridays—hoping to see their case mentioned. Then, "all of a sudden I see 'US Supreme Court' on my caller ID," Toti recalls. "I was, like 'Oh my god guys, it's the Court!' My office is made of glass and immediately the entire staff crowded around the closed door. When the court clerk told me that our case would be heard, everyone started cheering and high-fiving and popping champagne."
As someone who's spent her career defending reproductive rights—Toti was lead counsel in a successful challenge to a law in Oklahoma mandating ultrasounds prior to abortion procedures, and has taken on TRAP laws in Kansas and Tennessee—she's been on the front lines of the erosion of abortion access. "On the one hand it can be disheartening, because it feels like we're going backward, rather than forward," she says of the current political landscape. "But meeting people who will be directly impacted by these laws has been really encouraging."
She recalls having dinner alone one night in Oklahoma while working on the ultrasound case. The waitress asked why she was in town, and Toti told her she was there to challenge restrictive abortion laws. "The waitress said 'Oh,' and walked away, but a minute later she came back and sat down," Toti says. "She said, 'I don't talk about this very much, but I had an abortion when I was younger, and I'm glad I did. I just want you to know I'm so happy you're doing this and making sure that women can have safe abortions.' Encounters like that make this work worthwhile."
Follow Marie Claire on Instagram for the latest celeb news, pretty pics, funny stuff, and an insider POV.