The Gun-Advocate Mom Who Was Accidentally Shot by Her 4-Year-Old Son Could Go to Jail
Jamie Gilt could be charged with unsafe storage of a firearm.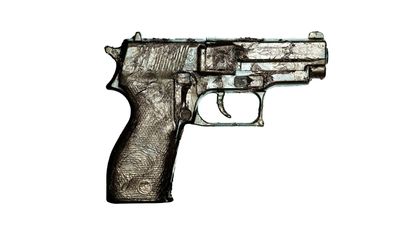 (Image credit: Getty Images)
Update, 3/24: Jamie Gilt, the gun-advocate mom whose son shot her in the back earlier this month, could face up to 180 days in jail, according to the Huffington Post (opens in new tab). The Putnam County Sheriff held a press conference Tuesday explaining how Gilt's 4-year-old son ended up with the loaded gun. She had apparently left the gun, which did not have a trigger lock, under the front passenger seat of her car. It slid to the backseat floorboard and the toddler unhooked his carseat to grab the firearm. Gilt could be charged with unsafe storage of a firearm, a misdemeanor in Florida which carries a penalty of up to 180 days in jail.
Original story, 3/8: A Florida woman who advocates for the 2nd Amendment was accidentally shot in the back on Tuesday by her 4-year-old son.
Jamie Gilt had posted on Facebook the day before the incident that her child "gets jacked up to target shoot the .22," according to the Florida Times-Union (opens in new tab). (Gilt's account has since been deactivated.)
The 31-year-old told a deputy that her son had shot the gun from the back seat of her truck while she was driving, according to the report, and it appeared that the bullet went through the seat, striking Gilt in the back. A .45 caliber handgun was found on the floorboard of the backseat of the car and the boy was not strapped into his booster seat, according to the report.
Gilt was transported to a nearby hospital where she is now in stable condition, and the boy, who was unharmed, is staying with relatives. The Florida Department of Children and Family Services is investigating the case.
"Our investigation has revealed that the firearm was legally owned by the victim and the child came to possess the firearm without the victim's knowledge. Florida Statute makes it a misdemeanor for a person to store or leave, on a premise under his or her control, a loaded firearm in such a manner that it is likely a child can gain access to the firearm," according to a statement posted on the Putnam County Sheriff's Office website (opens in new tab). "The investigation is ongoing to determine exactly how the firearm was stored in the vehicle."
For more about the complicated world of women and guns, see Marie Claire's feature project here (opens in new tab).
Kate Storey is a contributing editor at Marie Claire and writer-at-large at Esquire magazine, where she covers culture and politics. Kate's writing has appeared in ELLE, Harper's BAZAAR, Town & Country, and Cosmopolitan, and her first book comes out in summer 2023.