Everything You Need to Know About the Democrats' Historic Sit-In to Demand Action on Gun Control
Democrats ended the protest a full day after it began.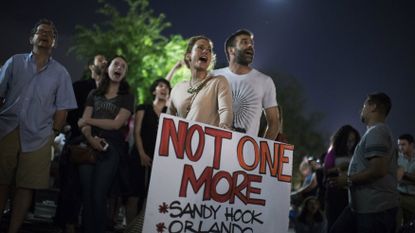 (Image credit: Getty)
More than a dozen Democrats, some draped in blankets and toting pillows, carried their protest on the floor of the House of Representatives into Thursday morning, continuing a sit-in that began shortly before noon on Wednesday. They are demanding the House vote on new gun laws.
Democrats ended the protest on Thursday afternoon, a full day after it began, promising to take more action after the July 4 holiday.
It was an extraordinary move by Democrats, who have, since Omar Mateen murdered 49 people in the country's deadliest mass shooting earlier this month, pulled out stop after stop in the name of gun control.
In response to the sit-in, Republicans called for a recess on Wednesday afternoon, effectively forcing C-SPAN to turn off its cameras (which are only allowed to roll while Congress is officially in session). But Democrats decided to capture the action themselves via Periscope and Facebook Live. It was, technically, a violation of House rules, which doesn't allow digital devices—but TV networks picked up the feeds and broadcast them live.
Turning off the cameras wasn't an unprecedented move. In 2008, Democrats, then in the majority in the House, did the same thing to Republicans, who wanted a vote on energy policy amid rising fuel prices. Democrat Nancy Pelosi, then the House Majority leader, adjourned the House for its five-week summer recess. Republicans stayed on the darkened House floor throughout the recess.
There are a number of reasons this sit-in has garnered more attention—partially its coverage on social media and the mass public appeal of the cause.
On Wednesday, Democrats chanted "no bill, no break," which became a top trending topic on Twitter. Another rallying cry was "no fly, no buy," a reflection of a law Democrats would like to see passed that prevents people on the no-fly list from being able to access a firearm. And at times they even broke into song, belting out "We Shall Overcome."
By evening, Democrats had dug in for the long haul. Senator Elizabeth Warren, to reported applause, even brought Dunkin Donuts to the group.
Republicans didn't budge. Calling the protest a publicity stunt, they adjourned the House around 3:15 a.m. on Thursday morning for the Fourth of July. That means a vote on gun laws won't happen—if it happens at all—until after the holiday. According to The New York Times, Republican lawmakers "dashed from the chamber into the sticky heat gripping Washington," where protesters greeted them outside the Capitol building.
"What could they be thinking?" Pelosi asked. "Whatever it is, they don't want to tell anybody about it. That's why they left in the dead of night."
About 16 Democrats remained on the House floor despite the adjournment.
"While the Americans don't always expect us to win, they do expect us to fight," said Rep. Al Green, D-Texas, as dawn broke and the few remaining lawmakers sat in a paper-cluttered chamber beneath empty visitor galleries. "We demonstrated to the American why we can't get votes on common sense safety measures."
Rep. John Lewis, a Democrat from Georgia, who had participated in the civil rights sit-ins in the South in the 1960s, said Democrats had "crossed one bridge." He added, "We have other bridges to cross." He said Democrats "made a down payment on ending gun violence" in America.
To put it all in perspective, research from Everytown indicates that in the nearly 24 hours that have elapsed during the sit-in, roughly 91 Americans were killed by guns.
With reporting from The Associated Press.
Follow Marie Claire on Facebook for the latest celeb news, beauty tips, fascinating reads, livestream video, and more.
Celebrity news, beauty, fashion advice, and fascinating features, delivered straight to your inbox!