The FBI's Most Wanted Woman
Is Aafia Siddiqui a vicious terrorist or the victim of extreme identity theft?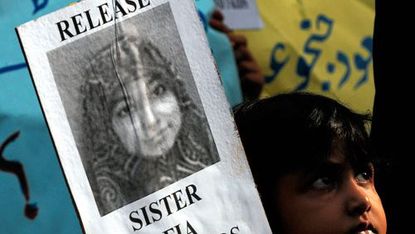 (Image credit: A. Hassan/AFP/Getty Images)
One afternoon last July, a convoy of SUVs carrying U.S. servicemen and FBI agents rumbled into the local police compound in Ghazni, Afghanistan. They'd come to question 36-year-old Aafia Siddiqui, alleged Al Qaeda operative and the FBI's most wanted woman in the world. Missing for five years, she had resurfaced the day before, milling in front of the governor's mansion in Ghazni, allegedly carrying mysterious liquids, notes referring to a "mass casualty attack," and a listing of U.S. landmarks: the Empire State Building, the Statue of Liberty, Wall Street.
The Americans were led up some stairs to a meeting room and told to wait. FBI officials say that's when Siddiqui emerged from behind a curtain, grabbed one soldier's M-4 rifle, and opened fire. The men, they say, were struggling to subdue the 90-pound Pakistani woman when more shots rang out. Siddiqui lay on the floor, bleeding from her abdomen. She survived, and was extradited to the U.S. on attempted-murder charges. But the shadowy details of her case have inspired protests around the world — particularly among Muslim women who are convinced Siddiqui spent the last five years in American custody at a northern Afghanistan air base, being tortured.
The trouble started in 2003, when Siddiqui, a Pakistani-born scientist with degrees from MIT and Brandeis, was living with her husband and three children near Boston. An activist for Muslim women's rights, she attracted the FBI's attention when her husband used a debit card to buy night-vision goggles, body armor, and military manuals off the Web; the couple also gave money to organizations with suspected links to terrorism. Even more damning, in interrogations with the FBI, Khalid Sheikh Mohammed, the alleged mastermind of the September 11 attacks, named Siddiqui as a major Al Qaeda operative. A month later, she disappeared.
So, where has Siddiqui been the last five years? The CIA and Department of Defense deny any involvement in her disappearance. The FBI has said privately that she was at large the entire time, popping up in intelligence reports for laundering Al Qaeda money in international banks, but always eluding capture. Her Massachusetts lawyer, Elaine Whitfield Sharp, says Siddiqui's identity was stolen by a woman who might have worked with Mohammed, but that the real Siddiqui was likely picked up by the ISI, Pakistan's equivalent of the CIA, and handed over to U.S. authorities, who held her for five years at Bagram Air Force Base, an alleged "black site" where the CIA tortures suspected terrorists.
"Does it sound plausible to you that Aafia managed to hide for more than five years?" asks Sharp. "Then, in spite of the fact that the FBI and the ISI had made her capture a top priority, she just decided to show up in Afghanistan with everything she might need to implicate her conveniently tucked in her purse. If you were a terrorist, would you stash your plans in your purse?"
Sharp believes Siddiqui was released from Bagram because she had become a cause célèbre in the Muslim world, and that the materials she carried were planted, meant to cause police to shoot her on sight as a suicide bomber. When that didn't happen, the Americans at the police station were supposed to finish her off.
One person who hasn't put forth a theory is Siddiqui herself, who is now preparing to stand trial in Manhattan Federal Court for attempted murder. She didn't show up for her hearings because of the strip search required each time she leaves her cell. She's deathly pale and incredibly passive, Sharp says, and shows extreme gratitude to the prison guards in New York — which would make sense if she'd spent half a decade under torture. Sharp says Siddiqui will be acquitted if she can prove her client had her identity stolen and was tortured. "But she is at high risk of conviction ... the most wanted woman in the world? It is tough to fight that."
Marie Claire email subscribers get intel on fashion and beauty trends, hot-off-the-press celebrity news, and more. Sign up here.