A College Freshman's NSFW Portrait Series Features Donald Trump's Most Enraging Comments About Women
"I never would have thought that my project would have such a strong impact on so many people."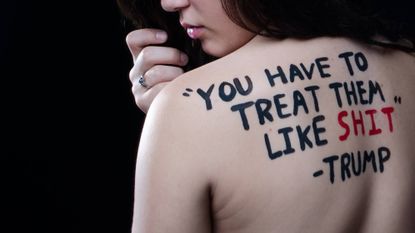 (Image credit: Aria Watson)
Aria Watson is from Warrenton, Oregon, a small coastal town where she currently attends Clatsop Community College. But thanks to her most recent art project, her work is being seen around the world. The 18-year-old freshman was inspired to create a series, titled "#SignedByTrump," for her final project in her Introduction to Photography class. The project features nude portraits of women emblazoned with Donald Trump's most awful statements about women.
Watson tells MarieClaire.com she was never really involved with politics. But for this election, she did her best to keep up with Trump, who was known for his many infamously derogatory statements about women during his campaign.
"Like many other Americans, at first I thought the campaign was a joke," Watson says. "I couldn't believe [Trump] was running for president! I don't think anyone knew he was going to win."
Watson started her project prior to Trump winning the election. But after his win was announced, Watson, who was still two weeks too young to vote, decided to push forward with her mission of making her voice heard.
"As a proud feminist, hearing Trump say 'grab them by the pussy' and talk about how he could do anything he wanted made me absolutely sick. Women are not objects," Watson says." The fact that he has said this, and other things like this, but still won is what scares me. I'm afraid that words, and even actions, like this will become a social norm."
She says the process was tough, but the results were worth it. "I had such a difficult time finding people who were willing to model for me," she says. "Not only is it hard for people to strip down in front of someone and let them paint on their body, but it's hard for a lot of people to be open about their political opinions."
After finding models, getting her project off the ground, and finally launching her piece, Watson said that she did received a bit of negative criticism. At the same time, she also received a lot of support (opens in new tab), and for her, those positives out weigh the negatives.
"I never would have thought that my project would have such a strong impact on so many people," she says. "To everyone who has supported me and "#SignedByTrump," don't let anyone silence you. Don't be afraid to speak up about what you are passionate about."
Watson has now partnered with The Outrage (opens in new tab) to create a collection of merchandise where people can purchase post cards and clothing of her work. Fifteen percent of the profits will be donated to ACLU (opens in new tab) in Donald Trump's name.
Follow Marie Claire on Facebook (opens in new tab) for the latest celeb news, beauty tips, fascinating reads, livestream video, and more.