Trump's Sudden Syria Decision Is Turning Washington into Opposite Land
The people who loved him are criticizing him, and the people who criticized him are supporting him.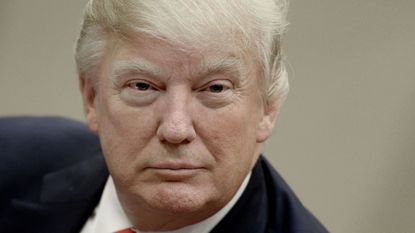 (Image credit: Archives)
President Donald Trump's sudden decision to fire missiles at a Syrian air base last night—which marks the first direct action the U.S. has taken against Syrian leader Bashar al-Assad since the country's civil war began—has surprised and scrambled Washington.
It looks like Opposite Day in D.C., actually: Some of Trump's biggest critics—Senators Lindsey Graham (R-SC) and John McCain (R-AZ)—came out in favor of the airstrikes. In a joint statement, they said "Unlike the previous administration, President Trump confronted a pivotal moment in Syria and took action. For that, he deserves the support of the American people."
The move also met with a positive response from several Middle Eastern countries that Trump has held tense relationships with. Saudi Arabia, Jordan, and Turkey all came out in favor of the airstrikes, with a Turkish official calling them "a positive response to the Assad regime's war crimes."
And then some of Trump's biggest allies are coming out against him. Ann Coulter, a longtime supporter of The Donald and author of the book In Trump We Trust, criticized the move.
Those who wanted us meddling in the Middle East voted for other candidates.April 7, 2017
See more
Republican Senator Rand Paul also tweeted his opposition, writing "While we all condemn the atrocities in Syria, the United States was not attacked." He continued by pointing out that the president needs congressional approval for military action (which Trump neither requested nor received).
And one of Trump's most positive (if not controversial) international relationships now seems frayed: the Kremlin immediately condemned the strikes. Viktor Ozerov, head of the defense committee in Russia's Federation Council told Russian state news agency RIA that "co-operation between the Russian and U.S. militaries may be shut down after the U.S. strike." Bashar Assad is an ally of Russian President Vladimir Putin.
The Russian Foreign Ministry has since announced that Moscow is suspending a memorandum with the United States that prevents mid-air conflict with U.S. forces in Syria. This policy change could hurt U.S. troops, some of whom have credited the memorandum with keeping them safe.
Follow Marie Claire on Facebook for the latest celeb news, beauty tips, fascinating reads, livestream video, and more.