How Do You Survive the World's Most Public Defeat?
Just ask Sarah Palin's handler, Nicolle Wallace.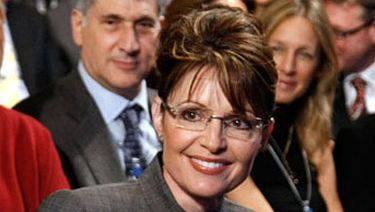 (Image credit: Jemal Countess)
Marie Claire Newsletter
Celebrity news, beauty, fashion advice, and fascinating features, delivered straight to your inbox!
Thank you for signing up to Marie Claire. You will receive a verification email shortly.
There was a problem. Please refresh the page and try again.
Nicolle Wallace is settled into a corner table at Fred's, a swank café at Barneys in Manhattan, dressed casually in jeans. It's surprising that she picked this spot, given her history: As an adviser to Sarah Palin, she has been blamed for Palin's infamous $150,000 shopping spree (which included purchases from this very store), among other campaign debacles. But Wallace, 37, is here to talk about her next step — and she doesn't want any guff. "You give me any lip," she says, "I'm out of here. I've got embryos on ice."
It's a joke — kind of. She's given everything to an unimaginably demanding career, which has meant putting motherhood on hold. As a loyal Republican foot soldier, she's spent the past 12 years rising through the ranks, eventually landing in the White House. Trained under GOP mastermind and Bush consigliere Karl Rove, she helped label John Kerry a "flip-flopper" in 2004, then went on to serve as Bush's communications director before becoming a senior adviser to John McCain, who tapped her to chaperone Palin through the treacherous world of national politics.
It should have been a dream job. But as the campaign careened off course, everyone from pundits to Palin supporters pointed fingers at Wallace — Weekly Standard editor Fred Barnes called her the "coward" behind the shopping orgy, and National Review blogger David Frum accused her of spreading rumors that Palin wasn't up to the task of vice president. Wallace was an easy target — a woman in the ultimate boys' club.
"I wish I could say I don't care," says Wallace, a pretty, freckly blonde, who denies taking Palin on the shopathon but owns up to helping the candidate "prepare" for the much-mocked interview with Katie Couric. "I was blindly loyal to the McCain-Palin ticket. As a staffer, you'd walk through fire." She picks at her chopped salad. "To think I've always been loyal..."
Loyal in spite of having grown up in serious blue-state territory, just across the bay from San Francisco, and later attending hippie haven Berkeley. She's been a longtime believer in the GOP, and says she has kept in touch with the McCain family following the election, most recently having dinner with daughter Meghan McCain.
Although she won't admit to flat-out regrets, Wallace seems eager to put the bruising political season behind her. "I am very joyfully sliding back into obscurity," she says, noting that random strangers recognized her on the street during the height of the election frenzy. "My professional life will never involve working on a campaign again." It's time, she says, to have children with her husband, Mark Wallace, a high-powered Republican lawyer she met while working on the 2000 Florida recount. "My life's ambition is to start a family and to be a good wife and sister and daughter," she says, explaining that she's undergoing IVF treatments to help kick-start the process. In the meantime, she's writing a chick-lit novel, about three women at the top of their careers, including — surprise — the first woman president.
Celebrity news, beauty, fashion advice, and fascinating features, delivered straight to your inbox!