Airline Bumps Thin Woman to Make Room for Plus-Sized Teen
Is it fair for an overweight person to get special treatment on flights?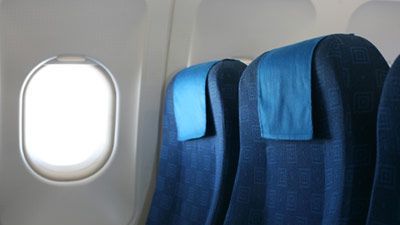 (Image credit: Paul Prescott/iStock)
Marie Claire newsletter
Celebrity news, beauty, fashion advice, and fascinating features, delivered straight to your inbox!
Thank you for signing up to . You will receive a verification email shortly.
There was a problem. Please refresh the page and try again.
Just a few months after Kevin Smith got the shaft on a Southwest flight — the chubby filmmaker went on a Tweet-rant after he was kicked off (opens in new tab) for not fitting comfortably into the seat — it seems the airline is trying to show its newfound sensitivity ... by instead kicking out thin people?
On a flight from Las Vegas to Sacramento last week, a 5-foot-4, 110-pound woman was forced to deboard the plane to make room for a plus-sized teen boy, CBS News (opens in new tab) reported. (She was all buckled up when the 14-year-old — who required two seats but only paid for one — arrived late to the gate.)
When the woman expressed some understandable annoyance, she says she was "berated" by the airline employees.
So, what should Southwest have done?
Normally, the airline would ask for volunteers to give up their seats, Southwest spokesperson Marilee McInnis told CBS. But in this case, the flight attendants were probably just trying to make a quick call to save the overweight teen — not the woman — from embarrassment.
The worst part, however, might be that, unlike Mr. Smith (who, in one tirade, went so far as to say the airline messed "with the wrong sedentary processed-foods eater!"), this woman refused to release her name to reporters because she was afraid of being perceived as insensitive.
Tell Marie Claire: Whose side are you on? Should overweight people get special treatment on airlines? Was this woman being "insensitive?" Share your opinion in the Comments section below!