The War on Women: Surrendered (For Now)
Something happened last night besides a surprisingly speedy Barack Obama victory: The war on women suffered major setbacks.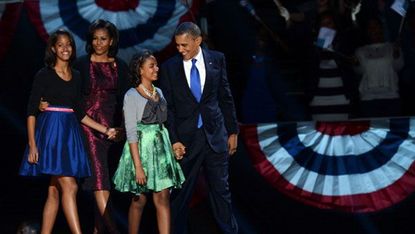 (Image credit: Saul Loeb/Getty Images)
Something happened last night besides a surprisingly speedy Barack Obama victory: The war on women suffered major setbacks. Between the record numbers of female candidates elected, the widening gender gap, and the smackdown of "Team Rape" (as Jezebel's Erin Ryan lovingly calls (opens in new tab) the long list of politicians who ran their mouth about ladyparts this year), voters roundly rejected the strong anti-women undercurrent that permeated the 2012 election.
Let's review what went down. Election-wise, progressive women fared very well: Elizabeth Warren and Tammy Baldwin (opens in new tab) both won their highly contested Senate races; Tammy Duckworth (opens in new tab), Cheri Bustos, and Tulsi Gabbard won their House races; and Maggie Hassan (opens in new tab) became the country's only Democratic governor. (Conservative women weren't as fortunate; Michele Bachmann barely squeaked out a victory in Minnesota while Utah's Mia Love lost to her congressional challenger, Jim Matheson.)
This year also proved that a politician can't just say whatever he wants about rape, pregnancy, or abortion, and get away with it. Todd Akin, who held a comfortable lead in his Senate race until his infamous "legitimate rape" comments, was defeated by Democrat Claire McCaskill in Missouri. Richard Mourdock, who said during a debate that rape pregnancies are "something God intended," lost his Indiana Senate race to Democrat Joe Donnelly. A couple of other losers: Pennsylvania senate candidate Tom Smith, who equated getting pregnant from a rape with having a baby out of wedlock. Roger Rivard, who told a Wisconsin newspaper that "some girls rape easy." America — thankfully — was just not feelin' the rapey language this election season.
And then there was the gender gap. According to exit polls (opens in new tab), it was 18 percent, an even bigger margin than the 12 percent gender gap in 2008. In crucial swing states like Ohio, New Hampshire, and Pennsylvania, Obama's lead with the ladies helped tip the scale in his favor.
Pundits on both sides of the political spectrum declared last night that this election was about the economy, plain and simple. But clearly it was also a referendum on retrograde ideas about women — whether it was an individual politician's offensive comments, a state's anti-choice legislation, or an entire party's rejection of things like equal pay or Planned Parenthood funding. And as we've pointed out before (opens in new tab), women's health issues directly affect the pocketbook, too. This election cycle proved that while the country is still deeply culturally divided, most of us have no desire to turn back the clock on long-settled rights like access to contraception or abortions for rape survivors. But there are still many more Akins and Mourdocks who weren't up for re-election. There are dozens more abortion restrictions pending in state legislatures. We have to keep paying attention during the downtime, when these battles will be fought not under the white-hot light of a national election, but in our own backyards.
Nona Willis Aronowitz is an editor and writer who thinks a lot about love, sex and politics. She tweets at @nona.