Filter: She's Out on Patrol
One year after the death of a New Delhi student in a brutal gang rape, India's women are striking back. But is vigilante-style action the solution?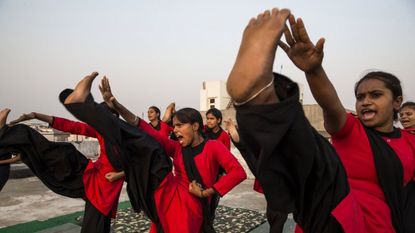 (Image credit: Courtesy of Daniel Berehulak of Getty Images)
AFTER MONTHS OF FIELDING frantic phone calls every day from young women calling to report men for sexually harassing them on the street, Jyotipriya Singh, the superintendent police officer in Kolhapur in western India, had had enough. She marshaled a crew of female officers and launched an undercover mission to catch the perpetrators. "We changed into plainclothes and rode into town on motorcycles to take the sex pests by surprise," says Singh.
It worked. Her crew arrested more than 150 men who were "habitual stalkers" of women near college campuses and in marketplaces during its first two outings. "Terrible crimes like rape begin with men touching women and making lewd comments," Singh says. "My aim is to stop this kind of behavior before it begins." She's not alone. One year after the vicious gang rape and murder of a 23-year-old physiotherapy student in capital city New Delhi, women, frustrated by a lack of progress to eradicate sexual violence in this vast country of 1.2 billion, are fighting back.
In the aftermath of the December 2012 crime, mass protests broke out across India. But despite the outrage, the tightening of laws against rape and harassment in the wake of the atrocity, and death sentences for four of the perpetrators, violence against women in India remains endemic. A recent survey by the International Center for Research on Women, a nonprofit based in Washington, D.C., found that almost 1 in 4 Indian men admit to having committed sexual violence. And several other high-profile attacks have been reported in recent months, including the savage gang rapes of a young photojournalist in an abandoned mill in Mumbai and of a policewoman in the eastern state of Jharkhand.
While Singh is tackling the problem using her official police powers, some women are hitting back without the aid of law enforcement. In the northern city of Lucknow, a 26-year-old schoolteacher named Usha Vishwakarma set up a vigilante group called the Red Brigade after a colleague tried to rape her. "I reported it to the police, but they did nothing," says Vishwakarma. "I started the brigade when I realized that many of my students and friends had suffered similar attacks."
The 100 or so mostly teenage members undergo training in martial arts. Dressed in striking uniforms of red tunics and black pants, they patrol their neighborhoods in groups of four or five. "We come to the rescue of any female who is being bothered by boys. If necessary, we hit the boys until they run away," says Vishwakarma. The group is similar to the more famous "pink vigilantes," known formally as the Gulabi Gang, which began a few years ago as a small band of women in pink saris uniting against domestic violence and other abuses in their home state of Uttar Pradesh. Today, they've grown to more than 20,000 members across India and have been the subject of a movie, Pink Saris, and a book, Pink Sari Revolution.
While these women are proving they're capable of taking matters into their own hands, it's not a long-term solution. "Of course it's positive that women are standing up for themselves," says Kishwar Desai, a novelist who writes about sexual violence. "But going into the streets and trying to stop perpetrators randomly is a dangerous path." Desai believes her country needs to overhaul the justice system, as well as improve sex education and women's rights so female vigilantism is not necessary. India's police, in particular, have been heavily criticized in the past year for failing to take sexual crimes seriously. "We need to make sure that the men in authority—and not just the women—do their jobs better," says Desai.
Celebrity news, beauty, fashion advice, and fascinating features, delivered straight to your inbox!