One of the Last Free Places For Women in Afghanistan Has Disappeared
After the Taliban announced that women would no longer be allowed to leave their homes to get their hair or makeup done, Marie Claire sent a reporter to document the final days inside the country's beauty salons.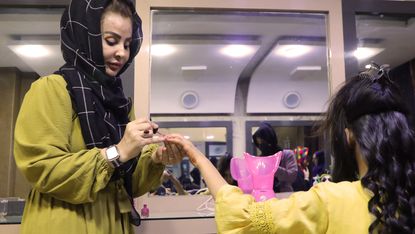 (Image credit: Courtesy of Samiulhaq Patman)
Marie Claire Newsletter
Celebrity news, beauty, fashion advice, and fascinating features, delivered straight to your inbox!
Thank you for signing up to Marie Claire. You will receive a verification email shortly.
There was a problem. Please refresh the page and try again.
A woman dressed in a long black robe and a headscarf that leaves only her eyes visible walks past the covered windows of a popular beauty salon in Kabul, Afghanistan. Men are not allowed behind the shop's heavy velvet curtains. Inside, another world unfolds: A young girl is getting her long black hair curled by a hairstylist, while the owner of the salon—a beautiful, tall woman with microbladed eyebrows—runs around in a blouse and jeans.

Beauty salons became popular in conservative Afghanistan following the fall of the previous Taliban regime in 2001. After five years of largely being restricted to their homes, women flocked to these shops to get massages and manicures and their hair and makeup done. There were around 12,000 beauty salons in the country, approximately 3,000 of them in the capital alone. Yalda (we're identifying all women in the story by their first name only to protect their safety) has been running this salon in northeastern Kabul since 2005, gradually expanding the space as her business improved.
But on July 4, the Taliban announced that they were outlawing all beauty salons, forcing them to close their doors by the end of the month. Dozens of women protested against the closures, but their resistance was short-lived; Taliban security forces fired weapons into the air and used fire hoses and tasers to break up the demonstrations.
Since returning to power in August 2021, the Taliban has severely restricted girls' and women's rights to education and work, banning them from most public workplaces, parks, universities, and schools above sixth grade. Beauty salons were one of the last places where Afghan women could work in the Taliban-controlled country, one of the last places where they could exist freely. Now, they're gone, too.
Just before the Islamic holiday Eid, Yalda received a call from the country's Association for Beauty Salon Owners during her commute home from work. She was told that salons needed to be closed within a month. "It was the most tragic moment of my life," she says. "They took the pen from Afghan girls' hands. Then they took the office jobs from women. This was one of the last occupations where we could earn a living." This is not the first time Yalda's life has been affected by Taliban rules: She was in fourth grade when the movement came into power in the mid-1990s. As a result, her education was disrupted for five years while the Taliban leadership banned girls' schools. But this time, Yalda, a single mother of four children—her husband died 15 years ago—doesn't see a future without the salon. "If I can't continue doing this, I have to leave the country," she says. "If they have such a problem with women, they should just collect us all in one place and bomb us so that we perish."
---
It's Saturday in mid-July and Yalda's salon is not busy. The Taliban announcement scared away many potential customers. Maryam, a young mother in a long black abaya, is one of the few who decided to come anyway. She needs to get her botched hair dye fixed—she accidentally burned herself trying to bleach her hair at home. "See, salons are needed," says Yalda, as she examines Maryam's scalp.
Sitting in a chair close by is Tayyeba, a mother of four who has come to the salon with her two young daughters to get ready for her brother-in-law's wedding. Afghan women have few opportunities to get dolled up. Weddings are one of them. The parties are gender-segregated, so women can wear Western-style evening gowns and even show some skin. Tayyeba is getting her makeup done, "a simple look," she says, as a makeup artist colors her lips with a sparkly-red tint and glues on fluttery fake lashes. On a table near her, a palette of eyeshadow sits next to the Taliban's notice that the salon must shutdown. As Tayyeba looks at herself in the mirror, she smiles, pleased with her transformation.
But for Tayyeba, the salon is more than just beauty care. "This is a place where women get together to relieve their stress and relax," she says. It's a place free from the prying eyes of men.
Weddings have been the main source of income for these salons. The most expensive service is the bride's makeup—as much as 20,000 AFN, or about $230. It's also one of the reasons given by the Taliban Ministry of Vice and Virtue as to why the salons must close: The Ministry says the price puts an undue burden on the grooms who have to cover the costs. There are other reasons for closing, according to the Taliban, including that some of the services provided by the salons are forbidden in Islam. A Taliban spokesperson told the Associated Press that wearing makeup interferes with ceremonial washing required before prayer. In an emailed statement to Marie Claire, a spokesperson for the Taliban Ministry of Vice and Virtue wrote, "We sent them a letter to follow the rules, but they didn't."
Afghan women see the closures differently: as another opportunity to oppress them. Many salon owners are single mothers, meaning they have few other ways to earn a living and support their families.
Rukhsar (we're using her nickname to protect her safety) owns a small salon outside the city center, away from the glitz and glamour of the bigger, more popular places. The 39-year-old's husband died about a decade ago, as the family of six attempted the perilous journey to Europe on a boat from Turkey. "Over a hundred people were in a terrible situation," she says, recalling the tragic incident. Other boats full of migrants around them had already sunk. Rukhsar made it to shore but had no idea where her husband was. In a hospital in Greece, she was told her husband hadn't made it. She asked to be deported to Afghanistan. "I was left traumatized," she says.
Since then, she has been solely responsible for providing for her four children. Beauty salons offered her a good income. At the time the Taliban took over the country in 2021, Rukhsar owned four salons in the city; now she only has one, with her daughter and daughter-in-law as employees. The day before our interview, only one customer came.
Just a week before the Taliban announcement, Rukhsar had accepted a job as an instructor at an institute where women study to become hairdressers. Suddenly, continuing the course doesn't make sense. "When the salons were banned, the students' families no longer allowed them to go," she says. "The Taliban didn't have any problem with us before and we were happy that they didn't stop our work. But now I don't know why they banned it. They definitely want women to stay at home."
---
Some of Latifa's most frequent customers are Taliban wives. They walk in requesting Western- and Indian-influenced looks: winged eyeliner, false lashes, bold colors. "I never thought that one day a Talib would stand outside my salon, waiting for his wife," says Latifa, who runs a salon on the western side of Kabul, an area home to the country's more liberal Shia Hazara minority. Up until then, the only Taliban fighters she had seen were in violent videos on social media.
Latifa, 35, has been in the business for 12 years, but only recently moved her salon to a smaller and cheaper location. During better times, she earned around 10,000 AFN ($117) per day, but now she barely makes the equivalent of $12 U.S. dollars. Only one family walks in during our interview; the women were there to book an appointment and inquire about the prices for wedding makeup.
Like many others, Latifa is planning to continue her work secretly from home. Her husband died of COVID-19 in 2020. Since then, she has been alone. "I have to work because I pay rent. I can't sit idle at home because I am a woman without a man and I have two children," she says.
Giving up isn't an option. Instead, she's fighting for change. Latifa is active as the deputy of an association for beauty salon owners who are negotiating with the Taliban's Ministry of Vice and Virtue following the announcement of the ban. As part of their efforts, the association wrote a formal letter to the Taliban. "We told them how much women will suffer because of this decision; a large number will be unemployed," she says. Ministry officials promised to look into the matter. So far, there has been no response. (The Taliban spokesperson told Marie Claire they never received any correspondence from the Association.)
"We don't have much hope because they haven't reopened schools or universities yet," says Latifa. "We are waiting for a miracle."
Celebrity news, beauty, fashion advice, and fascinating features, delivered straight to your inbox!
Maija Liuhto has covered Afghanistan as a journalist since 2016. She has written for the Atlantic, Los Angeles Times and Al Jazeera English among others.