The 2023 Nail Trends That Are Taking Over, According to the Pros
Grab your boldest shades, people.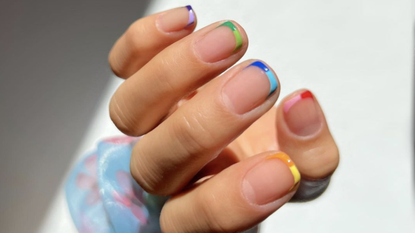 (Image credit: Hang Nyugen)
Marie Claire Newsletter
Celebrity news, beauty, fashion advice, and fascinating features, delivered straight to your inbox!
Thank you for signing up to Marie Claire. You will receive a verification email shortly.
There was a problem. Please refresh the page and try again.
With every new calendar year comes a whole new set of beauty trends. But when it comes to nails, the biggest trends of 2023 honestly aren't really trends at all. On one end of the spectrum, we're seeing a return to the classics. "I'm seeing a shift to a more minimalistic version of trends," says Tweezerman celebrity manicurist Tom Bachik, who works with stars like Selena Gomez and Jennifer Lopez. "Things are getting simpler and cleaner." Shorter nails are taking the place of extra long acrylics, fun finishes like chrome and velvet are pushing bright, bold designs to the sideline, and French manicures, which received a funky twist as one of 2022's nail trends, are becoming even more dainty and elegant.
On the other hand, spring and summer are giving birth to bold aesthetics, bright hues, and fun prints. "Like our wardrobe, nails need a bit of transitioning phase, and I expect to see more colorful French tips in early summer," says LeChat Brand Educator Hemi Park. "Big bright shades will always be summer staples, but we will be seeing more wild and adventurous designs on our tips and toes."

Don't get me wrong: There are absolutely no rules when it comes to picking your perfect manicure. But, if you want the inside scoop on what's going to be debuted on red carpets, Instagram, and on magazine covers over the next few months, scroll ahead. I tapped the best nail pros in the business to create a guide to the biggest nail trends in 2023. So pin this page, screenshot your favorites, and scroll ahead to prep for your next manicure.
Mermaid-Inspired Manis
Spring and summer runway collections featured sequined fabrics and metallic bags galore. Add the upcoming My Little Mermaid release to the list, and it shouldn't come as a surprise that the combination gave birth to a new nail trend: Mermaidcore. "Blue and green toned shifting metallics and glitter textures will definitely hit the digits," says Park. "We've all witnessed chrome galore in nails, but in more eye-capturing duo-chrome shades like LECHAT Perfect Match Siren Song. It's a mess-free liquid chrome gel and lacquer duo, for extra easy application."
Reptile Prints
We're calling it: Reptile skin patterns will be perfectly exotic and suitable for summer vacay mani. And get this: It's actually relatively easy to DIY. "To achieve reptile skin pattern at home, add a generous amount of base coat over the base color, then gently dab darker shade lacquer oval dots over the wet base coat to create blooming effect," says Park. "Allow longer time to dry your nails before applying your favorite top coat."
Bold Aesthetics
Solid nail shades and minimal designs are going to be constant through the entirety of 2023, but you can expect to see a spike of bright hues, exciting prints, and a little extra action in Spring and Summer, according to Park. French tips and tie dye hues are going to be at the forefront.
Natural Length
Extra long acrylic nails have a time and place (we'll forever be obsessed with Cardi B's duck nails). That all said, this year the trend is going the opposite direction. "Last year it was all about super long nails and crazy, abstract nail art, this year we are taking a more classic approach," explains nail artist Hannah Thayer. "Everyone is starting to embrace a more natural nail length instead of the artificial, long nails," adds consulting manicurist for Dashing Diva Zola Ganzorigt, who works with clients like Hailey Bieber. "When it comes to shape, a medium almost shape is the most popular because it's the most durable for natural nails."
Chrome Finishes
If there was one beauty moment that defined 2022, it was Hailey Bieber's glazed donut nails—the silver version, the brown version, and the Rhode gray version. And we're happy to report that the chrome gorgeousness is here to stay. "Glazed donut and chrome nails are in because they are minimalist, chic, and work across the different seasons," says Ganzorigt. "It's becoming easier to try these trends with the explosion of at-home press on and nail strip options. I always point my clients to Dashing Diva for this—they have a huge variety to choose from, ranging from seasonal colors to intricate nail art designs."
DIY Dreams
If going to the salon isn't your preference, you're in serious luck. Brands across the board continue to amp up innovation and turn out gorgeous press-ons, nail stickers, and at-home kits in just about every shape, size, and finish. "There are so many velvet magnetic nails, press-on nails, and gel nail strips to choose from at home," says Ganzorigt. Need some inspo on where to look? Check out brands like O.P.I., Manime, and Static Nails.
Seasonal Shades
Because funky designs are taking a backseat this year, the trend is to really lean in to a season-appropriate shade. "Clean, one colors are becoming more popular," explains Aprés Nail's Research and Development Manager Eunice Park. "Like the viral 'red nail theory' trend, people are enjoying the clean simplicity of a precise one color application." So whether you lean into moody winter nail shades like dark burgundy, dark brown, and black, or go with a sheer nude (Park likes the Gel Couleur series from Aprés Nail), you can't go wrong.
French Manicure Evolution
This is an evolution if there ever was one. The traditional French mani pretty much dominated in the early 2000s. But it then went MIA for around two decades only to come back and be better than ever. Fun color combos had their time to shine, but this year the look has become even sleeker than the OG. "French manicures are thinning the tips to just be guided edges," explains Bachik. For those that want to have a little more fun? "Add a glitter liner."
Lip Gloss Nails
You know the gorgeous shine on your lips post lip gloss application? Envision that same, sheer stunning-ness on your nails. The look has appropriately been dubbed "The Lip Gloss Nail," and can be done in a wide, wide, wide range of shades. "Full coverage nudes are becoming more sheer and glossier," Bachik points out, but you can also achieve this look with pale pinks or even see-through reds.
Moody Mattes
If something like a Lip Gloss Nail is not your speed, allow me to introduce you to the moody matte—it's quite literally the polar opposite. "I absolutely cannot get enough of deeper, moody tones (think: blues and greens) finished with a matte topcoat," says Thayer. "The matte adds an unexpected level of elegance to dark nails." To get the look, she recommends using Dazzle Dry in Self Made or Mythic Teal with the Mattify Top Coat.
The Return of the Accent Nail
Never did I ever think I'd see the day, but the single accent nail has returned. "For those wanting a little extra flair, try choosing a simple design on one or two nails to accent an otherwise neutral toned mani," says Thayer. "I love to pop in some gold foil or leopard spots, because who doesn't love leopard?" You can also do a simple line down the center, or if all else fails, just pop on a sticker.
Simplistic Dimension
"Three-D nails are becoming more simplified, like a sprinkle of pixie dust or a single crystal," says Bachik. The subtle addition adds a little extra fun to an otherwise classic manicure, but remains simple, chic, and sophisticated. One of the best ways to get the look at home is to order little rhinestones and pop 'em on the base of each nail with a pointed tweezer.
Toss in Texture
In the same way that glazed donut nails have risen to stardom, a handful of other textures are getting their well deserved 15 minutes of fame. "Chunky glitters are now becoming more like shimmers and pearls," says Bachik. Take the Essie Chromes collection, for instance. "They're more sheer and iridescent." The same can be said for the velvet nail trend.
Minamalistic Manis
Sometimes, the best manicure requires no polish at all. "It's the most minimalistic, but sometimes a clean, perfectly manicured natural nail is the way to go," says Bachik. "I think this is blowing up because it allows DIYs to take their favorite celebrity look and simplify it." Now, while this might not be the *most* exciting look in the book, it's by and large the easiest to DIY. "Everything you need to achieve this is in my Tweezerman x Tom Bachik Ultimate Nail Care Set."
Meet the Nail Artists
Zola Ganzorigt is a Los Angeles-based manicurist. Her careful eye and creative approach to nails has made her a favorite with talent such as Hailey Bieber, Sydney Sweeney, Jessica Alba, Christina Aguilera, Sabrina Carpenter, and Vanessa Hudgens. Ganzorigt's nail art ranges from minimal, nude manicures to bold, artistic designs, and has been featured on covers and in campaigns for brands such as Miu Miu, Good American, Sweetgreen, and Fabletics, along with editorials for publications including Porter, The Cut, and L'Officiel.
One of the top "Man"-icurists in the world, Tom Bachik is one of the most sought after nail professionals in the fashion industry and among celebrity elite. Coined "The Rad Manicurist," he currently polishes the hands and toes of A-list celebrities including Jennifer Lopez, Beyonce, Zooey Deschanel, Victoria Beckham, Anne Hathaway, Heidi Klum, and Jessica Simpson to name a few. Top Publications and high-end brands, such as Vogue, Vanity Fair, Elle, Allure, InStyle, Gucci, Versace and Armani call on Bachik for his unique and stunning nail designs. With over 20 years of experience, he has developed product innovations and application techniques for some of the most well-known companies in the industry. He was the first nail artist to have a contract with Chanel and currently travels the world as the first ever 'Global Nail Designer' and celebrity manicurist for L'Oreal Paris. A trained graphic designer, Bachik is all about designing the most visually fashion-forward looks – whether it's the most elegant, timeless and classic natural nail manicure or styling something unexpectedly bold and cutting edge; his designs are unparalleled works of art. Bachik has won over 300 prestigious nail contests, including the WINBA World Championship. In addition, he has judged nail art competitions across the US, Europe, and Asia. Based in Southern Calif., he is married to his wife Liz and has two sons and a 15-year-old daughter, Zoie, who frequents as his nail art muse
Eunice Park is the research and development manager for Apres Nails.
Celebrity news, beauty, fashion advice, and fascinating features, delivered straight to your inbox!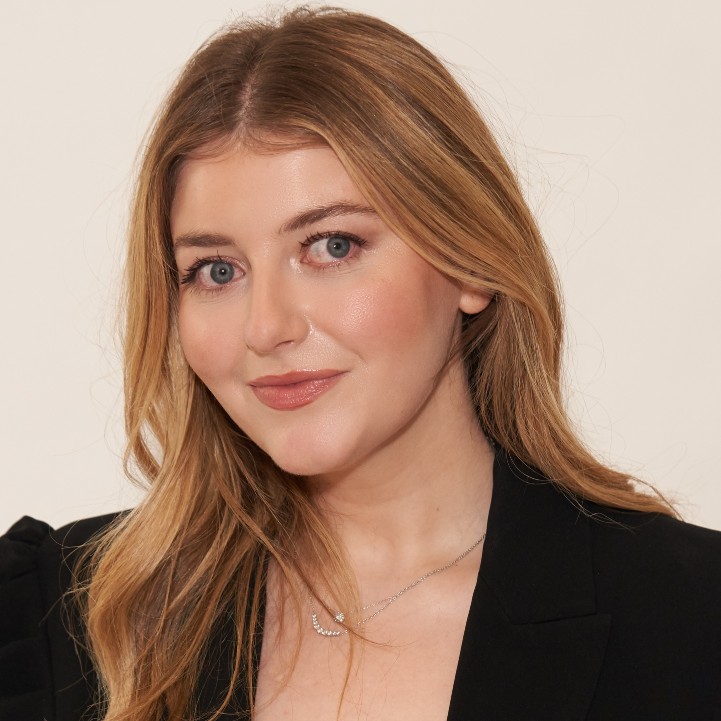 Samantha Holender is the Beauty Editor at Marie Claire, where she reports on the best new launches, dives into the science behind skincare, and keeps up with the latest trends in the beauty space. She has previously written for Us Weekly, Popsugar, Makeup.com, Skincare.com, and Philadelphia Wedding. Follow her on Instagram @samholender.