What I Wear to Work: Sara Holzman
Our very own fashion director walked us through her stylish work wardrobe, and the inspo is endless.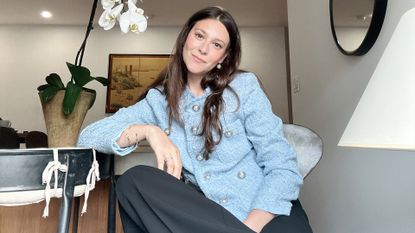 (Image credit: Future)
Marie Claire Newsletter
Celebrity news, beauty, fashion advice, and fascinating features, delivered straight to your inbox!
Thank you for signing up to Marie Claire. You will receive a verification email shortly.
There was a problem. Please refresh the page and try again.
In our bi-weekly series, we highlight dynamic women—from entrepreneurs and small business founders to CEOs and celebrities—discussing their style ethos, the pieces that empower them, and how they balance life alongside whirlwind careers.
I know you're probably used to seeing Sara Holzman as the author of these stories, but this time, she's taking center stage. Marie Claire's fashion director has that touch of quiet luxury to everything she wears, so it was high time to profile her in this series. "Getting dressed for the day and feeling put-together impacts my mood and productivity," she told me when we first started chatting about this. I agree with her, especially given our new hybrid work schedules. "When I'm working from home, I will opt for something a bit more casual. In the summer, that might be a breezy linen dress and a pair of slides rather than the blazer and pants I might put on for the office or an outside meeting, but I will never sacrifice on comfort whether I'm at home or otherwise."
There's something to be said about mastering a work-wardrobe capsule collection that helps put you in that go-getter mood and feel polished throughout the day, no matter where you find yourself. Perhaps it's incorporating textures like tweed into your sartorial setup or finding versatile pieces like a button-up that you can dress up or down depending on your mood (and your location). Holzman has mastered this and let me in on a little secret: Macy's has been her go-to when she's hunting for wardrobe essentials from slip skirts to sandals that she can wear to both the boardroom and drinks. She's found them all and is here to share her tips.
On Her Morning Routine
The first order of duty when I wake up is coffee. I usually make a very strong cup of coffee or a double espresso at home, but I occasionally take my dog Hamilton out for his walk and grab a coffee on the way home. An ideal start to the week or any workday would be getting in a sweat after that strong cup of joe. I invested in an at-home bike, and it's been my moving meditation for the past several years. When the weather is nice, I love running along the Hudson River. After a workout, I'll peruse my go-to news and fashion sites to see if there are any new cover breaks, announcements in the fashion world, or general news. Then I shower, get dressed, and head off to meetings, appointments, or the office, depending on the day.
On Her Getting-Ready Process
I always think about how to streamline my workwear wardrobe best, especially when my calendar is packed. The getting-ready process is more of a formula. I usually have seven to 10 seasonal pieces that work well for me and can be mixed and matched throughout the week: Trousers, button-downs, and a great blazer or jacket are always my staples. Footwear is also crucial since most of my job entails running around to market appointments, having coffee with designers, and seeing new collections throughout the city. Because I often have events or dinners in the evening, I also like to make sure my outfit can span the entire day. I'm not the type of person with multiple outfits throughout the day.
On Owning a Workwear Capsule
I definitely have a workwear uniform. It's a part of my identity and changes seasonally, but I wear the same key pieces year after year. I am all about light-weight blazers and pants in the summer, usually high-waisted, breezy silk skirts and maxi dresses. I gravitate toward high-waisted wool trousers or culotte-style pants with a cozy sweater or blazer in the cold weather. I'm usually in a slide, kitten heel, or loafer for footwear.
I love the sky-blue color of this jacket, which can be worn alone as a top. It's the perfect transitional piece with the chic pearl detailing. I paired it alongside wide-leg, black pants—a staple item that transcends seasons—and a pair of ivory slide sandals that are super comfy yet chic.
I am all about fashion and functionality in a work wardrobe. I'm obsessed with this white, flowy maxi dress not just because of the keyhole neckline but because this dress also has pockets! This dress would look great with a flat, but I wear it with a summery espadrille wedge that adds a little height and adds a fun texture to the look.
I love the belt detailing on this floral sundress. It offers a bit of structure but is still so easy and breezy when I'm running around the city to meetings and appointments. I'd wear this outfit on repeat paired with a minimalist slide in a neutral hue.
Everyone needs a blue button-down in their wardrobe. This slightly oversize silhouette is excellent when it's warm outside, but your office or home AC makes everything cold. I paired this with a silky, black midi skirt, which is so versatile, and an easy, black slip-on sandal. It looks polished, but this is an outfit I could also wear on set while styling one of our covers.
The Marie Claire office dress code is pretty casual, but once in a while, a dinner or event will call for a bit more "business casual" with a fashionable twist, of course. I adore the peplum hem on this one-shoulder top paired with a black silk midi skirt. (The versatility is real!) To keep it elevated, I'm wearing a slightly oversize white blazer, but no one wants to look too fussy, so I'm all about a sleek outfit with practical, everyday shoes.
On Career Advancements
It's a small industry, and people often told me it was impossible to break in, but after getting a chance to intern in the fashion closet at a magazine in New York, I instantly knew it was where I wanted to focus my career. With a lot of great mentors and a passion for the industry, I was able to build a career in fashion. I began as a closet assistant, where I did sample trafficking for big photo shoots. I moved up the ranks to a fashion assistant outside the closet and eventually became a fashion market editor who helped stylists procure clothing for photo shoots. If you're passionate about something, stay the course, and opportunities will present themselves in some of the most unlikely of places!
Celebrity news, beauty, fashion advice, and fascinating features, delivered straight to your inbox!