The Next Sexual Revolution? A Look at the Estimated Millions of People Exploring Open Marriages
For many couples, the idea of monogamy is evolving. Is it open season on sex outside of commitment?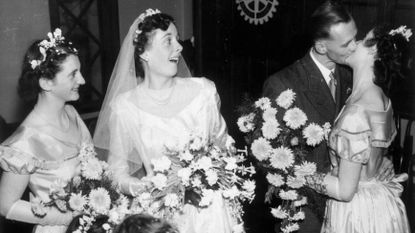 (Image credit: Getty Images)
Marie Claire Newsletter
Celebrity news, beauty, fashion advice, and fascinating features, delivered straight to your inbox!
Thank you for signing up to Marie Claire. You will receive a verification email shortly.
There was a problem. Please refresh the page and try again.
For the first time in history, more Americans are single (50.2 percent) than married. But for those who do tie the knot, the general idea is still the same: You're now emotionally and sexually exclusive with your partner. Even if you never marry but have long- term relationships, monogamy is usually part of the unspoken agreement.
That's starting to change. "Monogamy is no longer going to define marriage," predicts couples therapist Tammy Nelson, Ph.D., author of The New Monogamy: Redefining Your Relationship After Infidelity, who says she's seeing more couples experimenting with open relationships (in which a couple decides what sexual activities outside their relationship are fair game) and polyamory (having actual romantic relationships outside a primary commitment). It's not cheating or "looking the other way," but having relationships or encounters with the consent and support of your partner.
While it's impossible to know exactly how many U.S. couples are consensually nonmonogamous, estimates range from 1.2 to 2.4 million, Elisabeth Sheff, author of The Polyamorists Next Door, wrote last year in Psychology Today. Couples have made "agreements" since marriage was invented, but as open relationships become more established in popular culture—some Hollywood couples have talked about theirs; two of last summer's indie comedies (The Overnight and While We Were Young) featured subplots centered on nonmonogamy—more people are comfortable coming out about their lifestyle.
It sounds counterintuitive, but many people practicing nonmonogamy see it as a way to preserve their relationship, not implode it, says Esther Perel, marriage therapist and author of Mating in Captivity: Unlocking Erotic Intelligence, whose TED talks on marriage and infidelity have been collectively viewed more than 10 million times. "Many people in their 20s and 30s are children of divorce, and they want a different code of honesty," she says. "The idea of consensual nonmonogamy is in service of the longevity of the couple: 'With this, we can avoid lying, cheating.' They're taking the concept of sexual freedom inside the marriage."
Below, three happily married couples in open relationships explain how they, well, do it.
The Modern Family
The Couple: Nicole Sharette, 38, and Luke Sharette, 35. LOCATION: Eugene, Oregon.
Status: Married for 12 years.
Kids: Six.
Our Arrangement: "I'm a stay-at-home mom. Outside of our sex lives, we're a traditional family. Luke has casual hookups; I have long-term relationships. I've had one boyfriend for eight years, another for three, and I've dated a couple for four. We go out anywhere from every three months to three times a month."
How It Began: "I've always wanted to do this. When we first got together, Luke was very vanilla [sexually], and that slowly changed. I said, 'Wouldn't it be nice to enjoy this with others?' He came around to it, then we talked for a year. First I just dated women, and Luke realized that I wasn't going to leave. When he had his first experience, he saw that my feelings wouldn't get hurt."
The Rules: "We used to have rules about who we could and couldn't sleep with (like, I didn't want him to hook up with my best friend). Now we don't, except that we have safe sex with everyone else. Luke doesn't tell me how often I can go out, and I don't tell him. We just respect each other."
Jealous Much? "I like the feeling. Jealousy excites me."
The Good: "We don't get bored with each other. It makes us communicate and grows our trust, love, attraction, and appreciation for each other. It also keeps us both feeling young, which is hard when you have a lot of kids."
The Bad: "We have kids in their late teens. When they were younger, they saw Luke out with another woman and thought he was cheating. We explained that we love each other but we have other friends. They get it now. They're also very monogamous and paranoid about cheating."
The Poly Partners
The Couple: KC, 34, and Marissa, 31.
Location: New York City.
Status: Together for three years, married since September. KIDS: Zero.
Our Arrangement: KC: "We have a circle of polyamorous friends. We have sexual interactions with them at parties, either together or separately. Or we'll have friends over and one thing will lead to another—but then they go home." Marissa: "We don't have other romantic partners."
How It Began: Marissa: "KC and I have both tried open relationships, but this is the first time it has worked out well. We started our relationship like this. Going from monogamy to nonmonogamy is very difficult, especially between people with disparate levels of relationship experience and insecurity."
The Rules: KC: "I wouldn't want either of us to hook up with someone who expected more than what we've offered." Marissa: "Or if we know they're emotionally unstable."
Bilateral Support: Marissa: "I'm bisexual, so I still get to explore that. KC might say, 'You're talking about dudes a lot lately. Do you want to make some calls?' "KC: "People have different sex drives and ways of connecting. If you thrive on that, to shut off that part of yourself can be suffocating, even if you have a good sex life with your partner."
The Good: KC: "You can be yourself and not constantly self-monitor." Marissa: "You're not afraid that the other person is going to stray. Why would they?"
The Bad: KC: "I'm not out to my family. When I tried to talk about being in an open relationship, it got dismissed: 'Oh, it must not be serious.' If we're not romantically involved with others, my sex life isn't my parents' business."
The Lawmakers
The Couple: Susan Coates, 43, and Taj Moore, 40.
Location: Denver.
Status: Together eight years, married for four years.
Kids: One.
Our Arrangement: "Taj sees someone every week and talks to her daily. She's married and has a child. I also have a weekly date with someone who has another partner and kids. I see other partners intermittently."
How It Began: "When we first met, I had been in a relationship steeped in jealousy and wanted to explore an open relationship. Taj said, 'Yeah, I'm curious, too.' We sat down to check in before his first date. I said, 'I'm OK if you give her a kiss.' Afterward, we did a play-by-play. It took quite awhile before I was OK with him having sex with another person."
The Rules: "Taj and I check in before each date. At the beginning, this was very lengthy. Now it's just a text: 'Are there any parameters?' If our relationship is struggling, we'll simmer it down and not date much."
Terms of Disclosure: "When I'm out with my other partner, we talk about Taj a lot. There might be an intimate moment that feels special with someone else, but if it feels like I'm withholding from Taj, I question why."
The Good: "I learn a lot about myself, because relationships with different people bring out other parts of me. If there's something my primary partner can't give me—maybe I'm drawn to someone with a different sense of humor—I don't have to compartmentalize."
The Bad: "Since what we're doing is generally taboo, we've lost friends because there's a lot of judgment. We don't hide, and there are people who seem pretty uncomfortable when they find out."
This article appears in the January 2016 issue of Marie Claire, on newsstands now.
Celebrity news, beauty, fashion advice, and fascinating features, delivered straight to your inbox!