This NSFW Artist Is Reimagining What It Means For Women to Feel Erotic
"Feminism is just reclaiming sex as your own."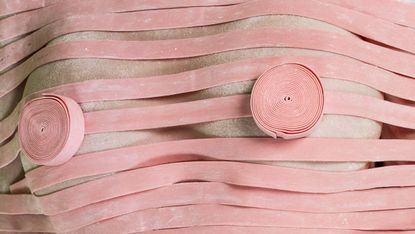 (Image credit: Joanne Leah)
Marie Claire Newsletter
Celebrity news, beauty, fashion advice, and fascinating features, delivered straight to your inbox!
Thank you for signing up to Marie Claire. You will receive a verification email shortly.
There was a problem. Please refresh the page and try again.
Joanne Leah slouches at her kitchen counter one crisp January day, her brown hair tucked behind her ears. Ray Henders, her handlebar-mustachioed husband, hunches over their four-month-old baby, Charlotte, across the room of their Williamsburg loft. "This used to be the studio," Henders explains, standing at the crib in where Charlotte—their new, different sort of project—resides.
Toys hang on the bulletin board, and a diaper genie sits next to what used to be a drafting table. Above Charlotte's crib is a 6x10 foot print of Leah's. It's a grid of 35 of her photos: Each features an anonymous body (or body part) in contact with an unusual substance in front of a brightly colored background. Naked bodies tied in ropes; a close-up of an egg yolk and glitter on someone's tongue; a crotch with neon blue paint and legs encased in fishnets. These are the sort of images that Charlotte gazes upon as she opens her eyes in the morning.
Of starting out, Leah says, "I was in a really unhappy marriage. So I started shooting erotic self-portraits and posting them on the Internet. It was pre-Instagram, so I used Flickr. Then I moved to New York and started shooting friends of friends, and realized—oh, this is so much more fun.'"
She laughs and crosses her arms, one of which is tattooed with a two-headed snake. Once, she had a dream that she had a two-headed snake tattooed on her arm by a friend, so she went out and got it done—not by her friend, of course. She likens it to the two-headed snake in Yevgeny Zamyatin's dystopian novel We. "He's my protector," she says.
In New York, Leah started photographing nude models in front of dark, jewel-toned backgrounds and with objects from her childhood—say, ballet slippers or plastic Easter basket confetti. But there was always a twist: The ballet slippers, for example, were bloodied and the model's foot was at an unnatural angle, or the confetti smothered the model's face-down body.
Her latest series, "Acid Mass," is a product of her becoming more confident as a person and an artist. Now, her nude subject is carefully arranged in front of vibrant turquoises, yellows, and pinks, and is erotically intertwined with an object—sometimes an object from childhood, sometimes a sexually charged one, but always incongruous.

"Before, I thought that feminism was being sexually free," Leah says. "But now, as I approach forty, I realize that it's having control over your own sexuality—owning it. That's a totally different thing."
For more of Leah's work, visit her website or follow her @twofacedkitten.

In the up-and-coming Long Island City on a windy Saturday night in March, visitors trek to a warehouse that's only accessible by traversing an unlit parking lot. This is LICA's (Long Island City Artists) Plaxall Gallery show, "Then She Did."
It's a group show, with 24 female artists, but one of Leah's "Acid Mass" works—a woman, in front of a turquoise background, licks neon red slime from her hands—hangs front and center, right next to the curator's note. "The artists from 'Then She Did' not only choose who they want to be," the note from Lori Zimmer and Melissa McCaig-Welles reads, "but also how they want to think and how they want to influence others."
One of Leah's pieces attracts the attention of every eye in the room. It's similar to the one above Charlotte's crib, but has only nine photos. Breasts are adorned in gold glitter; bubble gum is draped, mummy-like, over a body in repose; the bright turquoises of one background bump up against the lime green, canary yellows, and baby pinks of others.
"I love Joanne's work because it's sexy and abstract," Zimmer says, "But also contextualizes sensuality from the female gaze. I feel her work tells women it's okay to be sexual, it's okay to be into whatever fetish you want to be into. Being sexual is a right of all humans, not just men."
"I truly think that feminism is just reclaiming sex as your own, whatever that means to you," Leah says, still slouched at her kitchen counter. "Acid Mass has really taught me that. That's pretty much how simple it is, but it took me forever to get there."
Her voice is girlish, and her speaking pace slow, but her mind clearly vibrates at a high frequency. She loves philosophy. Lately she's been reading Hannah Arendt, but also loved James Carse's Finite Infinite Games, which led her to Carl Jung.
"I'm obsessed with Jung's symbols, and what they mean, and how we interpret dreams, and the symbols that are in our dreams that are in our subconscious."
She transfers such research into her work through free association. Her symbols are personal to her: that means they usually revolve around the feminine, something funny—like a fake vagina—or something from her childhood. Which usually means something religious.
Leah was born in Germany and adopted by Americans at two months old. The Leahs then moved, along with her brother (also adopted), to a small town in Bible-belt Virginia. She was raised Catholic, her mother devout and her father agnostic.
In her teens, Leah started doing drugs. On Saturday night, she would go to raves and take LSD, then early the next morning she would attend church or teach Sunday school—still high from the night before. This juxtaposition of the acid with the hyper-regimented church had a profound effect.
"If you take away the details, like Jesus and God," she says, "it's just ritual, the shell that you can plug anything into. It can be what you do when you wake up in the morning, it can be your artistic practice."
Once she's figured out the symbol for a piece, she arranges the model's body to make some sort of metaphor. Then she adds in elements that remind her of her childhood, like Barbie-doll shoes, or the color of the tile in her mother's '80s kitchen.
To determine the exact shape of the model's position, she brings in her research of the fetish and pornography world.
"I think, 'What do foot fetishes find sexual about the feet?' It's the lines, and the shape of the foot, and if they take care of the foot—the tactile quality. I like it when the shape is surreal, and you really can't tell what's going on, or you have to take a moment to figure it out."
But back to the Plaxall Gallery, where Leah stands in striped pants and a long, Tim Burton-esque coat. Another woman, in her late forties, arrives to a big bear hug from Leah. This is Marne Lucas, her close friend—and, in a first for the duo, an artist also featured in the show.
Lucas also works in photography. Her images are taken in the middle of an ocean; girls with wet hair splash around; the camera—and, by extension, the viewer—is seemingly part of the group. But we can't see the girl's faces. They wear rounded, highly polished, metal masks. Instead of actually seeing the girls, we see the reflection of the vast ocean in front of them.
"Joanne and I share a healthy—or is it perverse?—love of art, the body, sex, nature and being in bodies of water," says Lucas. "As artists, we both use the body as our canvas, as a palette and a platform for political and social ideas."
The women walk around the various rooms in the vast warehouse. Then Ray arrives, carrying Charlotte.
"This is her third show," Leah says. "Although it's the first for which she's been awake."
In this turbulent time for women—and given the provocative nature of her work—how to raise a strong woman has been on Leah's mind.
"My complicated relationship with my parents is part of what I'm working through with my art," she says. "Especially now that I have my own child."
Her dad was a scientist and her mom was a nurse, so sex and sexuality were never discussed outside of the most clinical parameters.
"I feel like my parents are great parents," she continues, "But they failed to give me some of the tools I needed to navigate the world as a woman, sexually especially. It took me forever to leave my first marriage, because I wasn't sure if there was something wrong with me—if I was doing something wrong. But I wasn't doing anything wrong."
Owning her sexuality, however, is often considered NSFW (in fact, she was featured in the Museum of Sex's "NSFW: The Female Gaze"). Her website has a prominent tab labeled "Censored Work." Instagram doesn't allow overt nudity, but even when Leah posts pictures of covered body parts, the works are still sometimes removed.
"I think censorship definitely changes things," she says. "But I think that I wouldn't be producing the things that I am if it weren't for it. My work would probably be more blatantly erotic, but the censorship has forced me to reinterpret eroticism. It's just what it is. Everything affects art. Politics are always affecting you, the weather always affects you—so I just think it's another thing to use."
What's next? "Reproduction of the Mouth" was just acquired by the Davis Museum at Wellesley College, and Leah just completed her first public mural at Baby Skips, a Bushwick cafe. She'll have an installation, "Sour Milk," in Greenwich, Connecticut, in a bedroom in a mansion about to be demolished. In October, as part of the Art in Odd Places festival, Leah is planning a public art piece on existing construction sheds on 14th Street that includes a video element.
Otherwise, Leah has been getting back to work.
"I almost want to start shooting Charlotte," she says. "But I'm obviously not going to tie her up."
RELATED STORY
Celebrity news, beauty, fashion advice, and fascinating features, delivered straight to your inbox!