Are Butterflies in the Belly Really a Sign of Love?
Butterfly Kiss-Off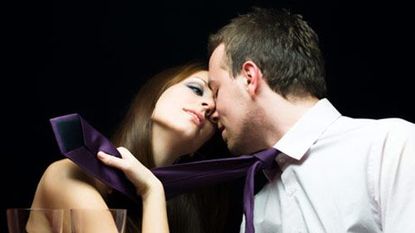 (Image credit: Sladjana Lukic)
My boyfriend has given me a lot in the year-and-a-half we've been together: a belly rub when I ate an entire pepperoni pizza in one sitting, a flat-screen TV when my '80s model finally self-destructed, plus the usual jewelry, cards, and flowers. The one thing he never gave me was butterflies.
Since sixth grade, the best way for me to gauge my attraction to a guy has been to check for a sense of anxiety bordering on torture, an ache that signals the countless ways in which I consider him out of my league — and thus worth pining for. It peaked in my 20s, when I met the black Dylan McKay — a sinewy, brooding, inscrutable bad boy. Our first encounter was all extended eye contact across the crowd, and a freak-out over whether he'd ask for my number. Forget butterflies — full-on birds knocked around in my stomach. But our three-year, on-and-off relationship crushed my self-esteem. When I found myself rummaging through his garbage for condom wrappers as proof of the sex he was having with other women, and even angling a steak knife at his throat due to some now-forgotten slight, I knew I'd fully entered crazy-bitch territory. So I cut him loose.
Eventually, for reasons more complicated than dating drama, I started seeing a therapist, who proselytized against woozy love feelings, saying that butterflies was just another word for fear — fear of losing the guy. At first, I resented the implication that I might be one of those women who undercuts herself in pursuit of a man. Then I remembered the steak knife, and there was no "might be" about it: I put a moratorium on belly-dwelling winged insects, avoiding any man who even mildly affected my pulse. This strategy didn't get me very far, of course. After playing interested for one or two dates with a ho-hum but eager fellow, I couldn't bring myself to return his calls.
Then a new guy showed up, and I barely noticed a flap as he went from occasionally asking me to dinner to making a surprise late-night run to Borders after I mentioned needing a book for work. Or when I sat dejectedly awaiting my turn in housing court and he filled my phone's inbox with supportive texts. He was dependable and unambiguous — everything I'd never wanted in a man. Then one day, I started singing "A Boy Like That" from West Side Story, and he joined in with a laughable Puerto Rican accent, straight out of the movie. And I finally felt...butterflies? No, the opposite. Secure.
Celebrity news, beauty, fashion advice, and fascinating features, delivered straight to your inbox!