What's Your Sexting Plan?
Sexting Photos of a Penis - Porn for Women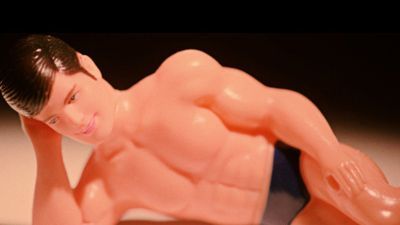 (Image credit: Rob D. Casey/Workbook Stock)
WHILE I DON'T make a habit of it, I'm down with sexting. A racy exchange keeps things interesting, as does sending (discreet) photos from time to time. The occasional snapshot showing a hint of lace beneath a veil of wavy tresses is quite effective at luring my boyfriend home early from guys' nights out. When it comes to men's sexting attempts, though, many struggle with the line between sexy and crass, which leaves me wondering: Why do men insist on texting photos of their penises?
I'd personally prefer to watch paint dry than receive a "Surprise!" erection text in the middle of the day from a guy I met at a bar the night before. A penis is useful only in person; seeing a ding-a-ling on my Droid does me no good at all. And although cell-phone-based phallic photography used to be the provenance of athletes, celebs, politicians, and douche bags, enough confessions from equally unimpressed girlfriends have confirmed that many otherwise-mature, accomplished men are doing it, too. A June 2012 Harris Interactive poll of more than 2,000 adults found that 32 percent of men 18 to 34 sext, and a November 2012 Pew Internet & American Life Project study found that 15 percent of adults (both men and women) have received a nude or nearly nude photo on their phones. Snapchat, the app that allows users to send photos that delete after a few seconds, is known as a sexting hub; 150 million photos are sent via the app every day.
"It's almost become common practice," says Kevin, 32, a nurse in Washington, D.C., who has sent photos to "three or four" women. "With one girl—a friends-with-benefits situation—I'd text her pictures when I was home and she was at work." After she reciprocated with cleavage shots, Kevin surmised his pal must have appreciated the photos. Sexting kept their spark alive when their schedules didn't allow for meet-ups, he maintains. But he knew it was a risk. "There has to be a great deal of trust for me to send a nude photo," he says. "Your life can change because a girl gets upset and decides to post the pictures."
Sean, a 34-year-old recruiter from Raleigh, North Carolina, recalls his adventures in sexting: "I had hooked up with a girl at a wedding. A week later, I'd probably had about three too many Jack and Cokes and decided it'd be a great idea to take a picture of my dick and send it to her. Maybe it would turn her on; maybe she'd send me something back. She didn't reply. It killed me for a few days, but then I just forgot about it. A month later, she sends this text: 'We think you should learn to use your flash. Also, you should clean your room.'''
Before I point out the obvious, he beats me to it. "Yeah, she said 'We.' I guess she was out with her girlfriends." (Match.com's 2012 "Singles in America" study found that 23 percent of singles share sexts with friends.) "At first I was mortified," he continues. "But then I thought, Well, it drew an audience."
Though initially stumped when asked why they've sexted phallic photos, men ultimately seem to adhere to self-conceived theories that the pics are the way to women's hearts (and other areas). But surely it's more complicated. "Men are motivated by a primal instinct to show their prowess in all aspects of life—strength, money, and the size of their penises," says Mike Lindstrom, a relationship expert for askdanandmike.com and coauthor of Men: Ten Secrets Every Woman Should Know From Two Guys That Do. A sexter could be a plain old narcissistic showoff, says Lindstrom; he could be trying to inspire a hookup—or he could be compensating for insecurities, like being short or overweight. So while I've wondered if there are complex psychological reasons for this phenomenon, perhaps it's simply about the confluence of ego, animalistic urges, technology—and total delusion. One thing's for sure: It's certainly not about what women really want.
"I'd personally prefer to watch paint dry than receive a 'Surprise!' erection text in the middle of the day from a guy I met at a bar the night before."
Marie Claire email subscribers get intel on fashion and beauty trends, hot-off-the-press celebrity news, and more. Sign up here.