Long Distance Relationship Gift Ideas for Couples Who've Made It This Far
Alexa, play "A Thousand Miles."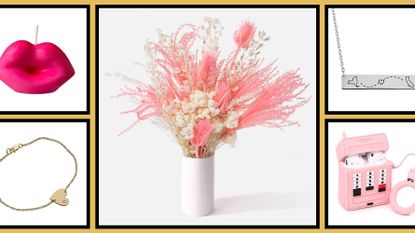 (Image credit: amazon.com/wolfandbadger.com/etsy.com/urbanstems.com/jenniferzeuner.com/Morgan McMullen)
Marie Claire Newsletter
Celebrity news, beauty, fashion advice, and fascinating features, delivered straight to your inbox!
Thank you for signing up to Marie Claire. You will receive a verification email shortly.
There was a problem. Please refresh the page and try again.
A long-distance relationship comes with a unique set of hurdles. Chief among them—aside from the sporadic spans of celibacy and having to deal with interrogations from family members about when you're going to take the next step together—is not always getting to spend cute holidays together. Namely, that pink- and red-adorned one dedicated to celebrating love. Ahead, 44 Valentine's Day gift ideas for your long-distance love...because they're worth all of the budget airline flights, and then some.
1/46
Farm Rio Hearts Scarf
The heart motifs on this cozy Farm Rio scarf are pure joy. The scarf can be worn year-round, but gifting this on Valentine's Day is particularly apt.
2/46
Classic Shortbread Assortment
SUPPORT SMALL BUSINESS
If your valentine has a sweet tooth, surprise them with pretty cookies decorated in edible flowers from Alma Kitchen.
3/46
Italic Baguette Diamond Pinky Ring
Remind her that she has you wrapped around her finger in the chicest way possible with this 14k gold and diamond pinky ring.
4/46
Urban Outfitters Bond Touch Long Distance Bracelet - Set of 2
It's rumored that Shawn Mendes and Camila Cabello wore these rechargable, waterproof bracelets while they were touring. Simply touch your bracelet for your partner's to light up and gently vibrate as a way of letting them know you're thinking of them.
5/46
La Maison du Chocolat Six-Piece Box of Luxury Chocolates
La Maison du Chocolat is the cat's meow of luxe artisanal chocolate brands. If you date a chocolate lover, gift them the French brand's gesture box featuring a fresh assortment of milk and dark ganaches and pralines to win at Valentine's Day.
6/46
VOLUSPA Japonica Archive Candle Set
This beautiful candle set contains 12 Volupsa votives from the fan-favorite candle line's Japonica line. Your S.O. will be able to enjoy some now while putting aside a few for the next time you're reunited to set an ~intimate~ mood.
7/46
YONOCOSTA Retro AirPods Case for Apple AirPods 1 & 2
For the tech-y S.O., gift them a clip-on AirPods case that's cheekily designed to look like a retro landline phone. It's a thoughtful gift for the person who has thrown a fit or two about not knowing where the f*ck their AirPods are.
8/46
NHCO Botanical Bodycare Rose Geranium Bath Bomb
We could all use some peace and relaxation these days, which is why this rose geranium-scented bath bomb is a thoughtful gift idea for Valentine's Day this year.
9/46
SunnyBay Microwave Heating Pad for Back and Shoulder Comfort
In lieu of being able to hug in person, send them a microwavable heating pad wrapped in a soft, machine-washable fleece for all the cozy feels. Designed to help soothe tired and aching muscles, this multi-use heated pad will be the gift that keeps on giving.
10/46
IBKKI Asem 2 Vase
If their work from home situation could use a design upgrade, here's a vase that makes for a truly special gift. This one-of-a-kind beauty was handcrafted in the Djurdjura region of Algeria using ancestral artisan techniques.
11/46
Home Made Luxe Crafting Subscription
If they could use a happy distraction during these emotionally draining times, surprise them with a crafting subscription box. Founded by a mother of twins, Home Made Luxe includes all the supplies needed to create a fun and unexpected DIY art project each month. Subscription plans start at $26 a month, but Crate Joy offers a one-month plan as well.
12/46
Soludos Women's Llama Cozy Slippers
If you're a quirky dynamic duo (not unlike these smiling llamas), these slippers will be all the more sentimental.
13/46
NEOS CANDLESTUDIO Kiss Me Lips Candles in Red & Pink
These lip-shaped candles will be an eclectic stand-in for not being able to kiss each other on Valentine's Day this year. These are cute for year-round decor too.
14/46
The Singing Koala Personalized Long Distance State Relationship Necklace
Etsy seller The Singing Koala offers a range of customizable long distance-themed jewelry, which includes this easily-layered bar necklace depicting two states with a heart in between. A rose gold and gold-plated option are available as well.
15/46
Mejuri Locket Necklace
PERSONALIZATION OPTIONS
Beloved jewelry line Mejuri has a turnaround time of two to three days for personalized jewelry orders and ships to 32 countries. Here, a gold vermeil locket whose interior can be engraved with up to 14 characters for no extra cost.
16/46
Urban Stems The Claire Floral Arrangement with Vase
Sending flowers is expensive, but you'll get your money's worth with this Instagram-worthy arrangement of dried flowers that can last for months if they're cared for properly.
17/46
Alo Yoga Halo Jacket in Cherry Cola
If she's an athleisure enthusiast, you're in luck as Alo Yoga ships all over the world and offers free and easy returns. (Not that she'll want to return this, though.) Here, a new zip-up style from the brand in a smart neutral shade that pairs nicely with everything.
18/46
More Joy Slogan Print Coaster Set
There's no such thing as too many coasters. This set from designer Christopher Kane's "More Joy" collection will express how much you're missing them.
19/46
Yony EST. 2020 Sweatshirt
This unisex hoodie from LA-based designer Johnny Schwartz's new eponymous line, YONY, is certain to be the coolest in their loungewear rotation. In small letters the text beneath YONY reads "Est. in 2020," which will serve as a reminder that you two are making it through these challenging times together.
20/46
UGG UGG Men's Scuff Slipper
When it comes to fancy-feeling slippers, UGG reigns supreme. Available in men's and women's sizes, this easy breezy gift is sure to be loved.
21/46
Savage x Fenty Soft Mesh Open-Back Night Slip
This mesh slip from Savage x Fenty will make your next reunion even more exciting.
22/46
Yaa Yaa London Coral Violet Adjustable Gemstone Gold 'So Solar' Ring
If you're after a unique jewelry gift, behold this colorful cocktail ring from British jewelry brand Yaa Yaa London. Unsure of their ring size? Don't sweat it, this beauty is adjustable.
23/46
Daem Watches Men's Midnight x Black Classic Watch
If a sleek watch is missing from his wardrobe, this leather number from Brooklyn-based Daem Watches will fill the void. This will also come in handy for counting down the minutes until you're reunited again.
24/46
Jennifer Zeuner Jewelry Mia 1/2" Bracelet (14k Gold)
Just because you're not going to be there for her to open it, doesn't mean she doesn't want jewelry! Heart jewelry happens to be very in at the moment, so gift her a versatile gold bracelet with a lil' diamond detail.
25/46
Simone I. Smith Extra Large Sweetheart Hoop Earrings
Oprah's Favorite Things 2020
If you're after a louder heart-shaped style, check out these fun Oprah-approved earrings. This gift also gives back as a portion of the proceeds from every piece in Simone I. Smith's collection goes directly to The American Cancer Society.
26/46
Respect des Fonds Holy Basil Adaptogens Powder Supplement
PERSONALIZED GIFT IDEA
In case you and your S.O. are new to adaptogens (non-toxic plants that support the body's ability to deal with stress), Respect des Fonds is the brand to gift during these chaotic times. It offers a range of high-grade adaptogens and is completely transparent about how all of their products are sourced. Also cool: Each jar can be customized with up to 30 characters for a personalized touch.
27/46
Wolford Wolford Reversible Lace Silk Face Mask
Jennifer Aniston and Kamala Harris have both been spotted wearing Wolford's popular soft-to-the-touch face coverings. Lace on one side and solid on the other, this mask will be a useful gift for these strange times.
28/46
Blu Sleep Products Ice Gel Memory Foam Pillow
A luxe memory foam pillow is a gift they won't see coming, but will appreciate every night for years to come. This option from Italian pillow brand Blu Sleep has ventilated holes in the foam, which makes it well-suited for sleepers who get hot easily.
29/46
Juvia's Place The Chocolates Eyeshadow Palette
This chocolate-themed eyeshadow palette is so good it's drool-worthy. If they're a makeup lover, they'll be able to mix and match these shades to create a range of looks.
30/46
Chanel Ultrawear Intense Matte Liquid Lip Colour Set
For the S.O. with caviar taste, this Chanel Beauty set contains three matte lip colors and a makeup bag she's guaranteed to keep forever. How do you say "very sexy" in French?
31/46
Balmain Balmain Shoulder Bag
If you haven't heard of Italist before, the online marketplace is well worth a long peruse. The platform describes itself as offering luxury designers (think: Fendi, Miu Miu, Balmain, and hundreds more) for the best price in the market. Here, a gorgeous handbag that can be worn as a top handle or on the shoulder.
32/46
Askanya Askanya Haitian Chocolate Bite Size Mix
Another chic gift certain to impress the chocolate lover you love is this set which contains 60 (yes, 60) beautifully-wrapped Haitian chocolates in a mix of milk and dark chocolate.
33/46
linoto 100% Linen Boxer Shorts
These unisex linen boxer shorts will be the sleekest pair in their pajama drawer.
34/46
54 Thrones Minona Luxury Body Oil
54 Thrones' luxury body oil Minona (named for Benin Goddess and protectress of women) is a nourishing treat for the skin. If bae loves an at-home spa day, this silky smooth body oil is a failsafe choice. PS: The brand's body butters were included in Oprah's Favorite Things as well.
35/46
Redoux NYC Candle "529"
Hand poured in New York, this spicy citrus scent from Redoux NYC evokes the feeling of taking a long walk on a beautiful summer night. Hopefully bae saves a few burns for when you're reunited to be able to experience the best-selling scent for yourself.
36/46
Yves Saint Laurent Mini Cologne Travel Set
Containing four of Yves Saint Laurent's most popular men's colognes in travel-friendly vials, this set will technically be a gift for you as well as them. Yes, they smell that dreamy.
37/46
Mansur Gavriel Zip Card Holder
This sleek leather card holder wallet is compact enough to fit into tiny crossbody bags, yet spacious enough to hold all of her cards.
38/46
Grown Alchemist Grown Alchemist Amenity Kit
I swear by Grown Alchemist's hard-working, unisex products and this set happens to contain two of my all-time favorites: the vanilla and orange hand cream and the vanilla and geranium day cream, plus a vanilla and watermelon lip balm. For $25, I'd argue this is the most affordable luxe beauty gift to be found on Amazon.
39/46
Knock Knock 'What I Love About You' Book
For a sentimental gift under $10, order this fill-in-the-blank book and make the answers as funny, mushy, or NSFW as you want.
40/46
ArtroomExpo Customized Kissing Print
Transform a photo of you two kissing into a minimalist piece of home decor. This Etsy vendor has a two-day turnaround time to create a downloadable work of art. It's a savvy idea for a last-minute gift—just note that you'll have to print and frame the piece on your own.
41/46
WOLF Travel-Sized Jewelry Case
Small enough to be easily squeezed into her carry-on, this red hot travel-sized jewelry box is a smart choice for the gal who doesn't like to travel without a handful of outfit options. Bonus points if you order this with a cute piece of jewelry thrown inside...just saying.
42/46
teNeues A Chic Coffee Table Book
There are coffee table books, and then there is this coffee table book. Showcasing beautiful portraits of dogs dressed as what the photographer imagines would be their human personality is a feel-good tome certain to make bae smile.
43/46
UncommonGoods Lovebox Spinning Heart Messenger
Make sending heartfelt texts exciting by gifting your loved one this quirky love messenger box. When you download the easy-to-use app that pairs with the box, you'll be able to send a message that'll cause the heart on the box to spin and illuminate on the screen.
44/46
Byredo Byredo Unnamed Eau de Parfum
This limited-edition release of Byredo's unnamed perfume comes with three sheets of neon letter stickers for you (or your S.O.!) to decide on the name. With notes of spicy ginger, icy gin, and pin, your loved one's to-be-named perfume sits as a gently woody scent that's apt for all genders.
45/46
Away Travel The Bigger Carry-On
With its ejectable battery and smartly-arranged storage compartments, Away's carry-ons are legendary. Here, the brand's best-selling Bigger Carry-On that'll make traveling to see each other post-pandemic that much easier.
46/46
Amara Toiletpaper Mirror - Lipstick
This cute framed mirror will add a playful splash of decor to their home and remind them of you every time they look at it.
Celebrity news, beauty, fashion advice, and fascinating features, delivered straight to your inbox!
Jaimie Potters is the Commerce Content Manager at Hearst Magazines Digital Media, where she covers fashion, beauty, tech and more.