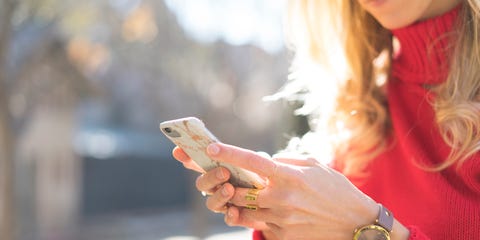 In theory, dating apps are simply a way to meet potential love or sex partners. These smartphone-dwelling matchmakers can even facilitate experimentation, helping users code for and discover what they want from another person in any given moment. They provide a way to meet people on a user's own schedule, which potentially democratizes the whole dating process. (Honestly, who can afford to go out every night? Carrie Bradshaw was clearly a con artist.) To look at it from a distance, the future of dating is easy and great! And yet...and yet.
If dating apps are supposed to take the headache out of trying to meet someone, it's not a good sign that so many daters consider them a necessary evil at best and just plain evil at worst. Iliza Shlesinger, in her new Netflix special, Elder Millennial, has a bit about online dating. "I don't like to tell people how we met," she says of her fiancé. "It's not bad, it's not embarrassing, it's just not cool: We met on a dating app, like all of you. We met on a dating app and it's less a product of my creativity and more a product of my generation. I'm a millennial and that's how we meet each other." (The special is funny and you should watch it.)
Statistically speaking, there's plenty of evidence that dating apps work—especially for those among us whose endgame is meeting a long-term partner. There are stats that say marriages among people who met on an app are less likely to end after the first year, and despite a big cultural annoyance about the process, the vast majority of Americans think that, ultimately, apps are a good way to meet people. Even anecdotally, a lot of the people I spoke to for this piece—all of whom self-identified as dating app haters—nevertheless met their long-term partner on an app.
So given the evidence, and the fact that it's totally okay to think dating online sucks and still do it anyway, I wanted to know: Which apps come most recommended by people who fuckin' hate to date? Which tech have daters made peace with, and why? Some of their answers won't surprise you—even if their reasoning does—while other options are refreshingly new.

Note: Some names have been changed at the source's request.