The 13 Best Lesbian Movies on Netflix Right Now
Until recently, a good lesbian movie was hard to find.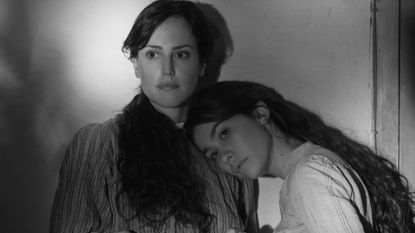 (Image credit: Netflix)
In years past, a good lesbian movie was hard to find. But thanks to streaming services like Netflix, we're seeing more films that feature lesbian, queer, and bisexual protagonists falling in love, breaking up, or just dancing and singing their way through a Midwestern high school prom. These films give audiences a chance to see characters, who have so often been left off-screen, just living their lives; they offer representation to a large slice of the population too often ignored by Hollywood.
The good news? The tide is slowly turning. According to GLAAD's 2021 Studio Responsibility Index, more LGBTQ+ characters were prominently included in studio-backed feature films last year. But bisexual representation is still on the decline. And while there was a welcome increase in lesbian representation and racial diversity of LGBTQ characters, the data also made clear that the film industry still has strides to make. In particular, the study did not find a single transgender, nonbinary, or disabled LGTBQ character in any of the films sampled. In addition, a whopping 77.3 percent of major studio-backed films did not include any LGBTQ representation. So it's more important than ever to stream lesbian-centric TV shows and films, promote their numbers, and open up dialogues on the future of lesbian filmmaking—how it can be even better, more inclusive, and more thought-provoking.
To start, check out these lesbian movies on Netflix. You'll find super steamy films like Duck Butter, easy-to-watch rom-coms like The Prom, and heartfelt documentaries like Tig (and just about every genre in between).
'The Prom'
Ryan Murphy's big musical movie, adapted from the Broadway show by the same name, premiered in December 2020 and has left many singing the bubbly soundtrack since. The star-studded cast includes Nicole Kidman and Meryl Streep as Broadway stars who travel to Indiana to advocate for a student who isn't allowed to take her girlfriend to the senior prom. The dance numbers are glitzy, the songs are catchy, and the straight-from-the-headlines plot will be relatable for LBGTQ+ and allied viewers alike.
'The Half of It'
Filmmaker Alice Wu's outstanding follow-up to her early aughts romcom, Saving Face, received high acclaim when it debuted on Netflix in spring 2020. Set in a small town, this movie follows social loner Ellie Chu who agrees to ghostwrite a jock's love letter to a girl who Ellie also has a crush on. It's heartwarming chaos from there on out.
'Duck Butter'
A film that basically takes place in quarantine before many of us knew quarantine was a thing we'd have to do, this indie film from 2018 follows two women who meet at a bar and decide to go through all the stages of an intense romance within just 24 hours. No U-Haul required.
'Vita & Virginia'
One of several "forbidden love period dramas" from the late 2010s (it's a whole genre), Vita & Virginia is a fictionalized biopic of Virginia Woolf and her lover, author Vita Sackville-West. Set in London in the 1920s, the film follows the couple's illicit romantic relationship (they're both married to men) and its influence on Woolf—who later writes "Orlando" based on this affair.
'A New York Christmas Wedding'
If you're eager to take a trip, this queer holiday film is for you. The fantastical plot takes a bride-to-be on a journey alongside her guardian angel who shows her what life could be like if she coupled up with her childhood best friend: a woman who, in real life, died by suicide following a trauma. This film is both genre-less and mind-boggling, but simultaneously entertaining.
'So My Grandma's a Lesbian'
In this Spanish film, two women in their 70s come out to their families and reveal their plans to get married. It comes as a bit of a shocker—an entertaining shocker—to say the least.
'To Each, Her Own'
A young Jewish woman, Simone, finally feels ready to tell her family that her roommate is more than her roommate. But then she finds herself falling for the male chef at her local lunch spot. It's a French version of the classic bisexual indie film Kissing Jessica Stein but stands on its own as a fun (and controversial) story of a confused queer woman in love.
'A Secret Love'
Produced by Ryan Murphy, this documentary is about a former All-American Girls League baseball player named Terry Donahue and her partner, interior designer Pat Henschel, who had a seven-decade relationship which they kept a secret from their families the entire time. It's a beautiful love story that celebrates the couple while reminding us of how far things have come for LGBTQIA+ people in America.
'Elisa & Marcela'
A gorgeous period film about two women in 1901 Spain who want to get married, so one adopts a male identity so they can pose as a heterosexual couple. Based on a true story about the first (well, recorded) same-sex marriage in Spain, it's a heart-wrenching but ultimately very beautiful film about what women had to face to be together not so long ago. It ends with the hopeful postscript about how same-sex marriage was legalized in Spain in 2005.
'Tig'
Part documentary, part stand-up comedy special, this unique film follows comedian Tig Notaro as she heals from sickness, loses her mother, and falls in love with her partner. It's emotional, funny, and highly entertaining; you won't just watch it once. Want more Tig jokes? Her 2018 comedy special "Happy to Be Here" is also streaming on Netflix.
'Anne+: The Film'
Based on the Dutch web series "Anne+," this feature film follows Anne, a 20-something lesbian in Amsterdam, as she deals with writer's block, an impending move to Montreal, and a tricky relationship with her ex which could change her whole life. You can totally skip the two seasons of the web series and jump right into this flick, but we recommend watching Anne's entire trajectory.
'I'm Not Okay With This'
Technically, this is a one-season Netflix original series, but the seven episodes watch like a movie and can easily be binged in a three-hour sitting. Adapted from a graphic novel of the same name, this show follows 17-year-old Syd as she grapples with a crush, questions about her sexuality and, naturally, some scarily destructive superpowers.
'Bruised'
Halle Berry's 2021 directorial debut wasn't a critical favorite, but have the critics spent hours wrestling with an Apple TV remote to find something remotely queer to watch? (No, they have not.) For that reason, dive into this sports drama following disgraced MMA fighter Jackie Justice (played by Berry) as she reconnects with a son she abandoned, the mother who failed her, and a hot MMA trainer, Bobbi Buddhakan Berroa.
Marie Claire email subscribers get intel on fashion and beauty trends, hot-off-the-press celebrity news, and more. Sign up here.
Melissa is a writer based in Brooklyn.