The Best LGBTQ+ Movies of All Time
Absolutely required viewing.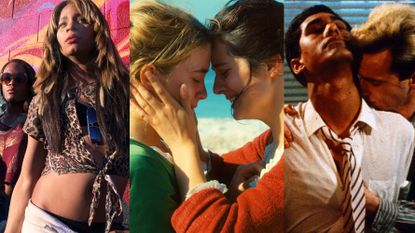 (Image credit: Alamy)
Proper representation on screen, especially as we grow up, is foundational to our understanding of ourselves. LGBTQ+ representation in films has expanded and evolved, particularly in the late 20th and early 21st century, away from stereotypes and tropes and into more fully fleshed-out characters. The history of queer cinema is long and often fraught, with early high points including The Rocky Horror Picture Show and John Waters, and many, many low points (see: Ace Ventura). But many daring artists have explored identity and representation in a myriad of fascinating and beautiful ways, both in fiction and nonfiction spaces.
So, without further ado, here's my very biased take on a few of the very best LGBTQ+ films of all time, spanning the past 30+ years. For further reading, you can find comprehensive lists here and here (film and TV critic Alonso Duralde in particular is insightful on this topic). There's a lot to love, and a lot to choose from, but here are some picks to start with.
The Handmaiden
Twists on twists on twists! You never know what's coming with this award-winning and critically acclaimed film, which centers around a con-man trying to steal the inheritance of a wealthy heiress in Japanese-occupied Korea. Eroticism and sadism abound here between the characters, and the film includes a variety of explicit scenes. At the center, though, is a burgeoning relationship between two women, and it's the healthiest thing about the whole situation.
Tangerine
The fact that this movie was shot entirely on an iPhone is the least interesting thing about it—transgender sex workers Sin-Dee Rella and Alexandra traverse Los Angeles in search of Sin-Dee's cheating boyfriend and pimp, to both hilarious and tragic effect. Trans actresses of color Kitana Kiki Rodriguez and Mya Taylor play trans women of color on screen, and the movie resists the tired, old "hooker with a heart of gold" trope. This is not a perfect movie—it definitely falls prey to violence and subjugation of its subjects, but it's one of a few recent films (A Fantastic Woman, Pariah) that centers and prioritizes marginalized communities not often seen on screen.
Bound
The girlfriend of a mobster meets her ex-con neighbor, basically seduces her, and draws her into a scheme to rob millions from the mob and start a new life. This '90s film is the Wachowski sisters' directorial debut—and thanks to an intimacy consultant on set, it's a progressive-for-its-time crime thriller with two women at the center of it. It's violent and very much a neo-noir, but the film is clearly rooting for the women and their dreams of pursuing a fresh start, together.
Moonlight
This movie got a lot of critical love, including a Best Picture Oscar, and rightfully so. But that attention kind of obscured the hyper-specificity of the story: A poor Black boy who grows up feeling unsafe to explore or embrace his homosexuality. The film covers three moments of deep tenderness (encircled by violence and pain) that make him who he is. That this story isn't seen much on screen speaks to the necessity of this film and others like it, but it's also simply a stunning gut-punch of a watch, with a glimmer of hope at the end.
Portrait of a Lady on Fire
A woman is secretly hired to paint a wealthy female subject, who refuses to sit for a portrait that will be sent to her future husband. The two spend a lot of time gazing at each other (it's incredibly quiet but very sexy, this film) before beginning an illicit affair. Spoiler alert: Like a lot of queer movies, the couple cannot be together (although in this case, it makes sense, since the film takes place in the 18th century), so it's also a tale of longing and love lost. But every moment is gorgeous.
My Beautiful Laundrette
A relationship between two men—one of them Pakistani and from a socially conservative family, one of them a former fascist (and played by future acting icon Daniel Day-Lewis)—plays out among the racism, classism, and violence of 1980s London. Their relationship isn't depicted salaciously and focuses instead on their daily moments of intimacy while building a secret bond. It's an older film, but it also notably dares to show the two leads happy and hopeful at the end, despite a myriad of literal and metaphorical blows to their wellbeing.
Paris Is Burning
There are awesome, awesome LGBTQ+ documentaries (How to Survive a Plague, The Times of Harvey Milk) that make it hard to choose just one. But this award-winning doc is a gorgeous look at ball culture in New York City and the wide range of presentations, identities, and races in the communities. This is also a look at the AIDS crisis and the deep homophobia present in the 1980s and 90s; It's seen as so significant that it's preserved in the Library of Congress. The spirit lives on, including in reality TV shows like RuPaul's Drag Race and Legendary, but this captures the "Golden Age" of drag balls.
Love, Simon
It's a simple rom-com, but that simplicity actually works in its favor. Simon Spier is gay and not out to friends and family. One of his classmates (but who??) is also gay, and the two bond online. Teen-related drama ensues, but it's all sweet and dramatic without any of the characters having to fear for their lives. This is just one in a few films aimed at younger people that include queer characters; The Mitchells vs. The Machines and Booksmart also feature teens who might be misunderstood but go on to lead happy, healthy lives just as they are.
Katherine's a Boston-based contributor at Marie Claire who covers fashion, culture, and lifestyle—from "Clueless" to Everlane to news about Lizzo. She's been a freelancer for 11 years and has had roles with Cosmopolitan and Bustle, with bylines in Parents, Seventeen, and elsewhere. It's "I go to dinner," not "Her huge ego," but she responds to both.