Editors handpick every product that we feature. We may earn commission from the links on this page.
The Best Carry-On Luggage for Every Type of Traveler
Carry-ons are better than regular suitcases. I said what I said.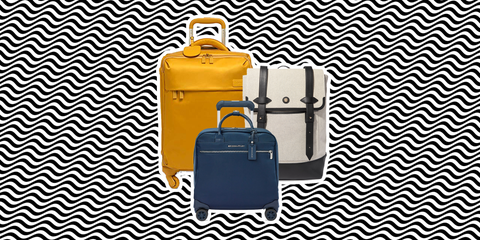 Design by Morgan McMullen
There are two types of people in this world: Those that pack a month in advance of their trip, and those that pack an hour before they need to leave. Regardless of which type you are, we all need a handy piece of luggage to do it with. And as the weather gets warmer and you start to set your sights on anywhere that is not the frigid cold you've been experiencing for the past four months—perhaps a beach with limited cell reception and no access to work emails?—now is a great time to refresh your carry-on luggage collection. I know that the thought of parting ways with the suitcase you received as a Christmas present from your parents eight years ago is difficult (I am a guilty member of this party!), but thanks to 2020 perks like built-in phone chargers and spacious storage compartments, the new generation of carry-ons are far more appealing than standard suitcases. Plus, who wants to deal with baggage claim and the hassle of potentially losing your luggage?
This content is created and maintained by a third party, and imported onto this page to help users provide their email addresses. You may be able to find more information about this and similar content at piano.io