Editors handpick every product that we feature. We may earn commission from the links on this page.
The 13 Best Luggage Sets Money Can Buy
BRB, setting my "out of office" message.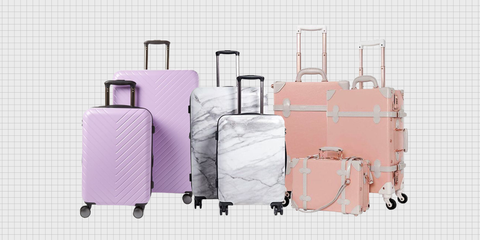 Ah, summer. You might not have three months' worth of vacation anymore, but that doesn't mean that you can't still plan a trip or four once the weather heats up. If packing isn't hard enough, choosing what to pack all your sundresses and bathing suits in has become a dilemma, too. Plus, it can be almost impossible to figure out which collection of bags is actually yours at baggage claim. To make traveling a little less stressful, we've rounded up the perfectly paired luggage sets that you can buy just in time for your next summer getaway.
Best for Instagram
Astyll Set
CALPAK
shopbop.com
$195.00
The suitcase that nearly every blogger has been loving recently. CALPAK is known for their stylish colors and patterns, but this sleek marble design makes a statement without being too flashy.
Best Vintage Pick
Vintage Luggage Set
COTRUNKAGE
amazon.com
$360.00
If you love old Hollywood movies, this set is for you. From the peachy color to the strapped details, pick this set up for a touch of vintage glamour on your next vacation.
Most Popular
Away, Set of Two
SHOP IT
awaytravel.com
$500.00
There's a reason everyone you know is obsessed with Away. This set is meticulously designed to make traveling a breeze, with USB charging capabilities, built-in locks, and compartments that fit everything à la Mary Poppins' handbag.
Best for Getting to You Fast
Geometric Hard Shell Expandable Spinner Set
Amazon Basics
amazon.com
$169.00
You already love to shop on Amazon for just about everything, so why not buy your luggage from there, too? This vibrant green option comes with Prime shipping, so it's perfect for last-minute plans.
Best Lightweight Option
Illeso Expandable Hardside Spinner Luggage Set
Mia Toro ITALY
walmart.com
$250.64
Mia Toro suitcases are known for their durability, so this set is guaranteed to last you for a lifetime of adventures. But it's so designed to be super lightweight, so you don't have to worry about lugging it through the airport.
Best Metallic Option
Hardside Fibertech Luggage
Rose gold is a year-round millennial favorite, but this set is anything but basic. It's also equipped with secret packing compartments, so you can finally stop overpacking your carry-on.
Best for a Budget
Galleria Softside Expandable Luggage Set
Rockland
walmart.com
$109.33
If you're traveling with the family this summer, consider this four-piece set from Rockland. Not only is it super affordable (it's under $100 for four pieces!) but the print is cute without being childish.
Best Modern Pick
Lightweight Spinner Luggage Set
Merax
walmart.com
$126.99
These suitcases are actually designed to make traveling more comfortable thanks to features like ergonomic aluminum handles. Its expandable frame also means that you can pack more without having to carry more suitcases.
Best for Minimalists
Travel Set Carry-On & Duffel
If you're traveling for work this summer, consider carrying more demure luggage. This effortlessly put-together set might be on the pricier side, but its durable nylon material won't fall apart.
Most Stylish
Terminal 1 Luggage Set
With these monogrammed babies, you'll feel like you're embarking on a chic vacation to France, even if you're just visiting your parents. Also, the brand offers a lifetime warranty, so you never have to worry about having to replace it.
Most Classic
Pivot 2 Three-Piece Set
When it comes to luggage, Samsonite is a tried-and-tested classic. This new ice-blue set has everything you could need (TSA-approved locks, USB port, padded pocket, I could go on), and comes in at an unbeatable price.
Best for Bachelorettes
Sadie Hardside Spinner Luggage Set
Juicy Couture
amazon.com
$309.99
Life's too short to carry boring luggage. This pastel tie-dyed set from Juicy Couture will really stand out at baggage claim, so you'll never have to guess which one is yours ever again.
Best Reviewed
Suitcase Spinner Set
Coolife
amazon.com
$179.99
The internet loves this bag. With over 50 five-star reviews, you know you're getting a good deal. Plus, it comes in almost every color imaginable, so you honestly can't go wrong.
This content is created and maintained by a third party, and imported onto this page to help users provide their email addresses. You may be able to find more information about this and similar content at piano.io