How To Hack All Your Beauty Products
Finds new ways to downsize your makeup bag, mix custom cosmetics, and get that elusive Bardot bed head.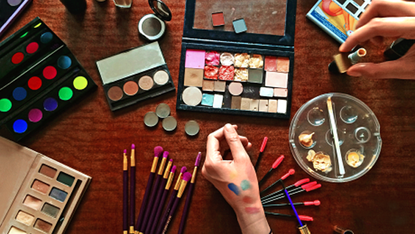 (Image credit: ALL IMAGES: COURTESY OF FLORIAN DENGLER AND CHRISTOPHER TÖLLE)
From personalized Spotify radio stations and bespoke Chuck Taylors to Ikea hacks and Pinterest's "Surprising Uses For…" posts, we can now customize and upgrade just about anything until it suits our exacting standards—including beauty products. And now, cosmetics companies aren't just acknowledging that we will mess with their wares—they're also helping us do it, with clever gadgets that make the process easier than ever. As a consummate DIYer, I decided to put these tools to the test.
Palette-Making Like A Pro

Makeup artists often whittle down bulky packaging and consolidate their makeup into tailored palettes by depotting, or popping out, the little metal pans that makeup comes in and reconfiguring them in travel cases. Now the trend has caught on with beauty-obsessed civilians, too. I give it a try with the Z Palette Dome Palette ($25, zpalette.com), a magnetic case that lets you create your own kit with anything that comes in (or can be smooshed into) a metal pan. My mission: Fit an entire day-to-night look into a portable case not much bigger than a CD. Since I consider squeezing my bare basics into a Ziploc bag when I fly a major accomplishment, this is an ambitious goal.
I start by sliding the tip of a small, sharp knife beneath the metal pans of my favorite powder shadows to pry them from their cases. According to the Z Palette website, you can soften the glue holding the pans by laying the compacts on a hot flatiron first (but it's a technique I don't try, because yikes). Even without the heat, it's easier than I expected; the little suckers pop right out and I don't stab myself. Palette: 1; ridiculously, sneakily bulky packaging: 0.
Next, I manage to stuff almost an entire stick of concealer into one of the company's teensy pans (sold separately, $6 for 20). About a third of the bullet was hiding in the bottom of the tube, but I scoop it out and smooth it into a pan with a long-stemmed, skinny rubber spatula called the MakeUpMiser ($20 for three, makeupmiser.com), a SkyMall-worthy gadget that's also great for ladling out that last drop of serum or liquid foundation. After I decant a few Bobbi Brown Pot Rouges (cream blushes that double as lip color), it's time to move around the colors until I end up with the perfect constellation. Final result: a svelte makeup case that actually closes—and the satisfaction of knowing that I've just bought the ultimate palette without dropping any money on makeup.
Bespoke Beauty

Now that I've consolidated my favorite shades, I attack my drawer of unloved makeup, including a sickly pink lipstick and a heavy, too-yellow foundation. To whip the foundation into shape, I turn to the Sur.face Pro by Beautyblender ($40, sephora.com), a clear-plastic artist palette that's great for mixing old foundations and concealers into the ideal custom blend. I tone down the yellowish tint of the foundation with a drop of a peachy correcting cream I have on hand, then mix in some regular moisturizer to transform it into a tinted moisturizer. On my skin, it's just the right color and amount of coverage, but I'm worried about longevity. So I morph it into a long-wear formula by misting my face with Model in a Bottle Original Makeup Setting Spray ($18, modelinabottle.com), which contains aloe vera and some of the same fixatives used in hair stylers. At first, I'm wary—do you really need hairspray for the face?—but the spritz wins me over. My newly customized tinted moisturizer not only stays put, but looks freshly dabbed on all day as well.
Now what about those almost-right lip colors? I play around with Obsessive Compulsive Cosmetics Tarred & Feathered Lip Balm Duo ($18, occmakeup.com), which features a split pan of white and black tinted balms for adjusting your natural lip tone or your favorite shades. A little dab of the sheer black one adjusts a too-pale pink into a deeper, more wearable rose.
It's time to apply. And since a dirty makeup brush is a crappy makeup brush, it doesn't matter how much you spend on your tools if they're not clean. But who has the freakin' time? In an effort to revitalize my brushes, I try out the Sigma Beauty 2X Sigma Spa Brush Cleaning Glove ($39, sigmabeauty.com)—a nubby, silicone mitten with grooves and ridges that are supposed to help clean brushes in a flash. It takes me only 30 seconds to rub the bristles completely clean with a little shampoo and water, and I don't have to soak the brushes and risk dissolving the glue that holds the bristles in place.
Speaking of brushes, makeup artists will tell you that the wand of your mascara is every bit as important as the formula. If that's true, the Buxom Mascara Bar ($22, sephora.com), a new mascara that lets you choose your own wand from seven options, is a godsend. I have two: one with a "Big & Bushy" wand, which holds up to its name, and another with the "Itty Bitty" wand for my bottom lashes. Genius.
Extra Credit

All my makeup hacking has been fun, but my hair has started to get jealous. So I am, like, infomercial excited about the Conair Pro Soft Bonnet Attachment ($10, sallybeauty.com), a quasi-futuristic silver cap that attaches to your blowdryer to turn it into a salon-like hood dryer. I set my damp hair in some old-school Velcro rollers, then turn on my dryer and spend a half hour kicking back with a hot bouncy house on my head. When I take the rollers out, I have the kind of voluminous '60s mane I didn't think was possible outside of a salon. One look in the mirror and I immediately start hacking the perfect shade of mod beige lipstick to go with it.
Related:

6 Beauty Hacks , All Done With a Spoon


24 Super-Simple Ways to Make Doing Your Hair Incredibly Easy


20 Game-Changing Beauty Products That Got Even Better Over Time


22 Beauty Products Insanely Successful Career Women Use
Celebrity news, beauty, fashion advice, and fascinating features, delivered straight to your inbox!