This Instagram Video Proves That Red Concealer Is the Key to Flawless Skin
Dark circles? What dark circles?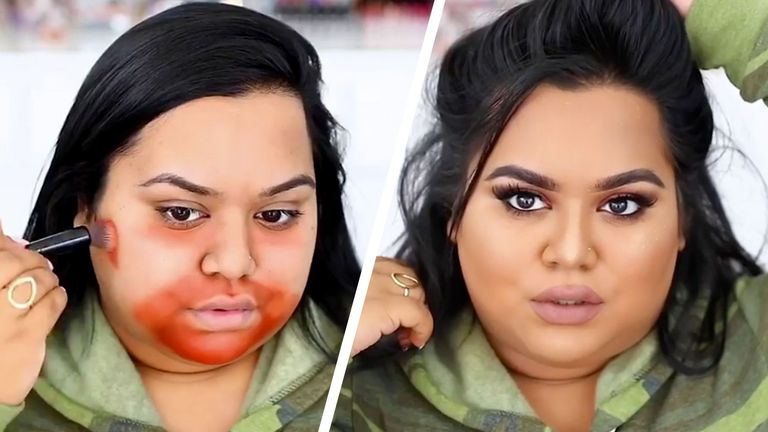 (Image credit: Archives)
Fact: Color-correcting is confusing. I'm a beauty editor with a lifetime of hardcore love and devotion to studying makeup, and I still have to take a second when faced with a concealer palette filled with 60 shades. And if you've got darker skin—as in, olive, golden, or almond shades that tend toward greenish undertones—color-correcting can be an even trickier endeavor, because most concealers were not made with your skin tone in mind. Because the makeup industry, well, let's just say it's come a long way but we're not quite there yet.
RELATED STORY
But that's where red concealers come in. Yes, bright-red, lipstick-looking concealers, which are swiped over dark circles and dark patches to cancel out the green-ish, blue-ish undertones present in darker skin tones (it's all about that color wheel, yo).
And though this isn't a new "trend" by any means—women of color have, after all, been color-correcting their faces for centuries—it is finally getting more mainstream attention, with makeup brands finally creating blood-red and orange-y red concealers, and beauty vloggers, like Nabela Noor, below, showing how to use them in videos.
In the video, Noor covers her under-eyes, jawline, upper lips, and cheeks—everywhere she has some dark pigmentation–with Maybelline's FaceStudio Master Camo Pen in Red BUY IT (opens in new tab), then blends it out with flat brush before covering with foundation and concealer. Though Noor's lighter skin tone would generally fall into the orange-y concealer category (we'd recommend trying red only if you have a deeper skin tone), she still blends it out enough for her skin to look totally bright and even, with zero dark marks.
RELATED STORY
RELATED STORIES
It seriously is that easy­. Of course, slathering red concealer on your skin is going to leave you with a pink-y peach cast, especially if you have a lighter skin tone or apply too much, which means I'd recommend keeping your color-correcting super sheer and pairing it with a foundation and concealer. And if you're still totally lost on how to color-correct, watch this video from makeup artist Anchal, who uses an orange-y red concealer to color-correct her dark spots. Try it out on yourself and fall in loooove.
Chloe Metzger is the deputy beauty director at Cosmopolitan, overseeing the editorial content and growth strategy of the hair, makeup, and skin space on digital, while also obsessively writing about the best hair products for every hair type (curly girl here; whattup), and the skincare routines that really, truly work (follow her on Instagram to see behind-the-scenes pics of that magazine life). She brings nearly a decade of writing and editing expertise, and her work has appeared in Allure, Health, Fitness, Marie Claire, StyleCaster, and Parents. She also has an unhealthy adoration for Tom Hanks and would like to please meet him one day, if you could arrange that. Thanks.