The 20 Best Acne Spot Treatments to Shrink Pimples, Stat
Smaller zits in 24 hours? Count us in.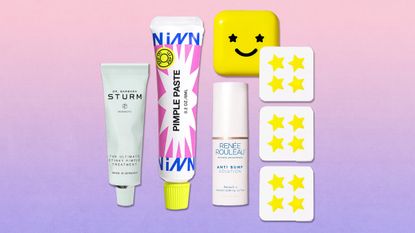 (Image credit: Brittany Holloway-Brown/Future)
Marie Claire Newsletter
Celebrity news, beauty, fashion advice, and fascinating features, delivered straight to your inbox!
Thank you for signing up to Marie Claire. You will receive a verification email shortly.
There was a problem. Please refresh the page and try again.
When an uninvited guest (read: pimple) decides to pop up, it's easy to go straight into panic mode. But instead of picking, popping, and causing even more inflammation, your first instinct should be to reach for one of the best acne spot treatments. Because the truth is: A drying lotion, pimple patch, or other acne spot treatment is going to be the quickest, most effective, and least irritating method to shrink your unwanted zit. "Acne spot treatments often contain ingredients that expedite wound healing and dry up any oozing, which improves skin quickly and certainly speeds up the pimple process," says Dr. Rachel Nazarian, board-certified dermatologist at Schweiger Dermatology Group in New York City.
Giving a targeted dose of salicylic acid or benzoyl peroxide to your little friend can make it look a whole lot smaller in just 24 to 48 hours. As for *exactly* which product you'll want to use to get the pimple-shrinking job done? A lot of it boils down to personal preference and skin type. There are superpowered drying gels great for pus-y pimples (lookin' at you Mario Badescu), invisible patches for a daytime treatment, and gentle pastes formulated specifically for those with sensitive skin. Here, we've rounded up the best acne spot treatments of all time—and answered every question you could possibly have about using 'em.
How Does a Spot Treatment Work?
"Acne spot treatments work by delivering direct levels of anti-inflammatory ingredients to quickly decrease the redness and swelling associated with pimples," explains Dr. Nazarian. Because a spot treatment is typically occlusive, a.k.a. it forms a protective barrier on the outside of your pimple, it's able to "enhance the delivery of topical ingredients and stimulate healing."
But let's lay some ground rules: An acne spot treatment isn't the best course of action for someone with acneic skin. If that's the case, you'll want to work with a dermatologist and adopt a skincare routine for acne-prone skin. That said, a spot treatment is one of the most effective ways to treat a particularly angry or unexpected pimple.
What Should I Look for in a Spot Treatment?
Every spot treatment on our list is a winner—but selecting the right one for your specific skin type and concerns boils down to the ingredient list. Dr. Nazarian explains that benzoyl peroxide is "wonderful for killing bacteria that can lead to pimples" and is ideal for deeper, red zits. Salicylic acid, on the other hand, is preferable for treating blackheads and whiteheads. Dr. Rabach adds that ingredients like sulfur and zinc are particularly calming and anti-inflammatory, while a spot treatment with lactic or kojic acid (both have exfoliating properties) will be beneficial to anyone dealing with hyperpigmentation.
The active ingredient will be the star of the show, but it's worthwhile to give a good look at the other ingredients that made their way into the formula. If you have sensitive skin, make sure to seek out a product with soothing ingredients like aloe vera or niacinamide. This will help keep the skin balanced—not peeling, dry, or flaky.
This is really all personal preference. You can pick from spot treatments that come in the form of hydrocolloid patches, creams, gels, or even drying pigments.
The Best Acne Spot Treatments
When Do I Use a Spot Treatment?
Adding a spot treatment into your skincare is easy as can be—most can be used in the morning or night and should be applied directly after your moisturizer. "You can combine spot treatments with the rest of your regiment, especially with non-irritating products like hyaluronic acid," says Dr. Nazarian. While combining spot treatments with hydrating and calming products is a plus, Dr. Rabach does suggest thinking twice before combining a spot treatment with other acids or retinols, as it can be overly drying—especially for those with dry or sensitive skin.
While sunscreen should always be the final step in your morning skincare routine, wearing SPF is even more important if you're using a spot treatment. "Ingredients in spot treatments can increase sun sensitivity and hyperpigmentation," explains Dr. Rabach. She recommends looking for a physical formula with titanium dioxide or zinc as the active ingredient. (We also hand-picked our favorite sunscreens for acne-prone skin.)
Is a Spot Treatment Good for All Types of Pimples?
A spot treatment is going to work best on two types of pimples: inflamed papules and pustules that need to be calmed down or dried up. When it comes to blackheads, Dr. Nazarian explains that spot treatments will be effective—but it's going to take a lot longer to see results. "An acne leave-on cream works just as good if not better for blackheads," she says. As for cystic acne, aka those under-the-skin pimples? "Spot treatments don't really help the ones you feel, but can't see because they're too deep for the medicine to really get there and break up the pimple," adds Dr. Morgan Rabach, board-certified dermatologist and co-founder of L.M. Medical in New York City. If your cyst pimple is particularly painful, visit your board-certified dermatologist for a cortisone injection.
Meet the Dermatologists
Celebrity news, beauty, fashion advice, and fascinating features, delivered straight to your inbox!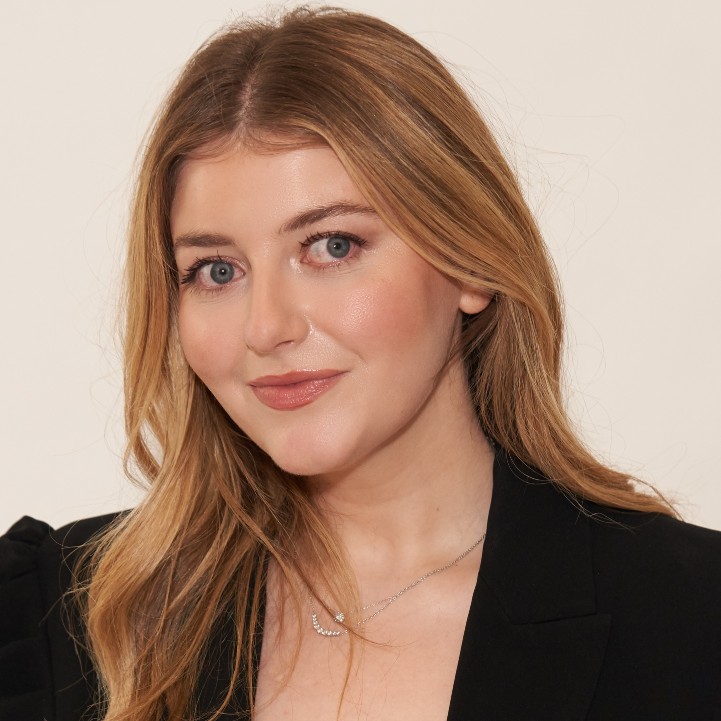 Samantha Holender is the Beauty Editor at Marie Claire, where she reports on the best new launches, dives into the science behind skincare, and keeps up with the latest trends in the beauty space. She has previously written for Us Weekly, Popsugar, Makeup.com, Skincare.com, and Philadelphia Wedding. Follow her on Instagram @samholender.