The 20 Best Acne Spot Treatments to Shrink Pimples, Stat
Smaller zits in 24 hours? Count us in.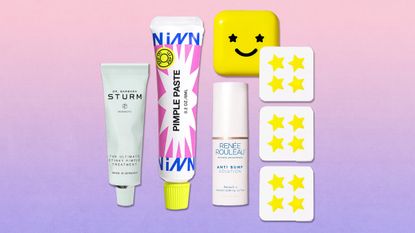 (Image credit: Brittany Holloway-Brown/Future)
When an uninvited guest (read: pimple) decides to pop up, it's easy to go straight into panic mode. But instead of picking, popping, and causing even more inflammation, your first instinct should be to reach for one of the best acne spot treatments. Because the truth is: A drying lotion, pimple patch, or other acne spot treatment is going to be the quickest, most effective, and least irritating method to shrink your unwanted zit. "Acne spot treatments often contain ingredients that expedite wound healing and dry up any oozing, which improves skin quickly and certainly speeds up the pimple process," says Dr. Rachel Nazarian, board-certified dermatologist at Schweiger Dermatology Group in New York City.
Giving a targeted dose of salicylic acid or benzoyl peroxide to your little friend can make it look a whole lot smaller in just 24 to 48 hours. As for *exactly* which product you'll want to use to get the pimple-shrinking job done? A lot of it boils down to personal preference and skin type. There are superpowered drying gels great for pus-y pimples (lookin' at you Mario Badescu), invisible patches for a daytime treatment, and gentle pastes formulated specifically for those with sensitive skin. Here, we've rounded up the best acne spot treatments of all time—and answered every question you could possibly have about using 'em.
How Does a Spot Treatment Work?
"Acne spot treatments work by delivering direct levels of anti-inflammatory ingredients to quickly decrease the redness and swelling associated with pimples," explains Dr. Nazarian. Because a spot treatment is typically occlusive, a.k.a. it forms a protective barrier on the outside of your pimple, it's able to "enhance the delivery of topical ingredients and stimulate healing."
But let's lay some ground rules: An acne spot treatment isn't the best course of action for someone with acneic skin. If that's the case, you'll want to work with a dermatologist and adopt a skincare routine for acne-prone skin. That said, a spot treatment is one of the most effective ways to treat a particularly angry or unexpected pimple.
What Should I Look for in a Spot Treatment?
Every spot treatment on our list is a winner—but selecting the right one for your specific skin type and concerns boils down to the ingredient list. Dr. Nazarian explains that benzoyl peroxide is "wonderful for killing bacteria that can lead to pimples" and is ideal for deeper, red zits. Salicylic acid, on the other hand, is preferable for treating blackheads and whiteheads. Dr. Rabach adds that ingredients like sulfur and zinc are particularly calming and anti-inflammatory, while a spot treatment with lactic or kojic acid (both have exfoliating properties) will be beneficial to anyone dealing with hyperpigmentation.
The active ingredient will be the star of the show, but it's worthwhile to give a good look at the other ingredients that made their way into the formula. If you have sensitive skin, make sure to seek out a product with soothing ingredients like aloe vera or niacinamide. This will help keep the skin balanced—not peeling, dry, or flaky.
This is really all personal preference. You can pick from spot treatments that come in the form of hydrocolloid patches, creams, gels, or even drying pigments.
The Best Acne Spot Treatments
The Best Oil-Regulating Acne Spot Treatment
Dr. Barbara Sturm The Ultimate Stinky Pimple Treatment
Don't say we didn't warn you—this cream smells like rotten eggs. But the same shale oil that gives it its stink is also responsible for its sebum-regulating powers. This ointment can be dabbed on a blemish before bed, or layered on thick to a particularly nasty cyst. But, if your skin is generally acting up, consider sleeping with a layer all-over for a little reset. As luck would have it, this can also be preventative in nature. Just consider lighting a candle to compensate for the stink.
Pros: Controls oil; Good for blackheads; Can be worn under makeup
Cons: Smelly
Customer Review: "I have never used a pimple treatment that is so effective and yet so gentle. I saw a drastic reduction in the redness and size of breakouts overnight, with some smaller blemishes disappearing completely. All of my breaks were significantly less inflamed and it didn't make the areas dry or crusty like some pimple treatments." — Dr. Sturm
The Best Derm-Loved Spot Treatment
La Roche-Posay Effaclar Duo Dual Acne Treatment
There is so much to love about this La Roche-Posay staple. Not only is the dermatologist-formulated treatment top-notch when it comes to efficacy, but it's also multi-purpose in its use. If you're struggling with breakouts all over, you can apply a thin layer to your complexion—without running the risk of burning your face off. If you just have one pimple to contend with? Use the formula as a spot treatment. This benzoyl peroxide product will get to work ASAP.
Pros: Affordable; Effective; Derm-approved
Cons: Bleaches fabric
Customer Review: "My dermatologist recommended this product and said it was better than anything he could prescribe me. I had found myself overcome with severe adult acne after moving across the state. This cleared my skin up with only a few white head and no new break outs within a week." — Ulta
The Best Drugstore Spot Treatment
Burt's Bees Herbal Blemish Stick
Sometimes the best products are the simplest. Take Burt's Bees for instance. With naturally derived tea tree oil and salicylic acid extracted from willow bark, this little roller ball spot treatment will help unclog pores, shrink pimples, and create a clearer complexion. I personally like to keep one of these in every bag so I can treat my breakouts on the go. And trust me: You'll notice a huge difference in the angriness of your pimples in just about 24 hours.
Pros: Easy to travel with; Natural ingredients
Cons: Roller ball gets dirty
Customer Review: "I recently redid my skincare routine to replace everything with all-natural ingredients and I'm so glad I did. After years and years of using the heavy, chemical laden products to try and get rid of my acne and feeling like I was hurting my skin in the process this is the perfect alternative." — Burt's Bees
The Best Spot Treatment Pen
Hero Cosmetics Pimple Correct Acne Clearing Pen
The goal is for a spot treatment to dry out your spot—not the surrounding skin. That's what makes this targeting applicator so special. The gel goes exactly where you want it to, so the active ingredients are able to dry the heck out of your blemish without irritating the rest of your complexion. What are said actives, you ask? There's a blend of salicylic acid, azelaic acid, and tea tree oil, which join together to reduce inflammation and bacteria.
Pros: Targeted; Great actives
Cons: Hard to get product out
Customer Review: "This is such a convenient and easy to use on the go or at home spot treatment. It's mess free, quick, and very effective. I consistently get lots of those tedious little guys that are red and sore the second they appear. This Acne Pen does just the trick! It immediately soothes the irritable inflammation, reduces swelling, basically just calming the irate pimple down." —Ulta
The Best Body Spot Treatment
MAELYS GET BACK Targeted Acne Body Spray
We've all been there. You have a nasty cyst or a cluster of little friends that decided to pop up on your back. It doesn't quite call for an acne body wash because the affected area is teeny-tiny, but it's near impossible to get a traditional spot treatment where it needs to be. Enter: MAELYS body spray, which was specifically designed to spritz a salicylic acid-packed formula onto hard-to-reach spaces. Just spritz onto dry skin twice a day and you should notice improvement relatively quickly.
Pros: Good for body; Contains salicylic acid
Cons: Might feel a little sticky at first
The Best Acne Spot Treatment for Cysts
Renee Rouleau Anti Bump Solution
While most spot treatments aren't going to do a whole lot for cystic acne, this particular product has developed a bit of a cult-following for its ability to calm down blind pimples. With lactic acid, citric acid, and a moisturizing agent called methyl gluceth, this slightly smelly gel directly targets inflammation in the skin. "I get these deep underground zits and this is a miracle worker," one customer wrote in a review. "I even use it as a serum all over my face and chest to keep everything clear."
Pros: Works for cysts; Hydrating; Anti-inflammatory
Cons: Only works for cystic acne; Results may take time
Customer Review: "After just the first use I could see my acne redness decrease. I had a spot of cystic acne and after one week of using this during the day and switching between this and BHA Clarifying serum at night it's completely gone. This product also goes on great under my makeup providing me a little barrier between my skin and makeup" — Renee Rouleau
The Best Pimple Patch for Acne
If you're aiming for a daytime treatment, pimple patches are the way to go. These stars look cute (we're obsessed!) and are extremely effective. They use hydrocolloids to soak up the fluid in your pimple, which in turn, makes it shrink up and shrivel over time. As an added bonus, they serve as a reminder to keep your bacteria-filled hands off your pimple. Picking only leads to scarring, ladies and gents.
Pros: Refillable case; Cute packaging; Hydrocolloid-based
Cons: Not invisible; May be drying
Customer Review: "Packaging is so cute and compact, your stickies will never fall out!! And omg the quality is amazing! I sleep with them on and they NEVER fall off." — Starface
The Best Salicylic Acid Acne Spot Treatment
Murad Rapid Relief Acne Spot Treatment
The OG spot treatment that still reigns supreme. Formulated with salicylic acid, witch hazel, and oat extract, this best-seller rapidly unclogs pores to erase existing breakouts and prevent emerging pimples from surfacing. That in mind, make sure to follow up with a moisturizer as the main ingredients can be a bit drying—especially with dehydrated or dry skin types. Chances are, you'll notice a difference after just one night, but don't toss it to the side if it doesn't work at lightning speed. Treating breakouts takes time.
Pros: Fast-acting; Evens tone
Cons: Drying
Customer Review: "Bought this on impulse because I'd never had a spot treatment work well before and I'd heard good things about Murad. I honestly expected very little but it works!!! My acne had calmed down by morning and this has definitely helped to calm it & get rid of it much faster than it would on its own. It's not magic or anything - your acne will not disappear by morning, but there is definitely a noticeable difference which I find impressive." — Sephora
The Best Acne Spot Treatment for Dark Spots
Tula Go Away Acne Spot Treatment
There's nothing more annoying than noticing a dark spot post-pimple. Thanks to licorice, azelaic acid, and niacinamide, this targeted treatment is a beast at calming down inflammation and simultaneously fading hyperpigmentation. The soothing ingredients are then balanced out by the inclusion of benzoyl peroxide, one of the best acne-fighting ingredients. With regular use (use as a spot treatment or apply as a thin layer), you'll have no sign of a breakout.
Pros: Fights hyperpigmentation; Prevents breakouts
Cons: Might cause redness or dryness
Customer Review: "I battled unknown and probably hormonal acne for 2 years, only topical antibiotics helped. Once clear, I became pregnant and my face broke out again in my first trimester. This Tula product to the rescue!!! I use this morning and night after I cleanse and apply hyaluronic acid. I have dry sensitive skin, and this does NOT dry my skin out, make it patchy, or itchy." — Ulta
The Best Acne Spot Treatment for Scar Prevention
Origins Super Spot Remover Acne Treatment Gel