Beauty Travels: Exploring India's Centuries-Old Obsession with Jasmine
It's clear that the U.S. isn't the only country that has gone back to simple self-care.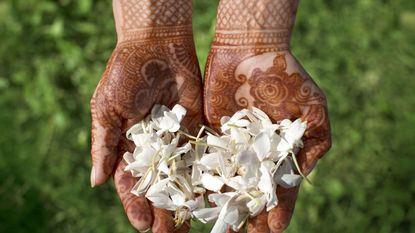 (Image credit: Ivan Ogilvie)
It's dawn, and I'm surrounded by endless rows of cheerful marigolds, roses, lilies, and more that coalesce in an overwhelming symphony of scents. It may sound like a fantasy, but it doesn't get more real than standing in the middle of a Mumbai flower market at 6 a.m. At first, it's calm and even eerily quiet, but as the minutes pass, the pace quickens to a chaotic swirl as buyers scoop up pounds of flowers and men scurry past, hauling crates into trucks. It's a sensual, wild banquet of sights and smells and sounds.

In this country, flowers are big business, and exotic, pungent jasmine is the star that gets top billing. I'm on the hunt for some, but it's hard to focus as merchants shout my way, greeting me and asking what I want to buy. They dangle intricate garlands of woven blooms in front of my eyes, and I run my fingers through huge baskets filled with silky petals of dizzying variety. Eventually, I come upon a stall where I purchase a generous bag of jasmine buds for about $2 ("They'll open in a few days," the vendor assures me). The tour guide accompanying me on this excursion affixes a bracelet of delicate jasmine flowers to my wrist as a gift. "Welcome to India," she says.
Jasmine is a natural treasure ubiquitous in most parts of the country. Like mehndi, the art of applying henna to hands and feet for decorative effect, gajra, or flower adornment, is traditionally practiced for special occasions like festivals and weddings, but it's not uncommon to see ladies on the street complementing their colorful saris with fragrant garlands of jasmine pinned into their lustrous long hair. Its white petals have been part of the culture for centuries: Believed to be one of the first cultivated flowers, it's an integral part of Hindu traditions and an auspicious symbol of good fortune. And because its smell is so beautiful, its popularity in beauty products and fragrances across the globe is challenged perhaps only by the mighty rose. But roses are sweet, while jasmine is heady, sexy, and maybe just a little bit dangerous.
After the market, I'm craving more of the aphrodisiac scent, and I head to Shama Brothers, a local perfumery dating back to 1615. The little shop is a fragrance lover's paradise: Shelves are stocked with glass jars of every essential oil imaginable. The proprietor, Zaid M. Shama, claims he has 500 different fragrances on hand and invites me to work with him to customize a perfume blend. Although he asserts that today's "Indian women love French perfumes"—ah, the grass is always greener—I aspire to concoct a more traditional scent. After sniffing dozens of different oils, Shama and I settle on a blend of jasmine, sandalwood, and soft musk that he steadily pours into a small, elegant glass vial. I name my new signature scent Chameli, the Hindi word for jasmine.
Later that afternoon, I brave a swelling monsoon to meet up with Carina Chopra at the Taj Mahal Tea House in Bandra, a chic suburb of Mumbai and home to plenty of Bollywood's elite. Chopra, 29, is a global strategy manager for personal-care powerhouse Unilever and therefore has impeccable insights on Indian beauty trends. As we sip jasmine tea, she explains that in the northern part of the country, women tend to have more rigorous beauty routines: "Beauty is considered more of a status symbol, so that region is a good launchpad for trends in skincare and procedures like lasers," whereas the aesthetic here in the south has always been more subtle. "Our ideas of beauty have been traditionally handed down for generations," she says. "However, keep in mind that today, India is a 'young' country, with the average age being 28 or 29. The new generation is digital, so they are experiencing the same exposure to pop culture at the same time. Millennials are very individualistic, so traditional rules don't apply."
Enter ApotheCARE Essentials, a "neo-apothecary" brand from Unilever that harnesses powerful, age-old indigenous ingredients from around the world and uses the latest scientific technology of phytoextraction to maximize their benefits. After a short flight farther south to Coimbatore, a region known for jasmine cultivation, I join Unilever scientist Matthew Seal for a stroll through a heavenly, heavenly jasmine field. Seal is one of the developers of the new line, which launches in January and consists of five haircare collections and various body products formulated to deliver very specific results. For example, The Purist shampoo and conditioner contain energizing ginger, shea butter, and lemon balm for deep cleansing; The Booster hair products use rose hip, aloe vera, and geranium to help create volume. In addition, all of the ApotheCARE items have unique scent combinations designed to pack a feel-good aromatherapy punch. Indian white jasmine is a key ingredient, along with vitamin E and coconut milk, in The Mender, a restorative collection that I'm especially partial to because, well, my hair is damaged goods.
Seal, along with colleagues from Unilever and the fragrance company IFF (International Flavors & Fragrances), has traveled here to witness the origins of the precious jasmine oil that Unilever purchases from IFF to use in ApotheCARE products. In this organic and sustainable field, sitting in a peaceful green valley bordered by mountains, we have the opportunity to watch how the flowers are handpicked. Late sleepers need not apply: The super-delicate jasmine must be harvested early in the morning to capture its maximum scent potential before the strong sun wilts it. (Overnight, new jasmine will grow, and the cycle continues.) Next, the fresh buds are quickly transferred to a nearby factory, where they are poured into huge metal vats for pressing. The extracted material forms a waxy substance called "concrete," which is then refined into a golden oil. It takes 2.5 million jasmine flowers to make one kilo of oil, and Seal says that some ApotheCARE jasmine products can have the equivalent of 25 flowers in a bottle.
Jasmine oil absolute from farms like this one is used in thousands of beauty products in India and all over the world. And it's a staple of Indian beauty traditions, which I learn firsthand the following day at the gorgeous, traditional-style Niraamaya wellness spa by the seaside in Kovalam. Surrounded by candles, incense, and fresh flowers, I experience the pure decadence that is shirodhara, an ancient Ayurvedic treatment during which I lie on a wooden table while a practitioner slowly pours a blend of warm oils onto my forehead to both chill me out and, some would say, open my third eye. (I believe mine winked.) The additional benefit of this crazy-relaxing pampering goodness? All that oil makes for one hell of a moisturizing hair treatment, which I realize after rinsing it out and air-drying my normally frizzy mane. My hair feels silkier and looks shinier than usual.
Like jasmine itself, Ayurveda is nothing new: The practice goes back about 5,000 years, according to Ayurvedic doctor and Niraamaya's head of spa Arun Aravind. After my treatment, we discuss Indian botanicals, like turmeric (anti-inflammatory) and holy basil (antibacterial), that are good for you inside and out, and I'm fascinated when he introduces me to local beauty staples like red sandalwood cream ("to make your skin glow") and a clay called multani mitti ("for clarity"). Just as Millennials in the United States are increasingly interested in wellness and exploring ancient traditions, more young Indians, he says, recently have been discovering the benefits of Ayurveda. Ancient wisdom meets the digital age? Now that's modern.
ApotheCARE Essentials brings a taste of shirodhara to your home routine in the form of The Mender collection
The Repair + Nourish hair oil smells divinely jasmine-y; combines six different oils, like grape seed and avocado; is paraben-, dye-, and silicone-free; and can be applied as a three- to five-minute prewash moisturizing treatment or a post-shampoo leave-in to seal strands and promote shine. While the user experience isn't exactly as over the top as an Ayurvedic massage at a lovely seaside spa, it's a lot less messy and doesn't involve jet lag. Hair oil has always been a popular product for Indian women, but perhaps thanks to the latest global obsession with facial oils and naturals, the maker of ApotheCARE is betting that we'll like slathering more oil on our heads as well. Personally, I'm sold.
1. apothecare Essentials The Mender Repair + Nourish Conditioner, $11.
2. apothecare Essentials The Mender Repair + Nourish Oil, $11.
3. apothecare Essentials The Mender Repair + Nourish Shampoo, $11.
All items, CVS and Meijer stores, with additional in-store and online availability beginning in January.

Celebrity news, beauty, fashion advice, and fascinating features, delivered straight to your inbox!
Erin Flaherty is a beauty journalist and consultant who has contributed to numerous publications including the Wall Street Journal and Domino, among many others. She is a board member of the Women's Global Empowerment Fund and especially passionate about worldwide beauty anthropology and women's issues. She lives in Woodstock, NY with her husband and dog.