The Difference Between Balayage and Ombré Hair, According to a Stylist
Consider this your definitive guide.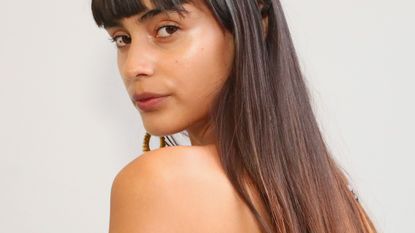 (Image credit: ASTRID STAWIARZ / GETTY IMAGES)
Marie Claire Newsletter
Celebrity news, beauty, fashion advice, and fascinating features, delivered straight to your inbox!
Thank you for signing up to Marie Claire. You will receive a verification email shortly.
There was a problem. Please refresh the page and try again.
A few years ago—admittedly at the peak of my Pinterest obsession—I decided I needed ombré hair. How could I resist? My boards were smattered with soft, highlighted locks that were well within my reach. I showed my then-hairstylist the prettiest ombré hairstyles I could find, and I low-key debated moving to California because, obviously, my new hair would be so damn cool that my New York life would be beneath me. Cue the theme song from The O.C.
I'll save you the sob story, but to recap: My hairstylist painted a bold, blonde line across the middle of my head and drenched my ends in bleach. It was nothing like what I'd imagined. To say I was completely scarred (and forever turned off from ombré) would be an understatement.
Apparently, I wasn't the only person who had a terrible experience with ombré, though. Flash forward to today, and the industry's obsession with all-things ombré has been replaced with a preference for "balayage" hair. And just as I was kicking myself for choosing ombré over balayage that day in the salon, I had an epiphany: The two styles look oddly similar. So, to find out the real difference between balayage and ombré hair and save you an awkward salon experience like my own, I enlisted the help of Riawna Capri, celebrity hairstylist and co-owner of L.A. salon, Nine Zero One.
Balayage is a technique, and ombré is a shade.
Here's where so many of us have gone wrong at the salon: we're not even asking for what we think we are.
"First things first: Balayage is a technique and ombré is a gradient of color," says Capri, whose client roster includes Selena Gomez, Ruby Rose, and Nina Dobrev. "There's actually no such thing as a balayage hair color. Balayage is how you achieve ombré."
And it gets even simpler than that: The French word balayage translates to "sweeping," which is the gist of the technique. "When you're using a balayage technique, you're literally painting bleach or lightener onto the hair in a sweeping motion," Capri says.
Unlike highlights, balayage doesn't require foil.
The technique sounds pretty similar to highlights, but there's actually a key difference between the two. "Highlights start at the root and get painted down to the tips, whereas balayage begins at the tips and feathers up the top," says Capri. "And while balayage is usually painted directly onto the hair, highlights are wrapped in foil. The foil, especially if you're sitting under heat, is going to really lighten the hair for a brighter effect."
But when you skip foil—as most stylists do with balayage—oxygen eventually oxidizes the bleach, resulting in dried out, not-so-bright color. "It's a lot quicker and faster to lighten hair without foils, so I feel like hairstylists got excited about balayage. But since you can't achieve that same lightness without foils, people started using stronger bleach." This is where Capri's preferred method of balayage comes into play. "I like to call it foilyage, meaning I put my balayage pieces in foil so I can get them super light."
But if balayage isn't actually a hair color, why do so many people confuse it for one? The answer, says Capri, has a lot to do with ombré's not-so-great reputation. While one could blame some misleading Pinterest boards, Capri has a more concrete idea as to how ombré became a dirty word at salons.
"Five or six years ago, a few celebrities ended up with super-solid blonde at the bottom of their hair, and super-solid dark at the top," she says. "Ombré got a bad rap for a minute because people were creating dip-dye effects," she adds. "I feel like it's a similar case with extensions; when people had bad extensions, everyone thought all extensions were bad."
But obviously, ombré styles can be beautiful when done correctly, and there are plenty of stylists out there who can make it happen. They "just need to have the perfect amount of medium, gradient color in the middle to create a soft, natural-looking flow of dark to medium to light," says Capri.
Ombré doesn't require much upkeep.
Luckily, this enviable technique is also one that's easy to keep looking fresh, which is a major silver lining—many salons haven't fully opened back up yet amid the pandemic. "Since the technique doesn't start from your scalp, you already have roots," she says. "Nine times out of ten, when it's done right, someone can come into the salon literally a year later and not actually need more color."
---
For more stories like this, including celebrity news, beauty and fashion advice, savvy political commentary, and fascinating features, sign up for the Marie Claire newsletter.
Related Stories
Celebrity news, beauty, fashion advice, and fascinating features, delivered straight to your inbox!
Ruby was the beauty editor at Cosmopolitan, where she covered beauty across print and digital. Her work has appeared on The Zoe Report, Fashionista, and StyleCaster. Follow her on Instagram.