Rose-Gold Hair Is Officially the Biggest Hair Trend We've Seen in Decades
And we found the three best products to get the color at home.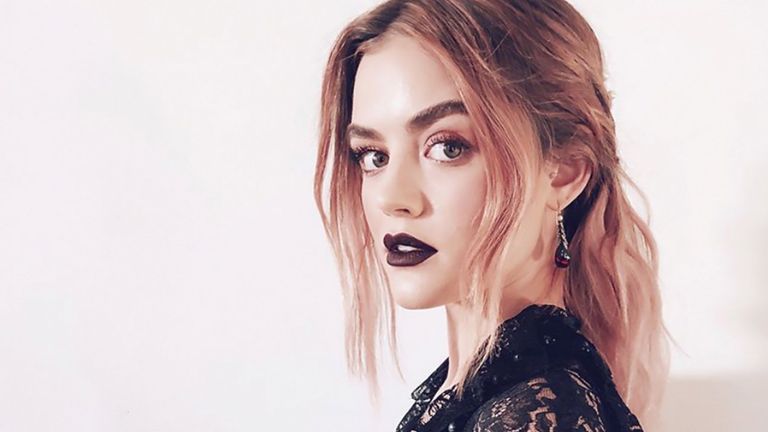 (Image credit: Instagram/@kristin_ess)
I know, I know—every single week, we (we being the internet at large) swear to you that yet another hair trend is officially the "it" thing of the year. And then, inevitably, something shinier and newer crops up, and we forget all about that trend we couldn't live without just last week.
RELATED STORIES
Well, not today, Satan. Rose-gold hair—the shade that's not quite pink, not quite peach, but definitely a little gold—is not only sticking, but growing in popularity month over month, with everyone from your favorite celebrity to your pharmacist getting in on the look.
Sure, rose-gold everything has been trendy since 2016. But previously, if you wanted to rock the shade, you could only get it from a really skilled, really expensive colorist. Now, you can create the look easily at home, thanks to a lineup of brilliant products that deliver virtually goof-proof results. Seriously; even dye virgins and hair newbies can handle these. Get ready to have some Insta-worthy hair.
Kristin Ess Rose Gold Temporary Tint, $12
Heralded (by me) as the mother of all rose-gold sprays, Kristin Ess Rose Gold Temporary Tint is pretty much the catalyst of the at-home rose-gold hair movement. The spray can emits a micro-mist—almost like a cloud—so it'll evenly coat your hair in a layer of color as you apply it, and the vibrancy of the color is totally customizable.
For a lighter, barely-there wash of rose, spray (while still in the shower) your wet, freshly shampooed hair, let it sit for two minutes, then wash it out and condition as usual. For a deeper color (which is what you'll want if your blonde hair is on the dark side), towel-dry your hair first before spraying on the tint. As the bottle says, think of your hair as a sponge; if it's full of water, it can only absorb a little color.
The color will wash out in one-to-three shampoos, so even if it takes you a few tries to get the hang of the perfect rose-gold finish (like adjusting how long you keep the dye on before rinsing out, where you spray it, and how dry you get your hair first), you'll always get to start again in a few days. Just be aware that the color will show up best on blonde (or very, very light brown) hair colors, so skip this one if you've got brunette or black hair.
Overtone Rose Gold Deep Conditioner, $28
First, Overtone came out with a conditioner that dyes blonde hair rose gold, and we were like, alright, we see you, Overtone. Then it came out with a conditioner that dyes brunette hair rose gold, and we were like, okay, we get it, Overtone—you're an overachiever. Because not only are the products really easy to use (if you can apply conditioner to your hair, you can dye your hair rose gold), but they also created two formulas—both of which are totally vegan—for dye scaredy-cats: a color-depositing deep conditioner and daily conditioner to keep that color looking 100.
The deep conditioner is more potent, so you only need to use it once a week. Just slip on a pair of gloves, rake a blob of the conditioner through your dry hair, leave it in for 10 to 15 minutes, and rinse. You'll be left with a bright, peachy-pink wash of color that'll last up to six washes, though you can maintain it by also using the daily conditioner, which re-deposits rose-gold pigments into your hair each time you use it.
L'Oréal Paris Colorista 1-Day Spray in Rose Gold, $10
Calling all commitment-phobes: This washout spray lasts for exactly one day (or, okay, maybe two days, if you avoid all sources of moisture and friction for 48 hours straight), so you can spray it on with reckless abandon without triggering a panic attack. The formula itself is surprisingly opaque and bright—even deeper, darker hair shades will be able to get definitive rose-gold color payoff—and it doesn't feel sticky or crunchy on your hair after you apply it.
Just shake the bottle, hold it about six inches away from your head, and spray it in even lines down sections of your dry hair for a diffused wash of color. For more intense highlights, pick up and spray individual two-inch sections of hair all around your head, including the framing layers on either side of your face. The color will develop as it dries, so wait a few minutes before spraying on more, so you don't accidentally go overboard (but, hey, even if you do, it washes right out).
RELATED STORY
Chloe Metzger is the deputy beauty director at Cosmopolitan, obsessively writing about new makeup launches, the best hair products (curly girl here; whattup), and the skincare formulas that really work for every skin type (follow her on Instagram to see behind-the-scenes pics of that magazine life). She also has an unhealthy adoration for Tom Hanks and would like to please meet him one day, if you could arrange that. Thanks.